New Brunswick
Scientists study tick populations against backdrop of climate change
Scientists are using climate change models to predict how far ticks could spread as the climate warms, and how this might affect the spread of Lyme disease.
Researchers say there's no way to eliminate or diminish growth of tick population that spreads Lyme disease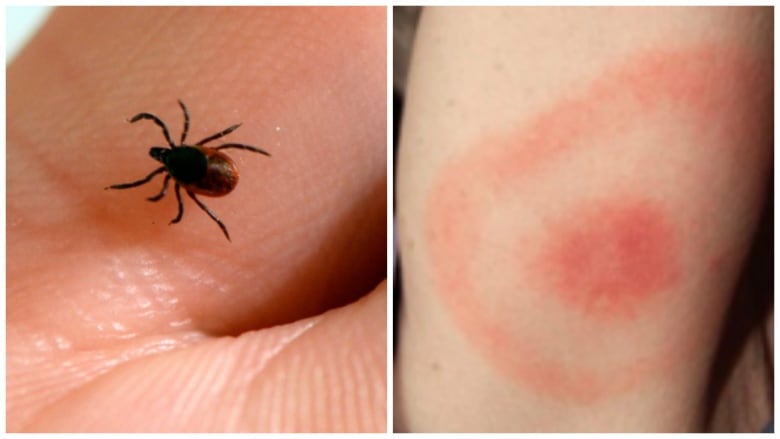 Scientists are using climate change models to predict how far ticks could spread as the world warms, and how this might impact a person's chances of contracting Lyme disease.
The research by biologists and climate scientists at St. Francis Xavier University was sparked by the seriousness of the disease, said Hugo Beltrami, a professor and Canada Research Chair in climate dynamics.
"We wanted to see the potential expansion of the carrier tick given the new climate conditions," Beltrami told Information Morning Saint John.
Using climate change models is not necessarily a new practice in this kind of research, he said, but it is more important now than ever.
"There's been a model developed for some time that relates the number of ticks to the temperature and the heat, really," said Beltrami.
"And so what we wanted to do is examine that model of the tick population and the conditions for the tick population and tick expansion and reproduction with the scenarios of the intergovernmental planning for climate change."
The research
The group, whose findings were published last week in a journal called Environmental Health Perspectives, used 13 of the most advanced models on the future of climate change.
Scenarios included a model in which society keeps burning fossil fuels and oils and one in which everyone makes an effort to reduce those greenhouse gasses.
Beltrami said the results did not confirm there would be an exponential spread of ticks if the climate continues to warm.
However, even in the most optimistic of future climates, the lower margins of error show ticks will breed and expand no matter what.
"The more the temperature increases, the larger they extend the range of propagation," Beltrami said.
Lyme disease is spread to humans by infected ticks, and New Brunswick already has several areas considered hot spots for the disease, according to provincial health officials. They include St. Stephen, St. George, Saint Andrews, Renforth Grand Manan, Grand Bay-Westfield, Millidgeville, Saint John, Rothesay and Quispamsis.
Though he's not a health specialist, Beltrami said he figures campaigns for more research are essential in the fight against Lyme disease.
"And the main thing is you cannot eliminate the population of ticks by any means possible, but what they need is more research perhaps to find a definite solution for Lyme disease itself."
Climate change's weight
Beltrami said he wanted to focus on the connection between climate change and the tick population because climate change is central to many societal problems today.
"If you think about it, the climate, if it changes, gets really warm, we'll suffer," he said. "We'll suffer tremendously as a society.
"So, we try to study climate science because it's a societal problem, because of the promise that a sustained changing climate will have in our society and our civilization."
He said crossing boundaries between the physics of the climate into the question about what it means for society is putting theory into important practice.
"What can we tell communities about climate change so that they can actually do something about it?"
With files from Information Morning Saint John