New Brunswick
English-language dailies in N.B. will print only 3 days a week
New Brunswick's three daily English-language newspapers are scaling back their print editions again. Starting March 7, the papers will only publish three days a week.
Postmedia's decision is the latest cost-cutting move at its New Brunswick newspapers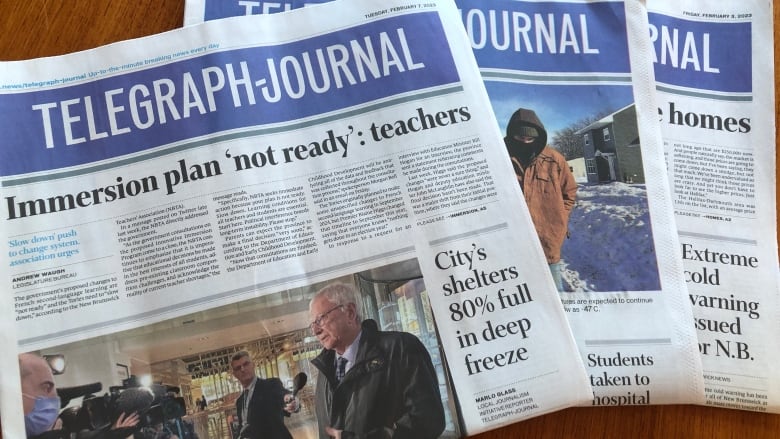 New Brunswick's three daily English-language newspapers are scaling back their print editions again.
Brunswick News will offer printed papers to subscribers three days a week starting March 7, the company told its readers Tuesday.
The New Brunswick Telegraph-Journal, the Moncton Times & Transcript and the Fredericton Daily Gleaner will appear in print only on Wednesdays, Thursdays and Saturdays.
"We will continue to cover the news of our province seven days a week on our website," the company said in an article on its website.
"Making these changes was not an easy decision but one that took into account the economic and logistical challenges in delivering a print product and the changing news consumption patterns of our audiences." 
The end of Monday print editions was announced in January 2022, not long before the Irving family sold the papers to Postmedia, and took effect in May 2022. At the time, an internal memo to delivery carriers cited lower sales on Mondays.
Postmedia bought the provincial newspaper chain a year ago for $7.5 million in cash and $8.6 million in voting shares in Postmedia. 
In January, Postmedia announced an identical scaling back at three of its small-market Ontario papers in St. Thomas, Sarnia and Owen Sound. 
Over the Christmas period, the company offered buy-outs to veteran journalists Don MacPherson, Tim Jaques and Bruce Hallihan, all at the Daily Gleaner.
MacPherson, who recently launched an online newsletter called the Fredericton Independent, said the latest move wasn't a surprise.
He said that when Brunswick News was owned by the Irvings, staff were told that "the long-term vision for the publications would be to transition from print editions to online-only publications."
 That's in keeping with trends in the industry, including shrinking advertising revenue due to online news and higher costs of printing and distributing printed newspapers, he said. 
"I'm sure there are numerous other factors coming into play as well."
Emailed editions on Tuesday and Friday
Phyllise Gelfand, Postmedia's vice-president of communications, said in an email that there's no change for the print editions of the Brunswick News weekly newspapers in Miramichi, Woodstock, Bathurst, Sussex, Campbellton and Grand Falls.
"We are committed to providing a more robust digital presence in the communities we serve, improving our products and user experiences and covering stories important to our communities," she said.
The company will replace the Tuesday and Friday print editions with an email to subscribers on those days. It will include news stories, obituaries, crossword puzzles and other features. 
Gelfand said there will not be further job cuts as a result of the change. She did not acknowledge a request for an interview.
The decision leaves the French-language L'Acadie Nouvelle as the only daily newspaper printing five editions a week.
The Caraquet-based paper, which is independently owned, eliminated its Monday edition last year and now prints Tuesday to Saturday.