Montreal
Jungle gyms for adults pop up around Montreal
You may have seen them: sets of pull-up bars, benches for jumps and monkey bars, cropping up in parks around Montreal.
Pull-ups, pushups and monkey bars are popping up in parks around the city
When the sun starts shining in Montreal, Ricardo Abud can't wait to make the most it.
Like many people, he leaves the gym behind, puts on his sunglasses and takes his workout to a local park.
"I hate doing cardio in the gym. It's so boring, even with the televisions," said Abud.
"Getting the sun a little bit is nice."
Lately, Abud has been using a Trekfit workout station at Laurier Park, complete with pull-up, pushup and even monkey bars.
Since 2010, the Chambly-based company has built more than 25 stations in Montreal, with more planned for this summer.
At a cost of $25,000 to $75,000 each, Trekfit parks are a big investment for boroughs and cities, but require little maintenance once installed.
So how are Montrealers using these outdoor workout stations? We checked out a few to find out.
Feeling shy about a little sweat?
Sébastien Savard sets down his water bottle at a busy Trekfit park on De Gaspé Avenue in Mile End.
He usually works out in the privacy of his own home, and with several office buildings and a bike path near this Trekfit park, he's feeling a little too on-display for comfort.
"When I start to exercise, I don't know if I'm doing the correct moves. So I'm quite shy," said Savard.
After checking out the signs at each Trekfit station detailing how to use each set of bars, Savard tries out a couple of pushups and is feeling a little more confident.
"It's just a matter of time," he said.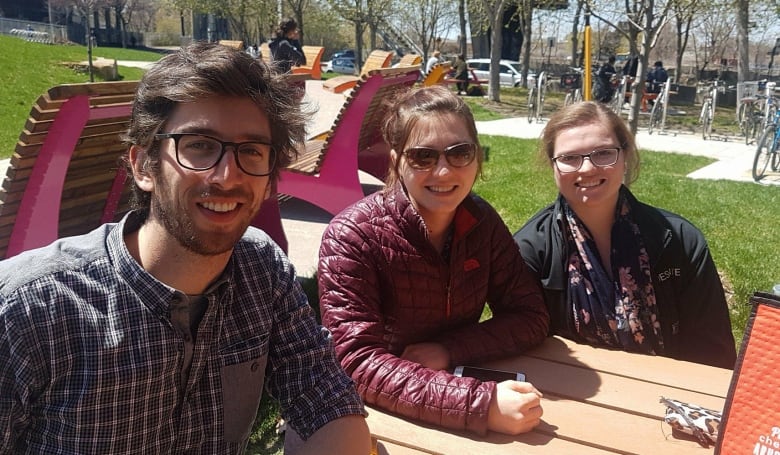 Practice makes perfect pull-ups
Not everyone feels the lure of Trekfit's sunshine-filled parks. Just a few metres from Savard, several colleagues from a nearby office building have lunch at a park bench.
One of them, Julie Brossoit, prefers home workouts, and isn't sure pull-ups are for her.
"I feel like it's very hard to do that," said Brossoit, pointing at the bars.
Maybe all she needs are a few tips from Natalie Cartier, who is in her 50s, and visits her local Trekfit station in Laurier Park several times a week, on her lunch break.
Cartier thinks a good workout is about perseverance, and doesn't mind that she's often the oldest person working out at her Trekfit park.
"They're all younger than me! I'm sure when they'll be my age, maybe they won't be here," said Cartier.
Read more stories by Rebecca Ugolini: