Montreal
Legault lays out environmental targets at CAQ general meeting
After saluting his cabinet ministers, Legault made his pitch to the party over how reducing carbon emissions in Quebec and abroad would both enrich Quebec and "save the planet for our children."
Premier says he wants to cut Quebec's petroleum consumption by 40% in 10 years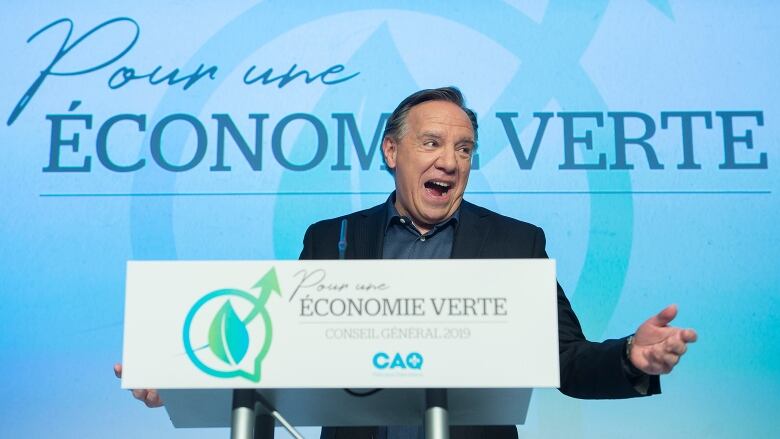 Premier François Legault closed the Coalition Avenir Québec's weekend-long, environment-themed general meeting on Sunday with a speech that outlined his party's plan to reduce the province's dependence on oil and make clean energy a priority.
Among a number of policies, Legault announced the party's goal of reducing Quebec's petroleum consumption by 40 per cent by 2030 — with hydroelectricity as its main replacement.
He said that the province's cars, buildings and economy must be transformed to reach that goal.
Dominic Champagne, one of a number of prominent environmentalists the CAQ showcased over the weekend, said he could hear "a very strong echo" of the green movement in Legault's speech.
"We all know where la CAQ was on October 1st," Champagne said, referring to the party's lack of focus on climate change during the election campaign.
"Listen to the commitment this morning — I think there is an evolution in the political philosophy of la CAQ and François Legault."
But Champagne, who became a party member as a way to draw attention to the climate crisis, said the party now needed to follow through on these policies to enact laws.
"You cannot go clean and go dirty at the same," he said. "If you do, your water will remain dirty. So, if we want to go clean, let's go clean."
CAQ member Mathyas Laflamme, 18, said "now is the time to act" to protect the planet. 
He said the party appealed to him because it would make the economy stronger, but that Legault also needed to take the environment seriously.
"If he's not serious, I'm going to go see other parties," Laflamme said.
Improving public transit, incentives for electric vehicles
Legault got a rock star's welcome as he walked through the crowd to give his speech,  and when the cheers subsided, supporters sang him "Gens du pays" — often considered Quebec's unofficial anthem — as the day coincided with the premier's 62nd birthday.
The meeting in Montreal was the party's first since the CAQ won a majority last October, realigning Quebec's politics with his populist message. With its focus on the environment, the weekend was the party's opportunity to show itself as pragmatic.
After saluting his cabinet ministers, Legault spoke of how reducing carbon emissions in Quebec and abroad would both enrich Quebec and "save the planet for our children."
He said all new transit projects funded by the government must use clean energy, all new public buildings must have electric heating, that his government would look at new incentives for Quebecers and the private sector would have to follow suit.
He also wants Quebecers to build those projects themselves whenever possible.
"We will create wealth here, for the people here," he said.
While pursuing new deals to export Quebec's hydroelectric power to the United States and the rest of Canada, he said Quebec must also reduce its reliance on oil.
"We must also do more here in Quebec. We will do it," he said.
Transportation remains the largest source of greenhouse gas emissions in Quebec as other sectors have made reductions.
Legault said that when Quebecers fill up their vehicles at the pump, they must realize that they're putting money in the pockets of petroleum producers.