Montreal
Group therapy program for depressed, suicidal teens on hold at Douglas Hospital
The Douglas Hospital has put on hold a successful program to treat teenagers with serious mental health problems, saying it's exploring more "cost-effective" options over the next year.
Montreal family slams decision, says DBT program 'gave us our daughter back'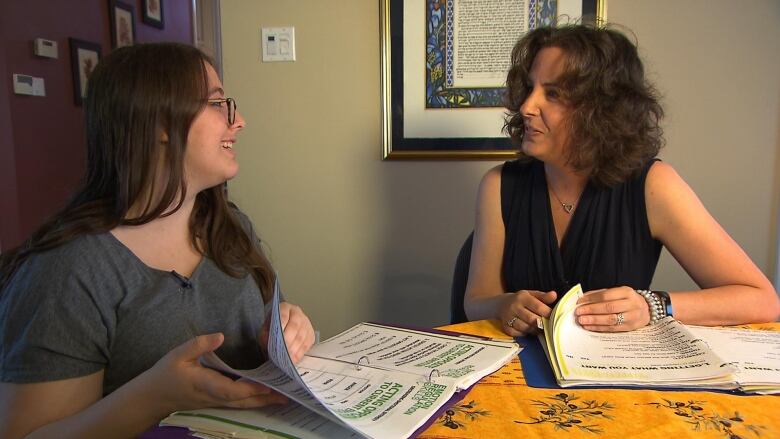 The Douglas Hospital has suspended a successful program to treat teenagers with serious mental health problems, saying it's exploring more "cost-effective" options over the next year.
The treatment, called dialectical behavior therapy (DBT), helps patients cope with severe depression, suicidal thoughts, eating disorders and self-harming. 
It also includes group therapy and invites parents in to learn how to support and talk to their child.
'The years from hell'
Andrea, whose last name CBC has agreed to conceal to protect her child's privacy, said her 16-year-old daughter was part of the last group to go through the program.
She's devastated other families no longer have access to DBT at the Douglas, which she calls a "miracle" program that "gave us our daughter back."
"How can the government do this?" asked Andrea. "How can you let these kids just flounder like that?"
Andrea describes 2013 to 2015 as "the years from hell."
When her daughter Jessica started Grade 7, she became increasingly withdrawn – no longer spending time with her friends and losing interest in everything.
"She just wasn't her," said Andrea. "There was no spark in her."
Jessica had always been a strong student, but her grades started to slip. 
A mediocre mark on a test or a critical remark from a teacher could easily send her into a tailspin.
After one of a series of visits to the emergency room at the Montreal Children's Hospital for suicidal thoughts in May 2015, Jessica refused to go home.
"I didn't think I'd be safe if I was at home," said Jessica. "I did not feel I was strong enough to take care of myself in a way that I should."
Jessica's therapist suggested the dialectical behavior therapy program at the Douglas Hospital.
For the first six weeks, Jessica did one-on-one sessions, followed by 20 weeks of group therapy.
"You were in a room, surrounded by people who had things going on that were similar to you, who were feeling ways that you felt and would believe you if you said something," said Jessica.
"They all understood."
How DBT works
Together, the teens learn how to identify their triggers and break down potentially stressful situations into smaller steps. 
Parents also attend the group sessions to learn new skills which they had to practise at home.
"They really teach you how to talk together again," said Andrea. "So the bond that was kind of lost has been re-established. I feel we can talk to each other about everything and anything again."
According to the regional health agency that now administers the Douglas Hospital, the DBT program has helped around 225 teens since 2001.
The Montreal West Island Integrated University Health and Social Services Centre (known by its French acronym CIUSSS de l'Ouest-de-l'Île-de-Montréal) says a decision was made early this year by the DBT team to "temporarily pause" the program for one year, starting last April.
This step was taken in order to "examine new emerging best practices and enhance services provided to the clientele."
A spokesperson for the CIUSSS de l'Ouest-de-l'Île-de-Montréal refused an interview but said in an email that some DBT services are still available on an individual and family basis.
However, the group portion is "very costly and time intensive" and is no longer being offered. Doctors who usually referred patients to the program were told to hold off this year.
'We see very significant changes'
One of those doctors, Dr. Lila Amirali, the chief of child psychiatry at the Montreal Children's Hospital, said she believes the DBT program at the Douglas is the only one of its kind for English-speaking teenagers with severe mood disorders.
Amirali said the combination of individual, group and family therapy is powerful.
"We see very significant changes," said Amirali.
She said many of the adolescents in the program can go through intense mood swings in the space of a day.
She said some may be the life of the party, then something will happen that will cause them to become very suicidal. The program helps them to learn to use their judgment to make calmer, more sound decisions when they are feeling upset, she said.
 "They learn how to adapt better," said Amirali.
The chief of psychiatry said she wasn't given any reason for the program's suspension, but she's hopeful it will be reinstated next year. 
She acknowledges that every hospital is carefully scrutinizing how it uses its resources nowadays.
'We have her back'
Until the fall, Jessica is still being followed individually by a therapist from the program.
Next month, she's heading to Philadelphia for a month-long arts program – something that was unthinkable a year ago.
"This year, I am so excited. All I can think about is, just a few more weeks, and I'll be there," said Jessica.
Andrea and her husband did pay for private therapy prior to Jessica being admitted to the DBT program, but say the program made a huge difference.
"We have her back," said Andrea, who no longer worries about what's happening behind her daughter's closed door.
Andrea contacted her MNA to raise her concerns about the DBT program's suspension but was told the same thing: The program is just being put on hold temporarily.
"When people say they put something on pause, it's never really on pause," said a skeptical Jessica. 
"Chances are, now that this program isn't happening anymore, it won't happen again for a long time, which is just terrible because there's going to be people struggling because of this."
She and her mother feel they have a responsibility to try and get the program back for other teens who need it right now. 
Andrea pleads with the government to reassess its priorities.
"Step up and help these kids," she said.
---
Share your story with CBC Montreal's investigative team. Leave a message on our confidential tipline (514-597-5155), send us an email or contact us on Twitter.