Manitoba
Woman found frozen outside West Broadway apartment was pregnant when she died, mother learns
A 29-year-old woman recently found frozen behind a shed outside a Winnipeg apartment building was early in a pregnancy when she died, her mother has learned.
Family of Windy Sinclair, 29, found out Thursday she was 2 months pregnant when she died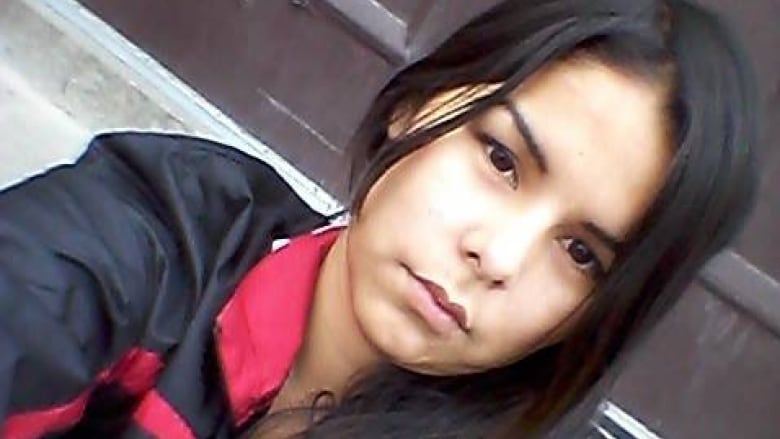 A 29-year-old woman recently found frozen behind a shed outside a Winnipeg apartment building after she left hospital was early in a pregnancy when she died, her mother has learned.
Eleanor Sinclair met with Winnipeg Regional Health Authority officials late in the day Thursday and learned Windy Sinclair was two months pregnant.
"I just broke down crying, because I had no idea, and I do believe that my daughter didn't even know, because I'm sure she would have got help. She would have tried to get herself cleaned up if she knew she was with a child," said Sinclair.
Windy was taken to Seven Oaks General Hospital by ambulance on the evening of Christmas Day after she called 911. She had been struggling with a crystal meth addiction and had been using the drug that day.
She left the hospital before being discharged. Winnipeg Regional Health Authority officials say they're investigating, but that she had received treatment within an hour of her arrival, and left sometime before 11:30 p.m. local time while staff were waiting for tests.
Sinclair's body was found days later, after the family reported her missing and days of searching.
There was an extreme cold warning at the time of her disappearance, and the cold temperatures lasted for several days.
Her mother said she didn't get any of the answers she was looking for at the meeting with health authority staff, and she was asked questions about the events leading up to her daughter being taken to hospital.
"Nothing, no answers at all. Instead they tell me I lost a grandchild," she said.
WRHA investigating
The WRHA said it is investigating what happened the night Windy Sinclair left the hospital, and it's unclear what steps were taken to find her after she left.
Sinclair wants to know why her daughter wasn't prevented from leaving or being monitored by staff, because she was incoherent when she was taken away the ambulance.
"I'm pretty sure she called for help because she didn't want to overdose. It was a cry for help," said Sinclair.
She also wants to know why police weren't contacted when her daughter left the hospital in a vulnerable state.
Sinclair said she was told the phone number staff used to try to contact family hasn't been in use for 10 years. She said she gave paramedics her current phone number when they took her daughter to the hospital, and was assured that the 29-year-old would be sent home in a cab.
"Why didn't they try harder? Why didn't they call me right away? Why didn't they call the police? Why didn't they call that 911 operator to find out where the 911 call came from if she arrived in an ambulance?"
The cause of death has not yet been determined, but police have said they are not investigating it as a homicide.
Sinclair said she plans to meet with health authority staff again on Friday and hopes she will learn more about what happened during the hours her daughter was in hospital.
New approach needed for meth addiction
The head of an organization working with people struggling with drug addiction said there is little the hospital staff could have done, because our health system is not set up to deal with people in the grip of drug psychosis.
Marion Willis sees first-hand the toll meth addiction is taking on the population as executive director of St. Boniface Street Links, which helps homeless people transition into housing.
The current model for treating drug addiction isn't working and we need a new one, she said.
"This is a different sandbox and it's a very dangerous sandbox we're all in. We need a whole new model," she said in an interview with CBC's Information Radio.
"There is nothing really anybody can do for anybody in drug psychosis, other than to keep them safe so they can't harm themselves and don't harm others. Hospitals don't have the units for that. We're finding a lot of people are ending up being taken to Remand Centre. I don't think Remand Centre is a place for drug withdrawal."
Out of the 100 people Street Links currently works with, Willis says almost all of them have used meth, which she calls "the new alcohol."
"This is not a poverty issue. We're creating a new poverty group because we're not dealing with this," she said.
"A lot of the individuals are middle-class, upper-middle-class people that had homes, had relationships, had vehicles, assets, and they lost it all very quickly when they started using meth and they've now become dependent on the system to support them."
Willis wants drug stabilization units in hospitals and transition supports to get people into treatment and housing.
Drug stabilization units should be staffed with mental health workers, including psychiatric nurses and psychiatrists, she said.
"Our Mental Health Act says that we can detain somebody if they are a danger to themselves and others, and I think Ms. Sinclair is a good indication just how much of a danger she was to herself."
With files from Laurie Hoogstraten