Manitoba
·
Video
Winnipeg's bike theft hot spots revealed
Records released by the Winnipeg Police Service on bike theft show the University of Winnipeg had the most reported stolen bicycles since 2015 and you're most likely to have your bike stolen on a weekday.
Winnipeg Police crime data sheds light on city's bike theft patterns
University of Winnipeg students would be well-advised to take additional precautions when leaving their bicycles unattended on campus.
A CBC News analysis of Winnipeg Police bike theft data shows that over the past two years more bikes have been reported stolen from the downtown campus area than anywhere else in the city.
The neighbourhood with the most stolen bicycles was Wolseley, with approximately 64 thefts reported to police over the same period.
Records of the last 2,147 reported bike thefts also revealed that bicycles are far more likely to be stolen on a weekday compared to weekends, suggesting that individuals who commute to work and have their bikes locked in public throughout the day are prime targets.
Tuesdays had the highest theft count with 369 stolen bikes since 2015, while the Sunday figure is nearly half that at 206 reports to police.
500 block of Portage Ave: 22 stolen bikes
100 block of Osborne St: 16 stolen bikes
1200 block of St. Mary's Rd: 14 stolen bikes
1500 block of Portage Ave: 14 stolen bikes
400 block of University Cres: 14 stolen bikes
Hurts your faith in humanity
Wolseley resident Zach Fleisher had his $500 bike stolen earlier this week after a scofflaw cut his U-lock with an electric grinder outside his apartment complex.
"I came out on Tuesday morning, looking to take it on a quick spin to run something over to a friend's place and it was gone," he said.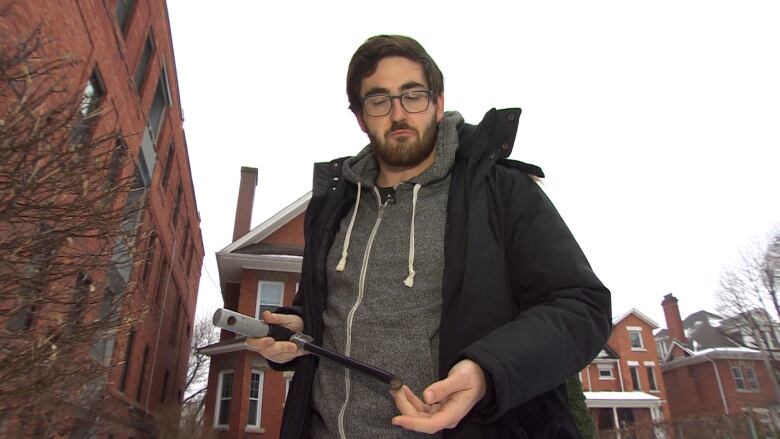 "I posted it online, called the cops right away. You know you get a lot of pickup on those and you hope really that someone will find it, send it around. I also set up an alert on Kijiji for any bikes that are being sold and checking the pawn shops out when I have a chance to," said Fleischer.
'Bike vigilantes' fighting back
Ryan Woozley, a local bike messenger with a reputation for recovering stolen bikes, has come to be known as the "Bike Vigilante," a moniker bestowed upon on him by the cycling community.
"It makes me feel like I'm doing something. It makes me feel like I'm useful or just putting a spring in somebody else's step makes my day," says Woozley.
Over the years, a handful of groups on social media have formed where victims of theft can post details of their stolen bicycles for the larger community to see. Woozley says he internalizes these pictures and keeps an eye out for them while he weaves through Winnipeg streets delivering parcels.
"If something sticks out and I'm like, 'I remember seeing that bike posted as stolen,' then I would either confront the person if I feel like it's safe to do so, or if the bike is sitting there locked up to a post I'll put an extra lock on it and contact the original owner and get them down there to come and verify that it is their bike," he said.
He says he's recovered a few bicycles already this year.
"On one other occasion I rode up behind somebody who was riding on a personal friend of mine's bike and told him 'Hey buddy, you're on top of my friends stolen bike,' and he was quite startled, came to a complete stop and left it where it was and just walked away," recalls Woozley.
Woozley says the police probably have other, more pressing priorities and so he doesn't expect them to give bike theft too much attention.
"I guess if I had to say anything, beyond if your bike gets stolen to post it on social media groups so the more people that know, the more people that can help. Beyond that, if you care about your bike, bring it in at night."
Bike theft by the numbers
Top 5 most hit neighbourhoods*
Wolseley 64
University 59
Central St. Boniface 55
West Broadway 53
South Portage 46
Bike theft concentrations in Winnipeg* 
---
Notes and methodology:
*Location data released by the Winnipeg Police Service was accurate only to the block level (e.g. 100 block of Main Street), making it impossible to know the exact location of the actual thefts. In order to calculate neighbourhood theft counts and to map the concentration across the city, a close approximation to the actual location was calculated by assigning each police record with a randomly generated civic address along each corresponding city block.