Manitoba
2017 Manitoba budget: Numerous jabs but no death blows
Manitoba's Progressive Conservative government is holding the line on spending and wiping out a big tax rebate for students as it tries to reduce its deficit.
Brian Pallister's PCs make modest changes to provincial spending, but deficit remains at more than $840M
Tell us what you think about Manitoba's budget in a video comment in our new Good Talk experiment.
---
Wielding a butter knife instead of an axe, Manitoba's Progressive Conservative government chose to make a series of modest changes to the provincial budget this year instead of engaging in the radical fiscal change some observers had wanted and others feared.
Manitoba's 2017-18 spending plan, the second budget prepared by Brian Pallister's government, calls for a small increase in overall spending, a small reduction in the provincial deficit and no drastic cuts to services.
"It is a step on the road to recovery for Manitoba," Pallister told reporters when asked if he felt the budget goes far enough.
But it appears there will be some job losses in the public service, thanks to flat spending or outright cuts in salaries and benefits in more than two-thirds of department branches across the public service.
When asked about the changes to salaries and benefits, Pallister couldn't promise that civil servants' jobs won't be lost.
"No, never, I would never guarantee no one in the civil service will lose their jobs," he said.
Finance Minister Cameron Friesen described the government's latest spending plan as a "moderate" one.
"We believe the plan we will lay out today is one that's responsible, one that is moderate and one that will have good results for all Manitobans," Friesen said prior to the release of the budget on Tuesday afternoon.
"There are some who will suggest we haven't gone far enough," he added, referring to the more drastic service cuts Saskatchewan has planned.
Overall, spending on core government services is expected to rise $282 million, from $13.5 billion last year to $13.8 billion this year.
Including Crown corporations, regional health authorities and school boards, the spending hike is $520 million, from $16.5 billion in 2016-17 to $17 billion this year.
The core provincial deficit at the end of the year is expected to be $779 million, down from an $890-million pool of red ink last year. Including the Crowns, schools and health authorities, the deficit will be $840 million, down from $911 million last year.
To pull off this trick of spending more money but still winding up with less red ink at the end of the year, the Pallister government is counting on revenue growth — $626 million more this fiscal year — and little to no increases in spending on salaries for public servants.
Still on track to lower PST
Pallister said his government still remains on track to roll back the provincial sales tax by the end of its current term, but admits that he may have to borrow money to fulfil that promise.
"I think that may well be true," he said, when asked if the government will need to ask lenders to make up the roughly $300 million in lost revenue.
"But remember, the solution in the past was to go to Manitobans and take money off their kitchen table to solve their problems," he said. "We think the reward for Manitobans should be a reduction in PST."
To critics who would say Pallister's government didn't go far enough in its budget, the premier said deep cuts were never what the Tories ran on.
"That wasn't the solution we chose and it wasn't the solution we ran on," he said.
"What we did today was balance the importance of getting to balance with the need to protect the services Manitobans count on."
No balanced budget expected before next election
The Tories aren't expecting to table a balanced budget before the next provincial election, slated for 2020. The core deficit is expected to drop to $705 million in 2018-19 and then $585 million the following year.
Just like last year, when the provincial budget was nicknamed "correcting the course," this year's budget calls for spending increases to three biggest ministries: Health, Education and Families.
Education spending will rise 1.3 per cent, from $2.7 billion to $2.8 billion. Spending on the Department of Health is rising 3.3 per cent, from $6 billion to $6.1 billion, while spending on Families — the ministry that handles social services — rises 4.2 per cent, from $1.9 billion to $2 billion.
While the increase for health works out to $105 million, the relatively small rate of the increase suggests more changes are coming to provincial health care.
"We're looking at opportunities in health care that have been unexplored in the past," Friesen said.
On a percentage basis, the biggest cuts are coming to the Department of Growth, Enterprise and Trade — its budget drops by $4 million to $88 million — as well as Indigenous and Municipal Relations (down $7 million to $451 million) and the Legislative Assembly (down $11 million to $47 million).
The province also plans to make $1-million cuts from the budgets of both Sustainable Development and Sport, Culture and Heritage. Grants to cultural organizations alone will be cut $703,000, from $9.8 million to $9.1 million.
While the scope of the cuts is not large on a departmental scale, there may be staff reductions in many areas of government on a line item by line item basis.
For example, in the Education ministry, about $100,000 is being cut from salaries from each of student aid, French curriculum development and adult literacy. Small cuts like these are scattered throughout the budget.
Friesen would not say whether job losses are coming, but he did commit to honouring existing collective agreements with public-sector unions. He surmised some of the apparent cuts could be achieved through vacancy management.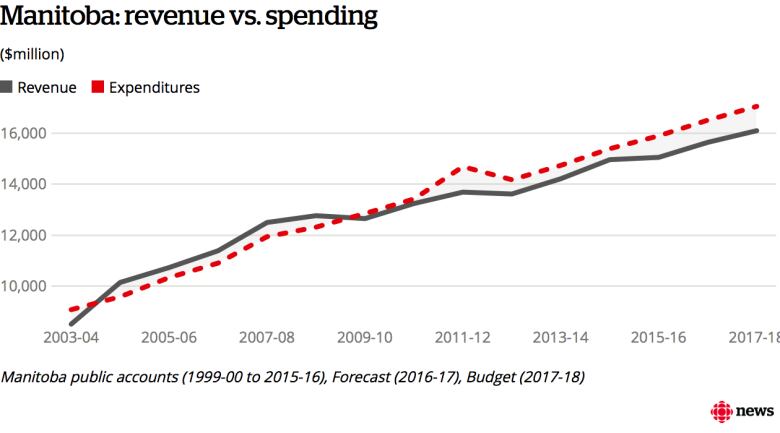 Students, construction firms among biggest losers
Along with public servants, the biggest losers in the 2017-18 budget are Manitoba construction companies, thanks to a drop in provincial spending on infrastructure.
An ungainly tax credit system is evidence of a high-tax environment.

- Finance Minister Cameron Friesen
The province plans to reduce spending on health, education and housing infrastructure by $162 million, from $803 million last year to $641 million this year. It also plans to spend $16 million less on highways, roads and bridges and flood protection, reducing infrastructure spending from $763 million last year to $747 million this year.
University and college students will also take a hit, thanks to the elimination of almost $53 million worth of post-secondary tax credits.
The government plans to save $46.5 million by eliminating the tuition-fee tax rebate and another $6.4 million by getting rid of the advance on the credit.
Other tax credits on the chopping block will affect primary caregivers to the tune of $8.6 million, research and development ($9.2 million), manufacturing investment ($4 million).
Friesen suggested Manitoba simply had too many tax credits.
"An ungainly tax credit system is evidence of a high-tax environment," he said.
Interim NDP Leader Flor Marcelino said she's concerned the budget will "severely hurt many, many Manitoba families," especially when it comes to accessing health care and post-secondary education.
"Education is a great leveller. When students find it difficult to pursue post-secondary education because of tuition fee hikes, that will be problematic," she said.
"They have reduced or they have cut the tuition tax credit; that will be a big burden for students who have incurred student loans. So we're so disappointed with this budget."
Film-tax credit spared
The provincial film-tax credit, which was a presumed candidate for the chopping block, survived the budget intact. Instead, the province plans to save $158,000 by eliminating the film classification review board and using film ratings from B.C. instead.
The Tories also chose to spare another line item favoured by the former NDP government, inner-city revitalization program Neighbourhoods Alive.
New funding in the budget includes an $8-million package of assistance for refugees who are no longer eligible for federal support, $8.8 million for expanded dialysis treatment and a $10-million contribution to the fiscal stabilization fund, which rises to $125 million at the end of 2017-18.
Despite the modest attempts at fiscal restraint, one more deficit this year will add to the province's overall pile of red ink. Manitoba's net debt will stand at $24.8 billion at the end of the year, up from $23.1 billion this year.
On the other hand, 2,100 more Manitobans won't pay taxes this year as the basic personal exemption is on the rise again. This move will cost the province $23 million.
---
CBC News is partnering with GoodTalk, a new engagement tool that lets Canadians watch and record video comments on top stories and even get featured on the CBC. Follow the links to try it out.