Manitoba
Manitoba teachers will be able to get vaccine in U.S., premier says, but union says it shows there was no plan
A cross-border vaccination agreement between the Manitoba and North Dakota governments is expanding to allow teachers and education workers in the province to get vaccinated in the U.S., Premier Brian Pallister says.
Isolation requirements to be lifted for education workers who seek vaccination south of border
Manitoba teachers and other school employees will be able to get vaccinated in the U.S., Premier Brian Pallister says.
An agreement announced last week that allows Manitoba truck drivers who regularly cross the border into North Dakota to get vaccinated in the U.S. will be extended to teachers and other school workers, including janitors and administrators.
"We want to make sure those schools are safe," Pallister said during a news conference Thursday. "The person will go to the border, [cross], get a vaccine and must come immediately back. They're not going shopping in Grand Forks."
Pallister suggested a possible cross-border vaccination site for teachers could be near the Emerson, Man., border crossing. Another could be at the International Peace Garden that straddles the Canada-U.S. border near Boissevain in southwestern Manitoba.
He said some of the details still need to be worked out. A Health Canada spokesperson was unable to provide more information Thursday.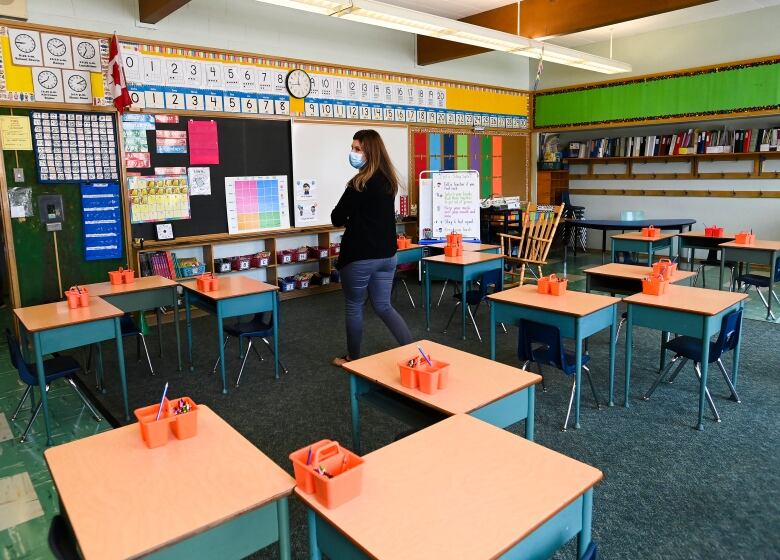 One possibility is to have a vaccination hub open on weekends so teachers can make the trip without having to take time off, Pallister said.
When asked why the onus will be on teachers and education workers to drive across the border on their own time, Pallister said he thinks most teachers won't see it as a burden but an opportunity.
Isolation rules lifted for teachers
Isolation requirements will be lifted for teachers and education system staff who opt to seek a vaccine this way, Pallister said. Currently, anyone who enters Manitoba must get tested and self-isolate for two weeks upon arrival.
Federal rules require 14 days of quarantine for most Canadians after they cross the border, with some exemptions, but the federal government is permitting exemptions for teacher vaccination, he said. The border has been closed to non-essential travel since early in the pandemic.
Michelle Driedger, a community health sciences professor at the University of Manitoba, questioned why the initiative couldn't be managed as a pop-up clinic somewhere in Manitoba.
She also said it and the travel exemption could send mixed messages.
"I am sure that some teachers might respond to this announcement and be happy that there is an opportunity to go and get vaccinated," she said. "For many others it will be received as an insult to their profession and to their commitment to working with the province."
The Manitoba government has been criticized in recent weeks for failing to include teachers on the priority list of workers who are eligible to be vaccinated.
The Manitoba Teachers Society echoed those calls again Thursday morning, ahead of the announcement, in calling for all Winnipeg schools to move to remote learning starting next week.
Society president James Bedford said the province hasn't consulted with the union on anything to do with vaccination. 
He said the North Dakota plan is "really just an admission that there wasn't a plan to vaccinate those who work in our public school system."
Bedford said the plan is only realistic for teachers who live within driving distance of the border, have a vehicle and someone who can watch their own kids if they wanted to make the trip.
Meanwhile, cases in schools are rising. There have been over 400 across 167 Manitoba schools in the past two weeks, about a quarter of them among staff.
Manitoba's chief provincial health officer has consistently said contact tracing suggests most cases aren't being acquired in schools but in the community.
Winnipeg high school teacher Lauren Hope has her doubts. 
She welcomes the chance for educators to get vaccinated, but said making them travel isn't the answer. She's also worried the change is coming too late to stop the transmission already happening in schools.
"We know that the numbers reflect what happened weeks ago, so if our numbers are high now and we're really riding this third wave at a much higher level and R-value than we did in October and November, then vaccines now aren't enough," Hope said.
'Political angle'
Brandon University associate professor Kelly Saunders says the arrangement misses the mark.
"It's yet another example of where this premier is just consistently tone deaf," she said. "Instead of prioritizing teachers and ensuring that they can get vaccinated, he is now requiring them to travel across the border on their own time at their own expense."
Saunders said resorting to a deal with North Dakota fits into a broader narrative of how Pallister has positioned the federal government as being responsible for bumps along the way in Manitoba's vaccine roll out.
"There's a political angle here that Pallister is trying to continually … work and that's just part of the ongoing deflection and blame-shifting."
Cliff Cullen, Manitoba's education minister, said in an ideal world, the province would have enough vaccine doses from Ottawa that it wouldn't need other partners.
"I wish we had that vaccine in hand, we don't, so that's why we're looking at various options," he said after Question Period. 
"Certainly, North Dakota has really stepped up and said they have some vaccine available."
Asked why Manitoba doesn't modify its eligibility requirements to vaccinate all teachers, Cullen said the province is relying on the advice of its vaccine task force, which is now prioritizing all adults in COVID-19 infection hotspots.
More details on the cross-border plan are expected next week.
With files from Marina von Stackelberg