Manitoba
21 new COVID-19 cases in Manitoba, including another at a Winnipeg school
There are 21 new cases of COVID-19 in Manitoba on Monday, 17 of them in Winnipeg.
Potential exposure at Beaverlodge School on Thursday, Dr. Brent Roussin says
There are 21 new cases of COVID-19 in Manitoba, 17 of them in Winnipeg, including another case at a school.
There are three new cases in the Southern Health region and there's one in the Interlake-Eastern health region, Manitoba's chief public health officer announced at a news conference on Monday.
Another possible COVID-19 exposure has been identified in Pembina Trails School Division in Winnipeg.
A person who has been diagnosed with COVID-19 went to Beaverlodge School on Thursday, in the morning and afternoon.
"The individual was asymptomatic and followed all public health measures," Chief Provincial Public Health Officer Dr. Brent Roussin said.
The school community and the cohort have been notified. Additional cleaning of high-touch areas is being undertaken out of an abundance of caution.
The school is not being elevated under the province's colour-coded pandemic response system, given the low risk and limited number of close contacts identified, a news release said. All schools in the province remain at the yellow, or caution, level.
Officials also warned on the weekend of possible COVID-19 exposures at two other Winnipeg schools — John Pritchard School in North Kildonan and Daniel McIntyre Collegiate Institute in the West End.
WATCH | Potential exposure at Beaverlodge School:
The province has now issued warnings about potential exposures at five schools since students went back to class, after people attended while asymptomatic.
"We see cases every day throughout the province. These are cases that have not been acquired at school, so none of these cases put into question the protocols we have in schools right now," Roussin said.
"There's a couple hundred thousand students, so we're going to see some cases in there, but we want to do what we can to prevent transmission within schools, making sure the schools are safe."
The province has changed its policy on releasing information about people who test positive in schools, Roussin said.
"There was a tremendous amount of stigmatizing behaviour that came out," he said about a case of COVID-19 at Churchill High School in Winnipeg.
"We're looking to try to get as much information out there to know where the cases are, but we're trying to do what we can to try to maintain some privacy, not to deter people from getting tested."
There are 257 active cases in the province and 1,176 people have recovered from COVID-19.
The five-day COVID-19 test positivity rate is 1.4 per cent.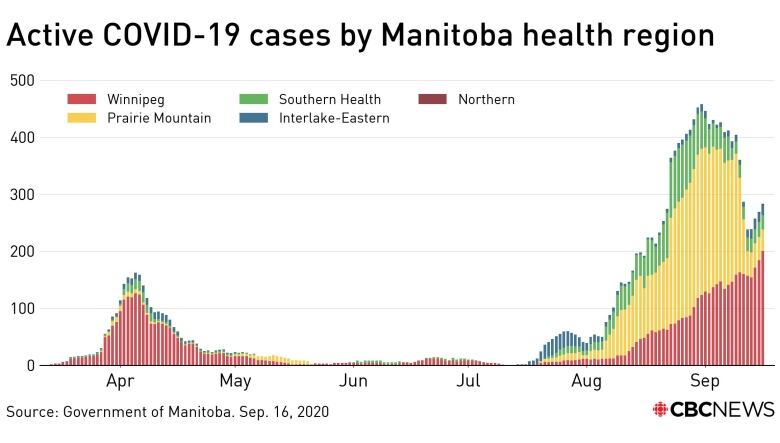 Close contact with a known case of COVID-19 now accounts for 61.1 per cent of all cases in Manitoba, and 15.4 per cent of cases have an unknown source, provincial data says.
Between Aug. 30 and Sept. 5, 14 health-care workers tested positive for the novel coronavirus, says a report from the province.
There is only data available on 11 of the 14 people, according to a spokesperson from Shared Health. Eight are from the Winnipeg Health region and three are from Prairie Mountain Health.
Some of these health-care workers were previously announced when outbreaks at health-care facilities were reported.
Another resident of the Assiniboine Centre at the Brandon Regional Health Centre also has developed COVID-19 after an outbreak was declared last month on a floor that houses a rehabilitation unit, Roussin said.
That brings the total at that facility to six residents and two health-care workers.
On Sunday, the province reported 18 new cases of COVID-19, including 11 in Winnipeg.
One of those 18 cases has since been reassigned to the Winnipeg health region from the Northern Health Region, Roussin said.
On Friday, the first probable cases of COVID-19 on First Nations in Manitoba were announced: one on Fisher River Cree Nation and another two on Peguis First Nation.
Roussin confirmed these cases on Monday.
As of Monday morning, Canada had 136,972 confirmed or presumptive coronavirus cases. Provinces and territories listed 120,564 of those as recovered or resolved.
WATCH | Full news conference on COVID-19 | Sept. 14, 2020:
---
Latest local news