Manitoba
Camille Runke's sister wants mandatory ankle bracelets on suspected stalkers
Maddie Laberge wants the Manitoba government to impose a law that would force suspected stalkers to wear GPS ankle bracelets. Her sister, Camille Runke, was gunned down Oct. 30. Her estranged husband later shot himself.
'We were suffering and helpless. We have to do something,' says Maddie Laberge
Camille Runke's sister wants suspected stalkers to be outfitted with ankle bracelets to track their movements and potentially help keep victims safer.
"If someone's innocent, why would they not want to wear that and prove their innocence? It works both ways. It's a win-win," said Maddie Laberge, who believes such a bracelet would have eased Runke's fears because it would have tracked her estranged husband, Kevin Runke.
"How easy could this have been to just know where he was, just track where he was?"
Camille Runke was killed outside her St. Boniface workplace on Oct. 30. Several days later, Kevin Runke was found dead in a wooded area in the St. Malo area. He had shot and killed himself.
Camille complained to police 22 times between July and October 2015 about her husband harassing her. Winnipeg police said they had no proof and Camille didn't tell them she was afraid, even though she had a protection order out against Kevin.
"She was fearful from the beginning, from the very beginning, because he just started doing crazy things," Laberge said. "I think the first thing that happened was, I think, her window got smashed in her vehicle."
She added, "He slashed my mom's tires, he got my mom's windows. We had two incident reports from this home.  It was never-ending. And there was nothing they could do, so let's do something."
Laberge feels the only thing that might have been able to stop Kevin is an ankle bracelet. She's now pushing for the province to impose a mandatory GPS monitoring device on anyone accused of stalking on a protection order.
"That would be a huge deterrent and any incidents that she would have recorded after that — when she had a rock thrown at her vehicle while she was driving — 'Well, where were you Kevin? Where were you standing when that happened? Oh, you were right there?' Evidence, right? Something. Something to go on," said Laberge.
'She was not herself'
The last time Laberge saw her older sister was in July.
Laberge, who lives in Edmonton, came back to Winnipeg for an annual family outing to Clear Lake to celebrate her mother's 70th birthday.
She said Camille, who had always been fun loving and free-spirited, had changed. She cried a lot, wasn't eating and had lost a lot of weight.
"She was not herself, and she knew that she was fading just psychologically. It was torturing her," Laberge said.
Camille, 49, had recently split with Kevin Runke. She told Laberge he had been cheating on her. The marriage and relationship lasted about a year and a half.
"She was mad and he didn't want her saying all the things that she said about him to everyone," said Laberge 
"That was the beginning of the end. It just escalated from there. He wanted her back. She didn't want him back."
Laberge said Kevin didn't take the break-up well and had started to stalk and harass her sister to the point where she had to get a restraining order against him.
Kevin Runke was charged with mischief on July 24 after cutting a water hose and flooding Camille's basement.
In another instance of those 22 complaints, someone scattered nails on the ground near her car so that she would drive over them and get a flat tire. But without any evidence connecting Kevin to the crimes, officers couldn't charge him.
"Would 100 [complaints] have mattered? Would 200 have mattered if you never had evidence on him?" said Laberge.
In the weeks before Camille's death, Laberge said her sister had decided to take back her life. She wasn't going to live in fear any longer and was going to "leave it in God's hands."
'He was after her,' sister says
Camille was gunned down on Oct. 30 at around 6 a.m. outside the St. Boniface trophy shop where she worked.
Laberge said Runke had duct-taped the key pad on the store's door so Camille could not enter the pass code to get inside. A co-worker found her body by the back door later that morning.
"He was after her; he had his sights set," said Laberge.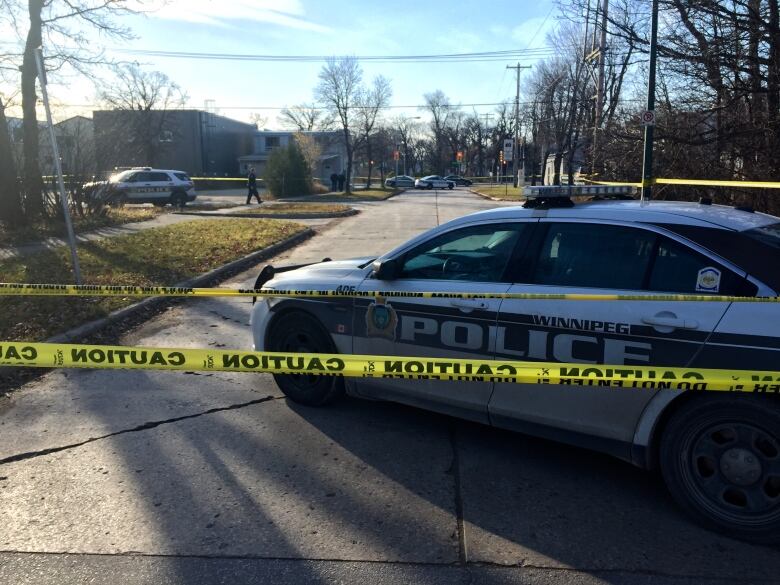 "He planned that day. I know he planned that day because Halloween was the next day, her favourite day all year. So it was just a real kicker. It was a real slap in the face for that to happen at that time."
Kevin Runke shot and killed himself on Nov. 2 during a standoff with police.
Winnipeg police were in St. Malo, Man., searching for the 46-year-old man in connection with Camille's death. They spotted his vehicle tried to pull him over. Runke drove to a wooded area and took his own life.
"If they had caught him and had he not taken his own life, we would be going through a court case and they straight-up told us, 'We don't know how much evidence we have. We don't have the gun, we don't have bloody clothing, we don't have what we need, so you know we could have been fighting him in court,'" said Laberge.
"An ankle bracelet — 'Oh, he was right beside your sister when she died.'"
Camille was the oldest of four siblings. At 39, Laberge is the baby.
"Cam was a great older sister … but this whole thing tore her apart and we had to watch that and that was really hard," she said.
Wants governments to consider idea
Laberge said it's time governments do more to protect the victims and consider the ankle bracelet idea.
"It wouldn't be forever. They'd have to come up with time limits and that sort of thing, but it would definitely be a de-escalation so at least the person would have some time to go and get some counseling," Laberge said. 
Police told Camille Runke to install security cameras and extra lighting outside her home to try to catch Kevin in the act, but Laberge said he had become too good at not getting caught.
"My sister was so diligent about keeping records and writing everything down, and I know the police had said, 'You are doing everything right,'" Laberge said. "She was trying to rescue herself because she knew that nobody could do anything for her."
She's now urging the public to write to their MPs and push for harsher legislation to protect victims of stalking and domestic violence.
"If you agree, contact your MLA and/or MP and tell them your story, or simply say you want this idea to be discussed and examined. This is a solution to consider. Laws can and need to change. Let's save some lives. I wish I could have saved Camille," Laberge said.
"I knew when I got the call she was dead. I knew. Because I knew it could happen…. I don't want anyone else to have to go through that."