Manitoba
20 people forced from Balmoral Street apartments after fire inspectors order it be boarded up
From the outside, it looks like your classic Winnipeg character building but inside tenants of 181 Balmoral St. say its been a world of trouble.
No heat for 5 days, no hot water, unsecured doors — and now tenants have to leave by Monday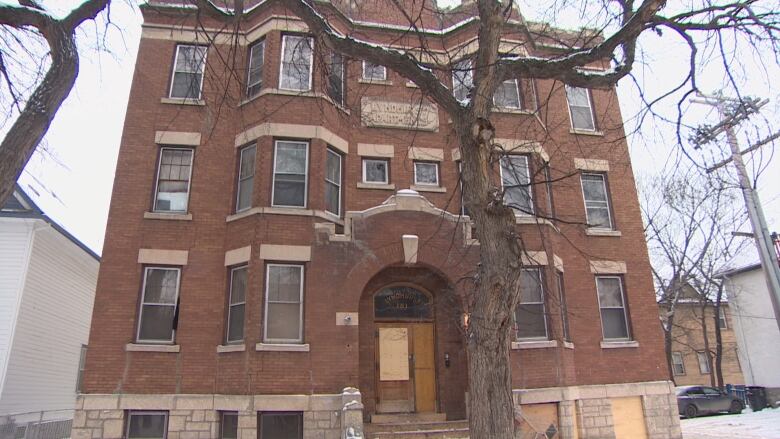 From the outside it looks like your classic Winnipeg character building, but inside tenants of 181 Balmoral St. say it's been a world of trouble.
Now, 20 people are losing their apartments on Monday after the Winnipeg Fire Paramedics Service (WFPS) deemed the building unsafe.
"It's scary," said Christian Duval, a tenant of 14 years. "We have [had] no heat going on for five days now, we have no hot water, the fire doors are not there, the building is left unsafe — anybody can come in."
Duval said what was once a clean, quiet apartment block has become a nightmare to live in after a new owner took over in 2015.
CBC News toured the building and confirmed there was no heat, some vacant suites had no doors, other exterior doors had no locks.   
"Half the apartments are not secured, no doors or only a piece of plywood on top of them. We've got squatters in the basement. Needles everywhere."
John Mallatratt rents a suite on the third floor but has been out of his suite for weeks after it was looted, he said.
"It's untenable living here honestly," said Mallatratt. "It's not good."
A fire broke out down the hall from his unit in November, and while the building was vacated, he said his suite and others were ransacked.
"Someone broke into my apartment. I secured it and then they tore the plywood off with the frame of the door and it's been six weeks now and I still don't have a door," Mallatratt said, adding he has asked the landlord repeatedly for a new door, but hasn't got one.
Inspectors descend on building
Over the last month, Winnipeg police responded to 34 calls for service at the address over break and enters, weapons, fights, threats, noise and other disturbances.
It's not flagged as gang or drug house but Duval and Mallatratt said complaints to the landlord about drugs, safety, building security and maintenance have gone unaddressed.
Both men said they filed complaints with the Residential Tenancy Branch.
On Wednesday, fire and city bylaw inspectors, alongside police and Residential Tenancy officials, examined the building top to bottom. A spokesperson for the city confirms the building has been ordered to be vacated by Monday and boarded up.
"The WFPS has attended the building multiple times over the past month-and-a-half for various issues related to the fire protection systems being tampered with and issues related to the breaching of fire separations," a statement from the city said.
Because of the ongoing issues, it was determined the building must be shut down for tenants' safety.
"City of Winnipeg Emergency Social Services team members are currently working to connect tenants who require assistance, with organizations that can help in locating alternative accommodations," the statement said.
Landlord responds
On Thursday, CBC News contacted the landlord, Darcy Shaver, who confirmed there was no heat in the building because someone vandalized the boiler.
Shaver said it would be repaired as soon as a new pump that was ordered arrived from out of town.
As for concerns over building security and maintenance, Shaver said he has replaced and repaired doors repeatedly, but they continued to be kicked in.
He said he encouraged his tenants to purchase rental insurance and said they had every right to move.
But Duval and Mallatratt say poor management is to blame for the building's decline.
Mallatratt said he is in the process of filing an insurance claim for his possessions and is living with friends.
Duval said he has secured a new apartment and knows he is fortunate to have the means to move, but he wishes he didn't have to.
"A lot of people having been fighting for years to clean up, to make it a better neighbourhood and they did a good job," he said. "Now if we move, well, they win. and you end up with drug dealers and junkies taking over the old area."
He's concerned some tenants may find themselves homeless weeks before Christmas.
With files from Jill Coubrough