Kitchener-Waterloo
Parts of Guelph's Goldie Mill ruins closed due to sinkholes
The ruins of the former Goldie Mill in Guelph are popular with outdoor summer events and wedding photographers, but part of the site won't be accessible for at least this year while city staff deal with two sinkholes in the area.
It could be summer 2017 before ruins fully reopen to the public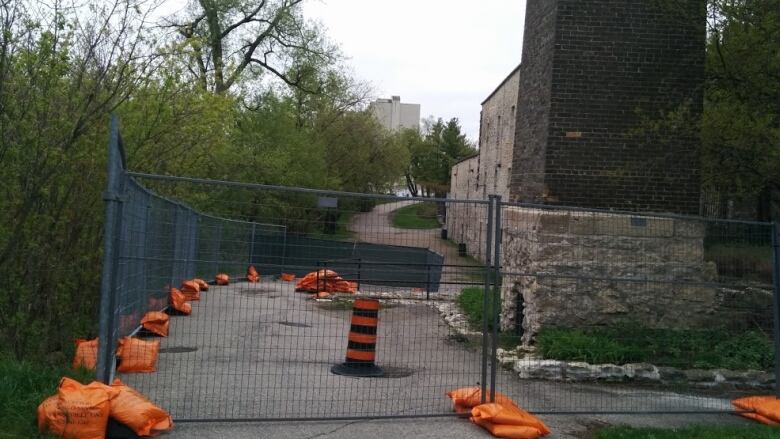 The former Goldie Mill in Guelph is a popular place in the summer for outdoor events and wedding photos, but public access to the area will be limited this year and next due to two sinkholes.
Mario Petricevic, the city's general manager of facilities management, said a staff member was out at the site earlier this year surveying the area for future renovation work when she noticed two sinkholes.
It is still unclear how deep or wide the sinkholes are and an investigation is underway as to what caused them.
"We've tentatively shut it down for this year and probably next," Petricevic said.
"Our guess is that it may take several months yet to do a full investigation and get a report back, probably towards the end of the year," he said. "Then next year, we would carry out whatever remediation work had to be completed out there."
Parts of the site have been fenced off to ensure no one falls into the sinkholes.
Events moved
Bedrock isn't too far under the ground, Petricevic said, so it may be possible to fill in the sinkholes. But that will also depend on what has caused the sinkholes.
The sinkholes have meant some long-standing events at the site will have to move for this summer and likely next year, too.
The Guelph Potters' Market, which is usually held each year at the ruins, has had to move. It will now be held at Royal City Park on Gordon Street across from the boathouse. The two-day event will take place June 11 and 12.