Kitchener-Waterloo
Love made this Toronto woman move to a Wellington County farm and buy 14 goats
A former Toronto woman went on a date with a Wellington County farmer and decided to stick around. Now, she owns 14 goats.
Marli Seheult moved from Toronto to Wellington County this year and now owns 14 goats
When Marli Seheult recently started dating her partner, he bought her a present. Not a box of chocolates or a bouquet of flowers — a small, black pygmy goat named Abraham.
Within about a month, she owned 14 of them.  
"Goats are like potato chips," said Seheult. "You can't just have one."
The gift would have been impossible this time last year, when Seheult was still living in downtown Toronto. But over the course of 2020, Seheult has met, fallen in love and moved in with Jeff Smith, a third-generation farmer in Wellington County.
It's been a big adjustment, but Seheult says the newfound love — and the wide open spaces — has made it worthwhile.
"I'm really, really happy," said Seheult, whose story was first featured in the magazine Toronto Life last month. 
How they met
Seheult had lived in Toronto for about eight years and was starting to feel cooped up this winter. So she widened the radius on her dating app to include people living further afield — which led her to Smith's profile.  
Messaging back and forth soon turned into phone calls that stretched for four or five hours.
"I just couldn't wait to meet her," said Smith.
The two clicked in person during their first date: a three-day visit at his family farm. Amid the COVID-19 pandemic, they quickly decided that popping back and forth between the farm and her apartment didn't make sense.
"So, I ended up staying," said Seheult.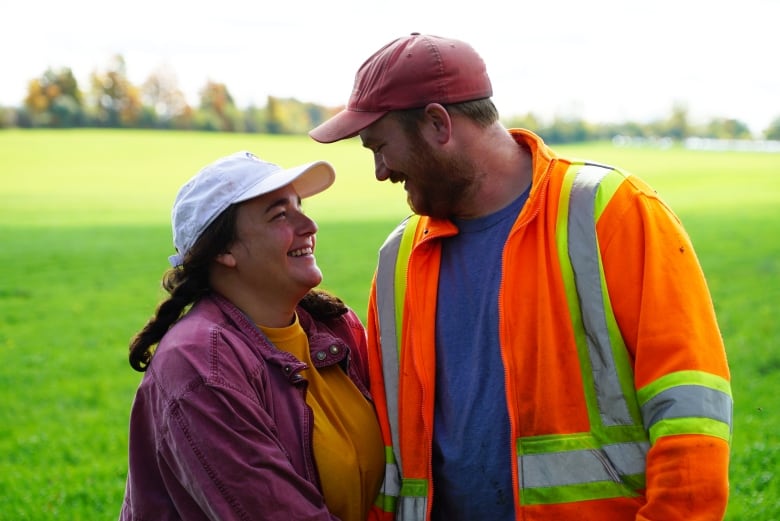 Today, the two spend almost all day, every day together. That means waking up early to feed the animals and working at chores and their respective day jobs until past sunset.  
There are drawbacks, Seheult said. Free time is hard to come by, while hair and nail appointments are just about out of the question. 
But it also means picking up new skills. Seheult said she's learned how to care for animals, how to drive a tractor and is working on her driver's license.
Seheult said working with living things is also rewarding in a way that's new to her.
"You feel like you've accomplished something every day," she said.
Although the year's events were certainly unexpected, Seheult said she has no shortage of things to be grateful for this Thanksgiving: a new home, a new love, and a new life. 
"2020 has given me the opportunity to grow and to really take chances," said Seheult.