Kitchener-Waterloo
More of Guelph's Goldie Mill Park to be fenced off over safety concerns
Last year, Guelph and the GRCA fenced off a small part of the area around the ruins of Goldie Mill due to sinkholes. Now, more of the park will be fenced off due to safety concerns about sinkholes and contaminated soil.
City says sinkholes, contaminated soil may pose risk to public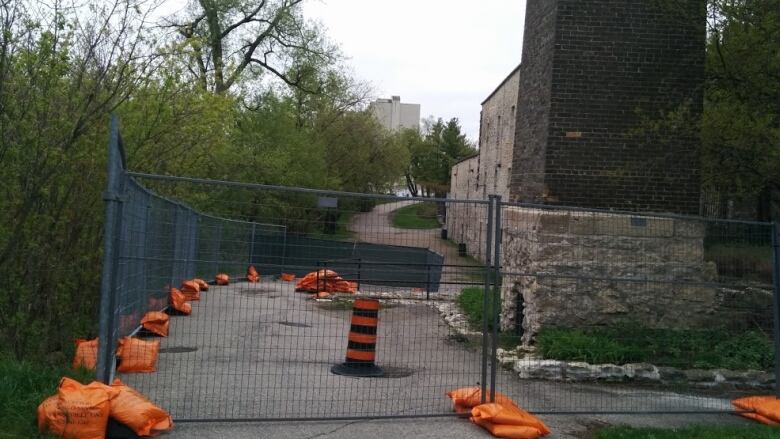 Guelph city staff have fenced off more of Goldie Mill Park - a popular spot for wedding photography - because sinkholes and contaminated soil may post a risk to the public.
Part of Goldie Mill was blocked off last year due to sinkholes. The city announced this week the fencing will be significantly extended to restrict the area of Goldie Mill beside the Speed River. The mill ruins are located behind the Guelph Youth Music Centre on Cardigan Street, near the city's downtown.
Environmental testing done while investigating the sinkholes determined the presence of chemicals in the soil, the city said.
The testing was commissioned by the Grand River Conservation Authority, which owns the land and the ruins, although the city maintains it and rents it out for events such as weddings or small concerts. The city will be doing additional tests on land adjacent to the park.
Those additional tests will be done this summer and will help "both organizations to better understand potential risks and if actions are needed to address them," the city said in a release.
The city said testing is expected to cost $20,000.
"The extent and cost to address the existing soil condition on both the city and GRCA land will depend on the results of the tests," the city said.
Goldie Mill is a former flour mill, although there have been several mills on the site since 1827. After a second fire on the site, the three-storey limestone building that now exists as ruins on the site today was constructed in 1866. All stone for the building was quarried on the mill's property. It has been designated as a heritage site.