Hamilton
U.S. plan to reopen land crossings for Canadian travellers 'huge' relief for cross-border couple
Melanie Francis married an American during the pandemic. With news the U.S. plans to reopen its land border to fully vaccinated Canadians next month, she's looking forward to making up for lost time.
Niagara Falls, Ont., mayor says announcement is good news, but 'long overdue'
Melanie Francis married an American during the pandemic and now, with news the U.S. plans to reopen its land border to fully vaccinated Canadians next month, she's looking forward to making up for lost time.
The 26-year-old, who lives in the Niagara area, said she's most excited to watch her daughter run around and play with her new stepfather.
"I hate how much growing up and time my husband has missed out on watching her," Francis said.
"There's so much bonding they've missed out on and so it's just a relief now that [we're] able to cross somewhat easily."
Canadians with two doses of a COVID-19 vaccine will be able to cross into the United States by land and ferry starting early next month.
U.S. officials announced their plan to reopen crossings with Mexico and Canada on Tuesday night. The border had been blocked for non-essential travelers since the early days of the pandemic in March of last year.
Some details are still being worked out, including an exact date for reopening and the type of documentation that will be accepted as proof of vaccination status.
Canadians will be questioned about their vaccination status at the border but proof of vaccination will only be required if the traveller is sent for a secondary screening, according to U.S. government officials. 
If a traveller to the U.S. is fully vaccinated, they will not be required to provide a negative COVID-19 test.
Niagara Falls mayor 'thrilled'
Jim Diodati, the mayor of Niagara Falls, Ont., said he's been in contact with other border mayors and U.S. officials throughout the pandemic and, when news broke that Canadians will soon be allowed to enter the United States at land and ferry border crossings, he and those contacts started texting and calling each other right away.
"We're thrilled. This is long overdue," he said.
"This is really a big step toward making things much more normal for border cities."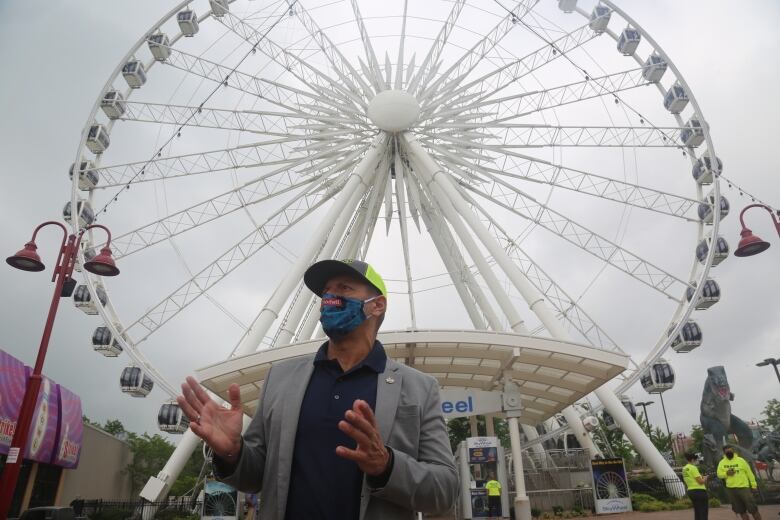 Diodati described the announcement as a step in the right direction, but said he isn't expecting the change to result in a flurry of traffic and tourists.
Canada has been allowing fully vaccinated American travellers to enter the country, even for non-essential reasons, since late summer.
However, one difference from the approach announced by the U.S. this week is that those crossing into Canada are required to have a negative COVID-19 test within 72 hours of their flight or arrival at the border.
Diodati said that's limiting the number of visitors to his city.
"The way it is right now, it's so restrictive, the border's open but it's not really," he said, adding "a lot of Americans can't be bothered" because constantly getting tested is expensive and requires a lot of coordination.
Video chat only goes so far
Francis said her husband, Clifford, has provided "so many negative tests" in order to see her, adding she hopes Canada follows the U.S. and stops requiring the tests to cross the border.
The couple met online in December 2019.
Clifford lives just across the border in Tonawanda, N.Y., said Francis. Before the border closure it wasn't unusual for her to cross over to spend the night then head back to Canada for work in the morning.
But even seeing each other in-person has been a challenge as restrictions fluctuated. Most of their connection happened through screens.
"Pretty much if ... we were just at home, we would have the video chat on, even just if he was playing video games and I was cleaning, just to feel like we were somewhat together," she said.
The pair were married in October 2020 and managed a two-week "honeymoon quarantine" where they couldn't leave her apartment.
News she'll soon be able to go and visit Clifford again is a "huge" relief, said Francis. 
Still, she can't help but think about what it would have been like for her and her daughter if the change had come sooner.
"It's great. It's just too bad there was so much time lost."
With files from Myriam Eddahia, Katie Simpson, Nick Boisvert, Alexander Panetta