Hamilton
'Thrown to the wolves': These men face homelessness Friday as charity closes housing
The Bridge provides a haven for men who spent times behind bars to transition from incarceration to the community, but its housing program is set to shut down Friday, leaving four men with nowhere to go.
'We hope that we haven't pushed any of our clients onto the street,' says treasurer
James Matheson and Scott MacDonald expect they'll be homeless as of Friday.
The Hamilton men are two of four people who currently rely on the Bridge for a place to live. But last week they were told the charity, which helps those who have spent time behind bars, is shutting down its housing program.
Now they have just four days to get out and find somewhere else to stay.
Both men said sleeping on the street is the most likely scenario.
"I feel very helpless," said Matheson, who has lived in the Bridge House on Barton Street near Victoria Avenue since the beginning of June.
This was my way to break off a bunch of old ties. This was my way to get out of the life I was previously involved in. This was ... my second chance."
For decades the Bridge has provided a haven for men who have been incarcerated to transition back into the community. It offers services including practical, emotional and physical support aimed at improving life skills, education and work opportunities.
It also provides housing for up to six people.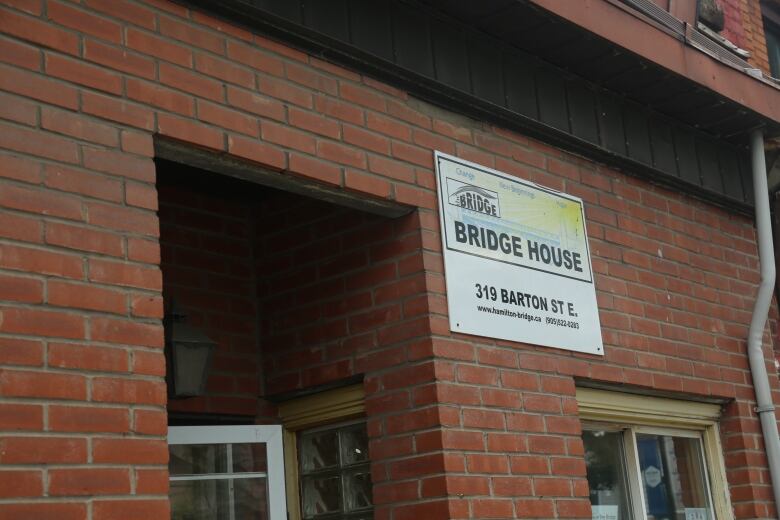 Until the end of this week, that is. In a statement dated August 20, the Bridge's board of directors announced it's halting the transitional housing service until further notice.
"Our goal is to enthusiastically reopen in October, 2019," the statement reads, adding it will announce when it's ready to relaunch the housing program.
The statement, issued by Ryan McComb as chair of the Bridge's board of directors, points to "foreseen and unforeseen circumstances" that pushed the The Bridge to take the "opportunity to restructure the way we offer assistance to our valued clientele."
The statement adds the board is hopeful the closure will "bring with it a refreshed and effective delivery service."
A 'gut-wrenching decision' for the board
Board treasurer Karen Mason explained the four-week closure was brought on by two out of three of the charity's paid staff resigning suddenly, raising concerns for client safety. Financial difficulties are also a factor for the organization which relies on donors for 50 per cent of its funding, along with grants.
She described the move to shut down the housing program as a "gut-wrenching decision."
"We hope that we haven't pushed any of our clients onto the street. That's obviously not what we would want to do."
During the closure the charity will continue its other programs, including weekly breakfast and dinner meetings.
The Bridge's one remaining employee is working hard with community partners to find the men somewhere to live, but Mason said it would be "foolish" for her to say no one will end up homeless because of the board's decision.
"Could they be on the street? They could be," she explained. "We could find them housing and a week later they'd be on the street. There are no guarantees. These are really vulnerable populations."
They had the Bridge as a stepping stone and a place where they would get help. Now they're just thrown to the wolves.​​​​​- Russell Stewart, former Bridge tenant
Scott MacDonald says at this point, the street or the shelter are his only options. 
He's lived at the Bridge since November, paying $400 every month and buying his own groceries just like every other person in the program.
He was proud of his home and says he did all sorts of repairs around the building, from fixing lights to plumbing work.
"I wasn't expecting anything from it. I figured because they're giving to me I should give back."
Men are typically able to stay with the Bridge for anywhere from three months to a year, so MacDonald's time there was ticking down. Still, the fact he'll have to move out months sooner than expected hasn't hit him yet.
"I had three months to work with the city and the outreach program to find a place. Now it's seven days."
Mason said the board had made its decision to end housing days before it told the men during a dinner meeting. She said the dinner was the best time because it's when people using the program typically hold their house meeting.
But Matheson said in hot housing market where having even one more day to search for a place to live is important that decision may have cost him dearly.
"This [program] is about treatment and stability," he explained. It's "the exact opposite of we're getting right now. It's honestly a little disgusting."
'Pretty much screwed'
MacDonald says a shelter is one possible option, but the risk of running into drugs, pressure and bad influences there will most likely lead to him staying on the street.
"I was wired, on drugs before I came here. It was those places [where] kind of … I ended up that way, you know?"
Russell Stewart is someone who knows firsthand the dangers unstable housing can raise for someone in recovery.
He says he was addicted to meth before his stay at The Bridge last winter. Now he's clean and wants to become an addictions councillor to others.
Stewart credits the charity with helping him get his life back, but he fears what the future will hold for men like MacDonald whose stay is ending early.
"They're pretty much screwed," he said.
"They had the Bridge as a stepping stone and a place where they would get help. Now they're just thrown to the wolves."