Hamilton
·
Video
St. Catharines man jumps into water and dislodges a fish hook from a swan's neck
Somewhere on a pond in St. Catharines, Ont., a swan has Fred Bowering to thank for her life.
Somewhere on a pond in St. Catharines, Ont., a swan has Fred Bowering to thank for her life after he dove into the water and pulled a hook from her neck.
The big white bird was bobbing off the shore of the Martindale Pond Wednesday when a fishing hook lodged in her neck. Somehow, she swallowed the line too, and the anchor sank in her throat. She couldn't hold her head up straight, and a narrow thread extended from her orange beak.
Bowering was walking with his mom and niece when they noticed the swan in distress.
"My niece basically said 'Uncle Freddie, go in and help it,'" Bowering recalled.
"I said, 'What do you want me to do? Dive in there and get the hook out of it?'"
That's exactly what he did. Bowering started tossing sticks into the water, hoping the swan would mistake it as food. When the bird got close enough to the shore, he jumped in and grabbed her.
The swan flapped her wings as Bowering held her neck and wrapped his arm around her girth.
"I felt bad that I had to grab it by the neck, but I didn't want to hurt her wing," Bowering said. He detached the hook in seconds, then pulled the line from her throat.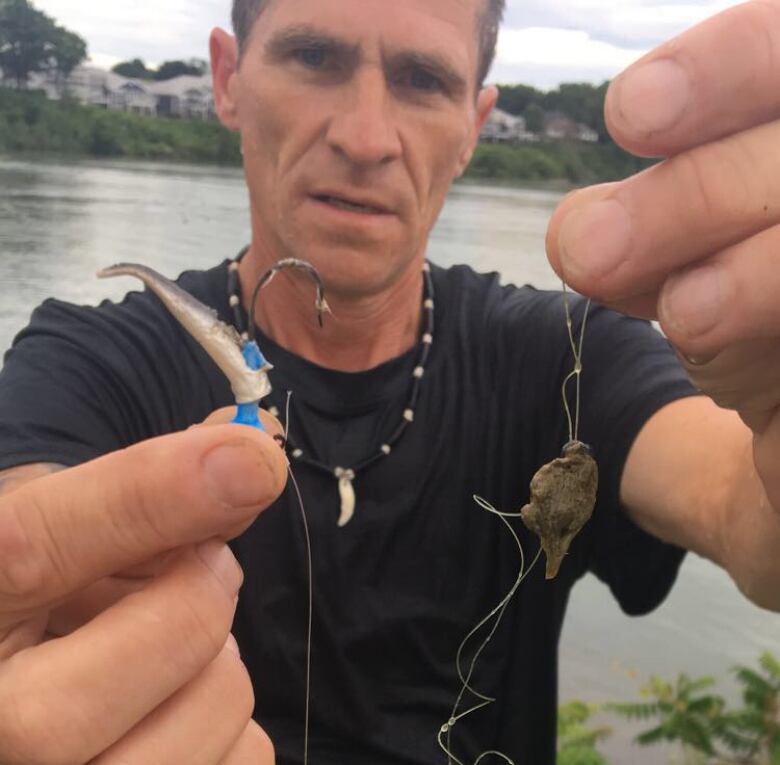 "Once I got the hook out, she totally relaxed," he said. "I think she realized I wasn't going to hurt her."
His niece posted video of the incident on Facebook, where it has 18,000 views so far. But for 49-year-old Bowering, the incident was much more than a run-of-the-mill swan rescue.
For years, Bowering was addicted to drugs – crack, fentanyl, meth, whatever he could find. 
"I didn't talk to my family," he said. "I didn't talk to anybody. The only person I talked to was my drug dealer."
He's been clean for four years now, and is known around St. Catharines for picking up used needles in local parks. Each month, he collects containers full of them.
Bowering's mom came from Sarnia that day, and the two had a rare visit.
Unforgettable moment
He, his mom and his niece got Swiss Chalet and had a picnic in the park. Then they took a walk along the water, where they saw beaver and ducks. It was a good day.
With the swan rescue, he said, his mom saw the man he's become.
"She's never going to forget it," he said. "I'll never forget it. The swan probably won't forget it."
Bowering's niece, Hawklene Lawton, won't forget it either. "I didn't think he was actually going to jump in," she said. But "he's just that type of person."
"It seems like it's about time for everyone to see who he is and what he does and what kind of man he is," she said. "He's amazing. He's a hero walking the streets."