Hamilton
·
Hamilton Votes 2021
5 Hamilton-area races to watch during the federal election campaign
It's common to have robust races in Hamilton and area. What's less common: five local MPs are retiring from office.
Familiar Tory, Liberal and NDP candidates are stepping down, but there are plenty who want to take their place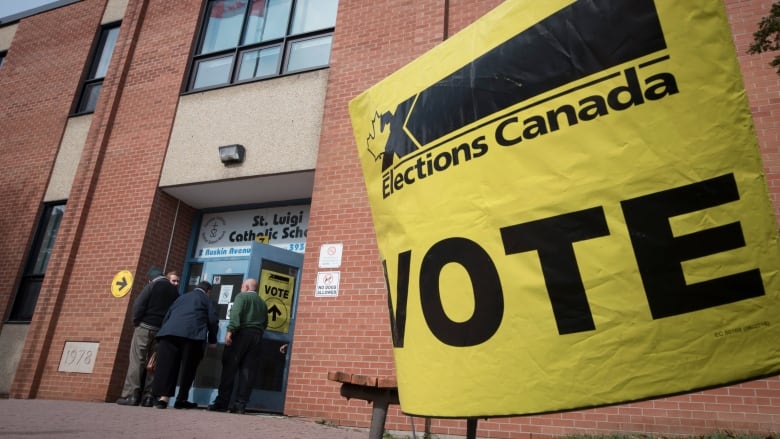 Have an election question for CBC News? Email ask@cbc.ca. Your input helps inform our coverage.
Find out who's ahead in the latest polls with our Poll Tracker.
Use Vote Compass to compare the party platforms with your views.
It's common to have robust races around Hamilton and area. What's less common: five local MPs are retiring from office.
Liberal Bob Bratina says he won't run again in Hamilton East-Stoney Creek, citing his distaste for his party's support for Hamilton light-rail transit (LRT). Conservative David Sweet isn't running in Flamborough-Glanbrook, a decision he announced after he took part in non-essential travel last year despite the pandemic. He's also been a vocal critic of lockdowns. 
Conservative Phil McColeman of Brantford-Brant says he's done too, as is Diane Finley of Haldimand-Norfolk, a Conservative who's held the seat for 18 years. 
And Scott Duvall, a former steelworker and NDP MP from Hamilton Mountain, says he won't run again either. 
Overall, they represent one of the nine Liberals who won't run again across Canada, three of the seven Conservatives, and one of the three NDP MPs. 
Here's a glimpse of what's in store for those ridings leading up to the Sept. 20 election: 
Hamilton East-Stoney Creek
The east Hamilton riding, which runs from Kenilworth Avenue to just east of Fifty Road, has flipped back and forth between the Liberal and NDP over the last 20 years, so expect both parties to treat it like it's anyone's game.
Bratina, a former mayor, snatched the riding from the NDP in 2015. He said he wouldn't run again in May after his party committed $1.7 billion toward building LRT, and asked the parliamentary budget office to scrutinize the commitment.
Chad Collins is the new Liberal nominee. He's been a city councillor for Ward 5 (Centennial) since 1995, and his votes on LRT have been mixed.
Collins will battle it out with NDPer Nick Milanovic, a labour lawyer who came second to Bratina in 2019, winning 14,930 votes to Bratina's 20,112. The NDP has voiced its support for LRT.
Entrepreneur Ned Kuruc, the Conservative candidate, has run for council in Ward 3 (central lower city). Kuruc says he doesn't want LRT — or the timing of this election.
"Now is not the time for an election," Kuruc said in a media release this week. "Justin Trudeau and the Liberal Party are more focused on power than getting Canadians through the pandemic."
Websites for the Green Party and People's Party don't list any candidates for the riding yet.
Hamilton Mountain
The Mountain riding, which runs from Rymal Road to the edge of the escarpment, has been an NDP seat since 2006, but was Liberal for 18 years before that. Expect the two parties to duke it out here too — with possible visits from party leaders. The parties were about 3,000 votes apart in 2019.
Malcolm Allen, a Niagara Centre MP until 2015, is running for the NDP. CHCH reporter Lisa Hepfner is doing a first-time run for the Liberals.
Hepfner isn't the first CHCH personality the Mountain has seen on the ballot. Donna Skelly, now a Flamborough-Glanbrook PC MPP, won a byelection to be city councillor there in 2016.
Al Miles is running for the Conservatives. The websites for the Greens and the People's Party don't list any candidates yet. 
Flamborough-Glanbrook
The riding of Flamborough-Glanbrook, created in 2015, has been reliably blue so far. But it's comprised of part of a former Ancaster-Dundas-Flamborough-Westdale riding, which was known to elect Liberals. Sweet won by fewer than 2,000 votes in 2019, with the Liberals close on his heels. 
Dan Muys, a longtime Conservative volunteer and campaign manager who's worked for Sweet, is running for the Tories. Sweet said in a January Facebook post that he's stepping down to spend more time with his family.
On the Liberal front, Vito Sgro will try to take some votes from Muys. Sgro has worked on local Liberal campaigns and made a run for mayor in 2016, when he campaigned on being opposed to LRT and door knocked with Bratina.
Lorne Newick, an electrician and union leader, is running for the NDP. Bill Panchyshyn is the candidate for the People's Party. The Green Party doesn't have a listed candidate yet. 
Haldimand-Norfolk
For the first time in 18 years, Haldimand-Norfolk is up for grabs. The riding south of Hamilton, which includes Caledonia, is perennially blue. Finley had an easy victory in 2019, although a Liberal represented it federally for 16 years before Finley.
Finley's replacement as a Conservative candidate is Leslyn Lewis, a Toronto lawyer who's drawn some local criticism for her unfamiliarity with the riding. Lewis ran for the party leadership in 2020, and previously ran in Scarborough. She was acclaimed as a Haldimand-Norfolk candidate last fall.
Karen Matthews, one-time general manager of the Norfolk County Fair, is running for the Liberals. Her website draws a subtle disparity from Lewis by calling Matthews "an active and well-respected community champion with strong local roots."
There are no NDP or Green candidates listed yet. Ken Gilpin is running for the People's Party.
Brantford-Brant
Brantford-Brant is a longtime riding that's been represented by every major party over the years. The incumbent, Phil McColeman, is a Conservative, although pre-2008, the riding was red. McColeman, who won handily in 2019, isn't running again. 
Larry Brock, a Brant assistant Crown attorney, is running under the blue banner. Liberal candidate Alison Macdonald is a lawyer too, and practices law from her home community of Six Nations of the Grand River. 
Adrienne Roberts, a teacher and local union leader, is running for the NDP, while Cole Squire is running for the People's Party. The Greens don't list a candidate yet.