Headlines
Confederate flag has been flying in Dundas, Ont., for 18 years
Amidst the renewed controversy over the Confederate flag, a homeowner in Dundas, Ont., says he's proudly displayed the flag for 18 years and has no plans of removing it.
Homeowner says the flag is not racist, says flag will 'never' come down
A massacre at a African-American church in Charleston, S.C., that killed nine in June sparked intense debate about the symbolism of the Confederate flag. It's since been removed from the South Carolina State House and U.S. President Barack Obama declared it a symbol of racial oppression in a eulogy for the slain pastor of the Charleston church.
Many miles away, north of the border, the flag has been flying high in the backyard of a Dundas, Ont., home for 18 years — and that debate may have at last arrived at the owner's doorstep.
"It's not a ni---- flag," said the homeowner, who declined to give his name but was identified as Eldon Spinney by neighbours. "I don't care what happened in South Carolina, that's a long way from here."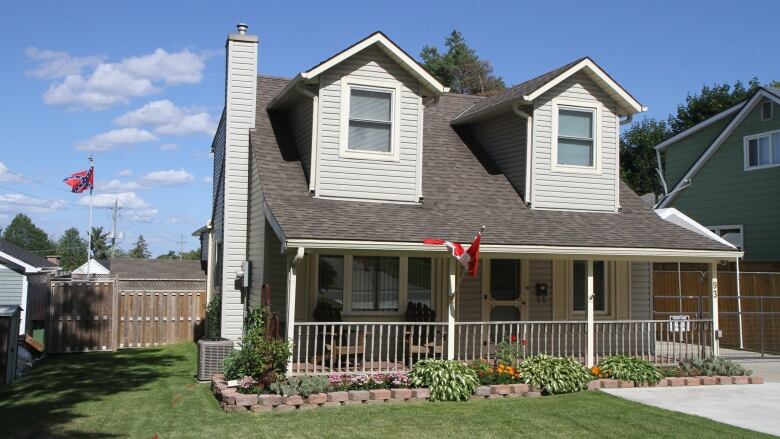 "My great grandfather died for that flag … That flag will never come down," Spinney told CBC News.
Spinney — and some of his neighbours — say it's a "free country" and note the flag is not on a business or public property, but rather his private backyard.
Not just controversial in the U.S., the flag has made headlines in Canada too. A Saskatchewan man has filed a Human Rights Commission complaint, which argues the treatment of the Confederate flag is unfair.
A new video recently posted online draws attention to Spinney's flag. As the creators drive into Dundas  —a suburb of Hamilton — and past the house, they feature audio clips of speeches and news reports about the Confederate flag debate. In one of the audio clips, they say they are "putting a spotlight on white supremacy." The creators of the video have not been reached for comment.
Spinney maintained it is a "battle flag," and that it is "not a racist flag."
"My mail girl is a black girl and she's never said anything to me," added Spinney.
Spinney is as self-described "redneck," who was born and raised in Hamilton. He said his great grandfather is from Georgia, and said the flag has flown over his home for 18 years and is replaced yearly.
"You guys all pick on the rebel flag," Spinney said. "It's on my arm, too. So will I rip my arm off?"
'The Confederate flag stands for slavery'
Spinney pointed out he is a member of the Bacchus Motorcycle Club, a biker group who changed their names from the Red Devils in 2014. A new Red Devils gang, with ties to the Hells Angels, was believed to be moving into Hamilton in 2014, spurring Canada's oldest biker club change their name and join the Maritimes-based Bacchus club. He has security cameras monitoring who comes to the door.
He said in the nearly two decades he has flown the flag, no neighbour has complained to him.
Controversy about the flag in Hamilton is not new — a now-shuttered barbecue restaurant called Hillbilly Heaven in the city's International Village displayed and later removed the flag in 2013.
Gerald Horne, a professor of history at the University of Houston, said at that time that historically Canada has been ardently anti-slavery and nearly became the target of U.S. attacks for it.
"The confederate flag stands for slavery," Horne said at the time. "It stands for backwardness. It stands for reactionary politics. It stands for going backwards."
Flag is sending a 'political message'
On Wednesday, when asked about the flag flying at a private home, Horne said there is no way to say the flag is not a symbol of racism and that it is about sending a political message. He drew a parallel to Nazi symbols.
"I don't think that a swastika should be flying on private property in Canada, not least because so many Canadians died fighting Nazi Germany, and likewise, so many Canadians died fighting the continuation of slavery."
Horne also noted a significant percentage of the black population of Canada is descendant from Africans who fled slavery and sought refuge north of the border in Canada. "And it's both a threat and an insult to them."
Neighbour: 'It says something to other people what he thinks'
Neighbours were either in support of Spinney or cautious about wading into the debate.
"It says something to other people what he thinks," said neighbour and artist, Danuta Nition.
Across the street from Spinney's well-manicured home, Jacqueline Ward defended her neighbour.
"Lots of people died defending that flag," Ward said, adding he's "one of the best" neighbours on the street.
Another neighbour, who only gave his first name Mike and said he was a friend of Spinney's for "40 years," said he had no issue with the flag in his neighbourhood.
"To me, it's just a flag," he said.
Asked what he thought of the flag being removed from the South Carolina state building, Spinney remained defiant.
"I thought they were a bunch of goddamn cowards and they gave in."
"Come on, it's a flag," Spinney continued. "When's it going to be the white man's turn?"