Hamilton frustrated with lack of answers around whether HSR can run LRT
A Metrolinx director updated councillors on priority buses and all-day GO Wednesday, but not on whether HSR can run LRT.
A Metrolinx director updated councillors on priority buses and all-day GO, but not on LRT
He told them about plans for bus rapid transit to Rymal Road, and priority buses to the suburbs of Hamilton. He told them about all-day GO train service, and the new stations in Stoney Creek and Grimsby.
But in the end, Metrolinx's director of regional planning couldn't tell city councillors what they really wanted to know Wednesday: what's going on with the city's request to run its own light rail transit (LRT) system?
Antoine Belaieff presented the agency's 2041 draft regional transportation plan Wednesday. But he couldn't answer the "billion-dollar question" hovering over Hamilton's LRT.
"The LRT is such a live and dynamic file," Belaieff told them. "It's handled exclusively by another team."
It wasn't what Hamilton's general issues committee wanted to hear.
In August, as Metrolinx was partway through finding companies to design, build, finance and maintain LRT, city council asked for its own transit agency, HSR, to run LRT instead. Neither Metrolinx nor the province has answered yet.
Until it does, said Coun. Matthew Green of Ward 3, Metrolinx can't move forward with procurement. He argues the city can't work on making its bus service fit the new system. 
"For me, if it's yes or no, I'm fine either way," said Green, who pushed the HSR motion at council. "But the 'maybe' is what's really holding us back here."
The issue has been an unanswered question since the summer. That's when the Amalgamated Transit Union (ATU) Local 107 launched a "Keep Transit Public" campaign. 
Metrolinx was set to hire a third party company through a public-private partnership. If that happens, the union said, the public loses control. Local NDP MPPs agreed.
Not all of council did. Coun. Lloyd Ferguson, for example, said the request would delay the construction start date of 2019. The longer it drags on, he said, the more political whims endanger it.
Mayor Fred Eisenberger said last week that he expected to hear back any day. Premier Kathleen Wynne would only say the province "continues to work with council."
It's time for an answer one way or the other, Green said.
"We do lack some leadership from the province in answering this fundamental question of procurement."
Belaieff had more to say about all-day GO train service.
Metrolinx is still negotiating with CN over right of way on local tracks. The plan, Belaieff said, is still to run it through the Hamilton Centre GO station, rather than the new West Harbour GO station.
Metrolinx also plans to open the Centennial GO station in 2019, followed by the Casablanca GO station in Grimsby in 2021, and GO to Niagara two years after that.
Metrolinx still doesn't know whether those will see all-day trains, Belaieff said.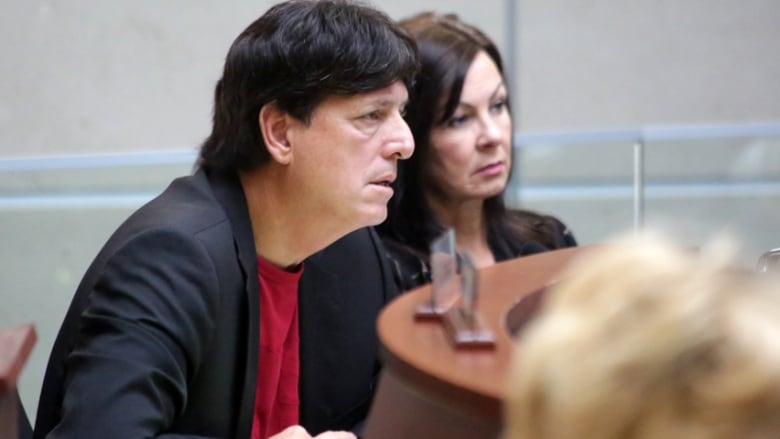 Belaieff showed councillors a list of planned projects through to 2041. That list includes priority bus service to Dundas, Waterdown, Ancaster and the airport.
Here's the list of future Metrolinx projects:
In progress
Hamilton B-line LRT.
The Confederation GO station extension. (Target: 2019.)
Niagara GO train service. (Target: 2023.)
Lakeshore West all-day GO service to the Hamilton Centre GO station.
Proposed
15-minute GO service between Aldershot and Hamilton Centre.
Hamilton A-line bus rapid transit from the West Harbour GO station to Rymal Road.
Hamilton A-line south priority bus service from Rymal Road to the airport.
Dundas connector priority bus service from McMaster University to downtown Dundas.
L-line priority bus service from downtown to Waterdown.
S-line priority bus service from the Ancaster Business Park to the new Confederation GO station.
Mohawk T-line priority bus service from Centre Mall to the Meadowlands terminal.