Hamilton
'Can these people really sing?': Yes, and these Hamilton women just won the Karaoke World Championships
Hamilton's Candace Miles and Kate Dion are the first-ever Canadian duet team to win gold at the Karaoke World Championships (KWC), which took place in Tokyo at the end of November.
Candace Miles and Kate Dion were among competitors from up to 40 countries
For two Hamilton women, a record-setting gold-medal win at a karaoke competition in Japan is something they're both still trying to come to terms with.
But they say the crowning achievement is knowing that it all began with something as simple as picking up a microphone in a local karaoke bar. 
Candace Miles and Kate Dion are the first-ever Canadian duet team to win gold at the Karaoke World Championships (KWC), which took place in Tokyo this year at the end of November.
"There's part of me still standing on stage [in Tokyo] saying, 'I can't believe this,'" Dion said recently, when discussing the win, adding the final results of the competition are "still a bit of a shock."
The KWC is a global gathering. The event is hosted in a different city every year, and competitors come from all over, from up to 40 countries across the globe. In total, 13 Canadians travelled to Tokyo this year, but only three of them competed.
WATCH: Candace Miles and Kate Dion perform Candyman by Christina Aguilera at the KWC in Tokyo.
It's harder than it looks
Hamilton seems to have a knack for competitive karaoke.
The national duet winners from last year were also from the city. Christine Costa and Justin Jodway travelled to Finland in 2018 to compete in the world championships, and this year they coached Dion and Miles and passed on their professional karaoke knowledge.
Both duos began their karaoke journeys in local Hamilton bars. The experience has been "a whole lot of fun" for both, Dion said, who also works in Hamilton as a full-time karaoke hostess.
But their success also came hand in hand with a "whole lot of hard work."
The pair rehearsed a carefully-chosen trio of songs to perform in front of the international audience and judges in Tokyo: Stay by Shakespear's Sister, Candyman by Christina Aguilera, and Enough is Enough by Donna Summers and Barbara Streisand.
And it took a lot of practice. This isn't your average, spontaneous-night-out karaoke performance at the bar. 
A lot of talented amateur singers don't even make it to regionals, let alone nationals or the championships, said Dr. Sharon Quinn, the national director of KWC Canada. "There are lots of great singers who don't make it to the national level because the performance just isn't there yet."
However, for most involved, the intention is to improve their singing and performance skills, not win a title or trophy.
There are "a lot of people who come back year after year and do better and better," Quinn said. Experienced karaoke singers and first timers are coached and mentored together all through each season.
And when contestants reach the national and international levels, all the regular staples of karaoke disappear and the pressure cranks up. There are no longer any lyrics on screen, only "a backing track and an amateur singer who's very, very talented," Quinn said . 
Singing is only a portion of the scoring as well, couting for only around 25 per cent of the judges' final assessment. Performers are also equally judged on their stage presence, costumes and choreography. 
'A way to come out of my shell'
In 2015, Dion left "a terrible marriage," which she says left her "broken, very shy and very unused to any limelight or focus" being on her. Karaoke became a way to come out of her shell and reconnect with singing, something she loved to do as a kid.
When she decided to take up karaoke — and take it seriously — Dion said it led her on a journey of self-discovery that resulted in her being able to reclaim her life, and also win a gold medal.
"To go all the way to worlds and win this, it's just a lovely affirmation of something that brings you joy being so rewarding," she said.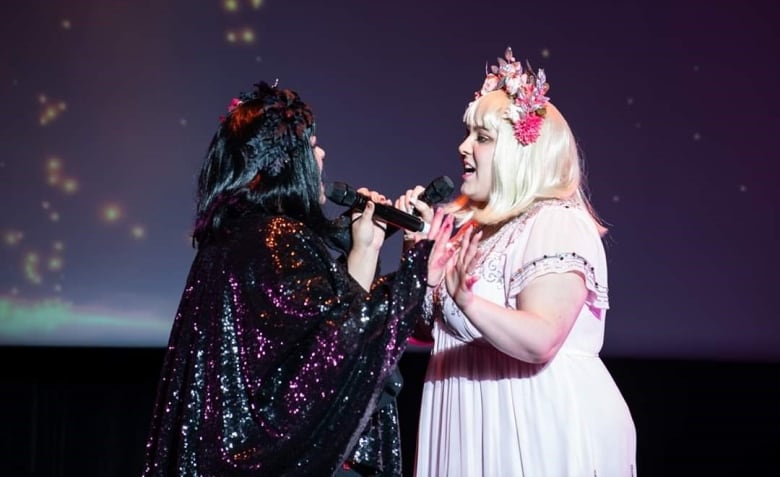 There's a rush that comes from performing in the competition, Miles said, which is similar to the endorphin rush a musician playing a live show would experience.
"Once we got out and the first few notes go out, you get comfy and you kinda black out, and then you're done the song … you definitely get into your own little zone and everything goes from there," she said. 
Maybe that's why more and more people are showing interest in the competition. Quinn says it's continuing to gain traction in North America, but there's still a stigma attached to the word "karaoke" in Canada.
People often mistake it for lip-syncing, or assume singers aren't talented and only perform drunk at bars.
"One of the first questions we always get asked is: Can these people really sing?"
"I think it's taking some time for it to really take hold here, for people to have respect for it," Quinn said.
"And people who get involved with it realize pretty quickly what it's all about and that it's not just about the competition, but it's about the connections and everything people can get out of it for their own personal growth."
To the skeptics, Dion proposes a simple challenge: "I defy someone to sing their favourite song and not feel wonderful."