Hamilton
Niagara Falls mayor, medical officer clash over COVID-19 and crowds at Clifton Hill
Concerns about crowds of people jam-packed at attractions on Clifton Hill have led to a clash between the mayor of Niagara Falls and the region's medical officer of health.
Dr. Hirji says crowds are a 'particular risk for starting another wave of infection'
Concerns about crowds of people jam-packed at attractions on Clifton Hill have led to a clash between the mayor of Niagara Falls and the region's medical officer of health.
Dr. Mustafa Hirji says the number of people visiting the popular tourist area every weekend this summer has been "concerning," considering the pandemic.
He cited two cases of COVID-19 confirmed Thursday who had spent "significant amounts of time" on Clifton Hill around the time when they might have become infected, though he was quick to note it's impossible to say if that's where they contracted it.
Still, the number of visitors and the potential for spread to start "snowballing" is worrying, according to the doctor.
"What's really concerning is that we know COVID-19 can sometimes spread quite easily when there's a crowd, leading to large numbers of cases," said Hirji.
"We see this as a particular risk for starting another wave of infection if there was a case there."
Mayor Jim Diodati, meanwhile, dismissed Hirji's comments about the two cases linked to Clifton Hill, describing them as "speculation without investigation."
"I think comments like that shouldn't be said," stated the mayor. "Those are dangerous things to say when you haven't done your research."
He went on to describe Hirji's statements as "not fair" and "not helpful," arguing the doctor should release information on other locations the people who tested positive had visited such as grocery stores, beaches or bars.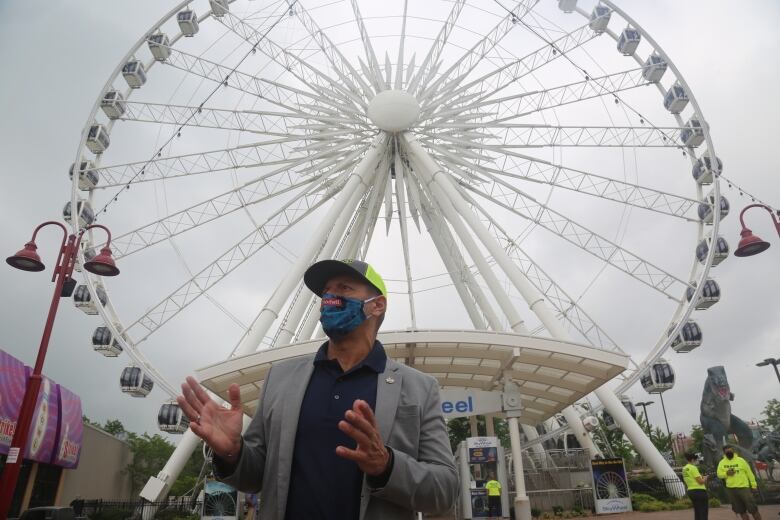 Diodati also questioned whether Hirjr's conclusion that they had stopped at the tourist strip was based on contact tracing.
"To nail it to one specific street, to one specific area like that … it's reckless," he said.
"Why even say Clifton Hill? Unless you're trying to intentionally hurt, damage an area."
Videos show big crowds
Hirji, Niagara's acting medical officer of health, said each confirmed case is subjected to a careful review in order to try and determine where someone became ill.
Understanding where the virus was contracted is important for finding any other cases and addressing risks they could pose, he explained.
As for the mention of Clifton Hill, Hirji said his office has no problem with businesses there and understands it's important they recover from the pandemic too.
"We thought it was notable to highlight that just given all of the attention around Clifton Hill and particularly the attention around the ongoing large crowds that are there," he said.
That attention has been amplified by videos shared online showing just how busy the street has been.
After a video posted on YouTube in July showed Clifton Hill packed with people, Diodati announced a new team of "Crush the Curve" ambassadors to patrol the area offering hand sanitizer, sell masks and remind people to stay at least two metres apart.
The same YouTube channel shared another video on Sept. 6 showing large crowds of people, many of whom are wearing masks, walking past attractions and standing close together.
Diodati confirmed the long weekend was the "busiest" of the summer, saying it was clear people were doing a "final hurrah" before heading back to school.
"It was more in line with the typical Labour Day weekend in other summers," said the mayor.
"The crowds were big and it was good to see that people were coming to town and that we continue to keep our numbers very low in here Niagara."
There are 20 active cases in the entire Niagara Region as of Friday, according to the health unit's website.
Sixty-four people have died and the area has seen a total of 955 cases during the pandemic, 236 of which were in Niagara Falls.
Statistics from public health show the city ranks second among Niagara municipalities when it comes to number of confirmed cases per 10,000 population.
Welland has seen the most at 39.5 cases per 10,000, while Niagara Falls currently has 24.7 cases.
Niagara-On-The-Lake and Pelham aren't far behind with 22.3 and 22.8 cases per 10,000 respectively.
No tickets for COVID-19
Hirji said the two COVID-19 cases health officials say spent time at Clifton Hill would have been exposed to the virus before the holiday weekend.
Both were people in their 20s, but the cases and their visits to Clifton Hill were unrelated, he added.
The mayor said ambassadors and bylaw staff were in place over the long weekend, but that no tickets related to COVID-19 were handed out.
Niagara police also acknowledged there were a "lot of people in Niagara Falls," but said they too didn't lay any charges.
When asked whether he had raised any of his concerns with Hirji, Diodati said the doctor is "very elusive."
"He's very evasive. It's very hard to get him," said the mayor, adding it was difficult to get him on the phone to discuss opening water parks or casinos and expressing frustration in trying to get responses to emails from regional councillors.
"It's very difficult to get him to commit. The only one he likes to talk to is the media."
Hirji says he does his best to respond to businesses, politicians and members of the public, adding doing so can sometimes take a bit as the volume of requests has been high during the pandemic.
"I would also note that the mayor is a member of regional council and, of course, I attend regional council meetings every month and there's obviously opportunity there to pose any questions," he said.
Diodati said the city has worked hard to ensure its visitors and staff working at tourism locations stay safe, noting it's Canada's top leisure destination and welcomes millions every year, which has made the virus even more challenging.
"We've closed our borders, we've brought in ambassadors, we've brought in epidemiologists, we've brought in the latest technology … we've got a mandatory mask bylaw for indoors," he explained. "We've done absolutely everything you could do."
Hirji said his office has seen some improvement around mask-wearing at Clifton Hill and that his comments were never about criticizing businesses.
Instead, he said, he was explaining the shared responsibility everyone has to manage the risk of spreading COVID-19.
"We weren't staying people should stay away from Clifton Hill, we're saying if you're at Clifton Hill make sure you're spacing yourself out well from others, not becoming part of crowds," he explained.
"If there's crowds and you can't keep safe distance from others come back another time. Still partake and support the businesses there but do it in a way where you're not creating risk of infection spreading."