Edmonton
'Terrifying for all Canadians': Travis Vader gets life sentence for killing elderly Alberta couple
Travis Vader has been sentenced to life in prison for killing Alberta seniors Lyle and Marie McCann, who disappeared in 2010.
Convicted of 2 counts of manslaughter, Vader still maintains his innocence
Travis Vader was sentenced Wednesday to life in prison for killing two Alberta seniors who were last seen alive in 2010.
Vader, 44, was convicted late last year of two counts of manslaughter in the deaths of Lyle and Marie McCann of St. Albert, just outside Edmonton.
In announcing his decision, Court of Queen's Bench Justice Denny Thomas said he believed Vader selected his victims almost at random, took them by surprise, robbed and killed them.
"I conclude Mr. Vader represents something encountered more often in fiction than in real life," Thomas said in his 61-page ruling. "An intelligent criminal."
As such, Thomas said, the convicted killer who continues to maintain his innocence would have understood the risks involved in robbing two strangers he encountered on a highway west of Edmonton.
The McCanns, the judge said, "could have been any innocent user of Highway 16. The randomness of these homicides is terrifying for all Canadians."
Before he announced the sentence, Thomas asked the convicted killer if he wanted to say anything.
"This court has convicted an innocent man," Vader said. "And I will continue to fight until I can clear my name."
Bret McCann, the eldest son of the two victims, watched the court proceedings via video conferencing from Melbourne, Australia, where it was 4 a.m.
During a court adjournment, McCann spoke to reporters gathered inside the courtroom, saying his family is relieved that their long ordeal is finally at an end.
"This has truly been a marathon," he said. "We are thrilled that justice has been served."
A smattering of applause was heard in the packed courtroom after sentence was announced.
The case unfolded over more than six years, dating back to July 3, 2010, the last day the McCanns were seen alive. Their bodies have not been found.
McCann said the family remains haunted by a sense of uncertainty.
"We don't know exactly what happened on July 3, 2010," he said. "And we may never."
'I hope he never attains parole'
The defence had asked the judge to impose to a prison term of four to six years, or essentially time served, while the Crown argued Vader should be imprisoned for life.
With a life sentence, Vader will be eligible to apply for parole in seven years, a term Crown prosecutor Ashley Finlayson called appropriate. 
"Just because Mr. Vader would be eligible to apply for parole after seven years does not mean that he will get parole," Finlayson said.
"From my point of view, I hope that he never attains parole," McCann said. "I hope that the parole board sees that he doesn't deserve parole until he expresses remorse."
McCann once again made a plea to the killer. 
"Travis Vader, where are the bodies of my dead parents?"
Defence lawyer Brian Beresh told court his client has received threats in Alberta and asked that Vader be allowed to serve his sentence in B.C.
Justice Thomas granted that request.
Beresh spoke to the media outside the courthouse, and said his client was "not pleased" with the sentence. 
"He will fight until his last day to prove he is innocent," Beresh said, who told reporters he plans to file notice of appeal later this week.
"What disturbs me about this case — in fact it haunts me — is that at the end of the day there are still so many questions that are unanswered."
'The law doesn't allow this'
Beresh called the case against his client circumstantial and outlined the points of law on which he will focus his appeal.
"In essence, the court of appeal will be asked how, in a case like this where there are so many holes in the case, so many gaps to be filled by the evidence, do we come to rely upon, 'This must have happened. This must have happened.' And then we start to add all of those speculative reasons together to try to come to some conclusion.
"Our position on the appeal will be, the law doesn't allow this. The courts have never tolerated it."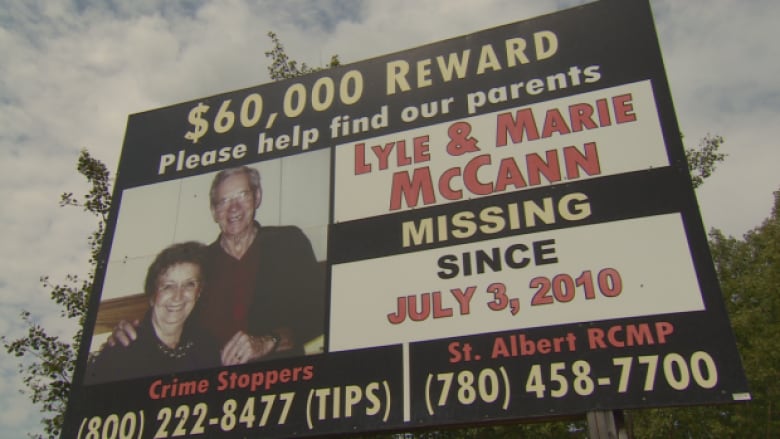 The McCanns were beginning a road trip to B.C. when they disappeared after stopping at a gas station in St. Albert.
Both in their 70s, they were last seen alive on July 3, 2010. Their burned out RV was found two days later at a campsite near Edson, Alta.
Vader has consistently denied killing the couple. During a sentencing hearing in December, he argued his rights were violated while in custody. He also alleged the RCMP used excessive force while arresting him and that he had been beaten up by guards at the Edmonton Remand Centre.
Vader was originally convicted of two counts of second-degree murder. But when it was discovered Thomas had relied on a section of the Criminal Code that had been ruled unconstitutional, the judge downgraded the convictions to manslaughter.
During the sentencing hearing, the defence suggested the McCanns could have been accidentally killed, a theory Thomas ruled out.
"How do you accidentally kill two old people?" Thomas asked. "You could accidentally kill one, but not two."