Panning for gold in Edmonton's North Saskatchewan River
Robin Rosborough wades into the river bed and shakes a tin pan of rocks and sludge until tiny specks of gold begin sparkling through the muck.
'Everywhere you dig, you can find one little piece of gold,' says veteran Edmonton prospector
Robin Rosborough wades into the river bed and shakes a tin pan of rocks and sludge until tiny specks of gold begin sparkling through the muck.
The Edmonton area man has been panning for gold along the banks of the North Saskatchewan River for more than three decades.
He's got a bad case of prospector fever, he admits.
"In Alberta it's all dust. We call it flour gold, but they do all add up," Rosborough said in an interview with CBC Radio's Edmonton AM.
"I keep it in my safety deposit box because it's my retirement fund. But I've got to get RRSPs too."
'We were hooked'
Rosborough began sluicing for fortune after learning the trade from an old-timer he happened to meet on the banks of the river.
"My friend and I were canoeing down the North Saskatchewan River, and we saw a man, an old man, shovelling stuff into a box," Rosborough recalled. "And we asked him, 'What are you doing?' And he said he was panning for gold. We thought, 'No way,' and then he showed us the gold that he got.
"Well that was it. We were hooked."
Since then, Rosborough has mastered the art of panning in his spare time. After exploring the expansive river network, he thinks he's found some ideal spots — points where ancient river beds intersect the currents of newer tributaries, washing fresh deposits of gold to the surface every spring.
He has a vial of gold flakes worth about $250 that he collected one afternoon last year. He has found bigger deposits but remains secretive about where.
"Everywhere you dig, you can find one little piece of gold that we call colours," he said. "You can always find a piece or two, but what you're looking for is a place where the river concentrates it so you're not wasting your time.
"After 33 years, I've figured out where they are and no, I'm not telling you where they are."
Gold rush
Gold panning is a gruelling process that involves sifting large amounts of silt and rock, then carefully washing away the lighter material to find much heavier gold.
Rosborough often uses a sluice box, a sloping trough, to help sift the through the silt and gravel, with any gold deposit settling on the bottom.
It's a process that has remained virtually unchanged for more than a century, since the gold rush brought thousands to the Canadian north in search of fortunes.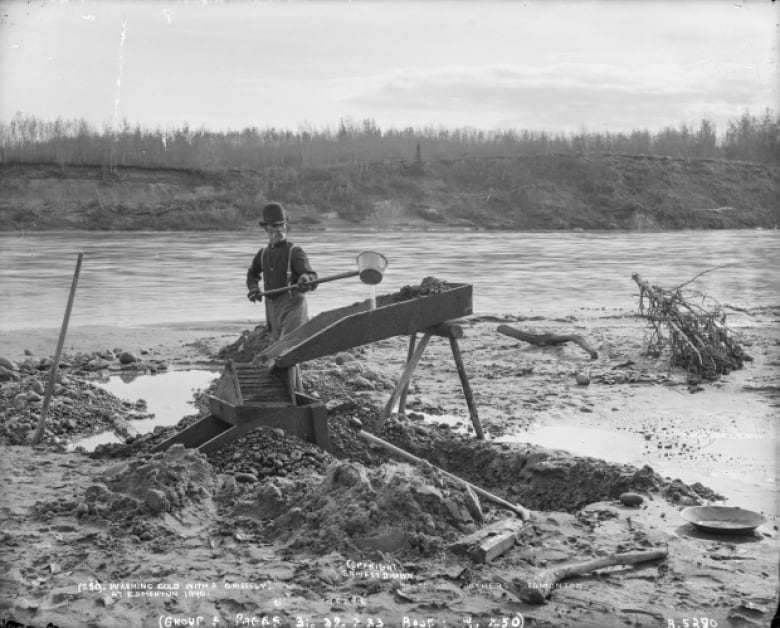 Prospectors have been searching for gold in the river systems of north-central Alberta since the mid-1800s.
According to legend, the local gold rush began in the spring of 1859 when James Hector of the Palliser Expedition was shown samples of gold unearthed from the gravel banks of the North Saskatchewan.
News of the discovery spread among the thousands of prospectors who passed through Edmonton on their way to the Caribou Gold Rush of the B.C. interior, and a new industry was born.
It's a part of Edmonton's rich and industrious history that is often overlooked, said Rosborough.
"You got to remember, back in the 1800s there was a pretty major recession so people were looking for work but they couldn't get it," said Rosborough.
Some hoped to make a living panning for gold, and "people came from all over the place."
According to provincial historians, gold mining activity in the Edmonton area peaked between 1895 and 1897. It's estimated that over 300 miners arrived to work the sandbars along the river upstream and downstream of Edmonton.
'Some guys go crazy over it'
Many of the richest deposits have most likely been discovered and mined since then, making it unlikely that prospectors today will strike it rich.
Nonetheless, there is something undeniably alluring about the hunt.
"It's hard work but it depends on how hard you want to work. Some people don't work that hard at all, but some guys go crazy over it," Rosborough said.
Rosborough has been working with the Alberta Gold Prospectors Association to teach a new generation of prospectors the craft. He's even recruiting for the Word Gold Panning Championships.
His team won bronze last year in Placerville, Calif., and will be looking to get the gold in southern Scotland this year.
"It's like the Olympics of gold panning. You have a big parade and all the nations are walking through the town. In Europe, it's a big deal — there are television interviews and it's like you're a sports star. 
"It's not a big a deal in Canada," he added. "With the Canadian team, basically if you want to go, you're on the team … we'll take anybody."
With files from Kim Nakrieko