Edmonton
Alberta premier to counter 'misinformation' from Tzeporah Berman at ATA conference
Premier Rachel Notley says she will speak at the upcoming Alberta Teachers' Association convention to counter a speech from keynote speaker and anti-pipeline activist Tzeporah Berman.
Key opponent of the Trans Mountain Pipeline expansion to deliver keynote speech next month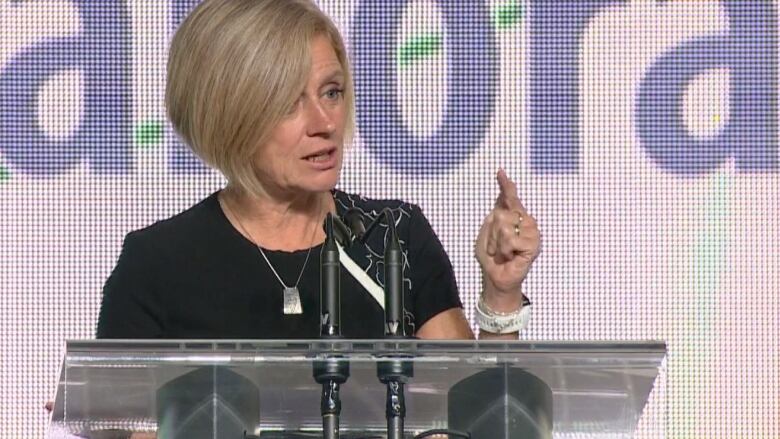 Premier Rachel Notley says she will speak at the upcoming Alberta Teachers' Association convention to counter an anticipated keynote speech by anti-pipeline activist Tzeporah Berman.
The ATA has been under fire for inviting Berman, a key opponent of the Trans Mountain Pipeline expansion, to speak at its conference on Oct. 13.
"I will be going myself to make the case for Alberta and our industry to grow, to counter misinformation and ensure that the whole story is told," Notley told delegates Thursday at the Alberta Urban Municipalities Association meeting in Red Deer.
Notley and Berman will speak on Oct. 13. A third speaker, Chris Slubicki, president and CEO of Modern Resources, will also speak about how Canada is well-positioned to be a leader in a "future low-carbon energy landscape."
Berman is a former co-chair of Alberta's oilsands advisory committee, a position she left in June 2017. 
The government's connection with Berman is one of the favourite criticisms of the United Conservative Party Official Opposition. 
Notley brushed off a suggestion from a reporter that she was using the ATA conference as a way to rid herself of the Berman connection prior to an election expected to be called next year. 
"Because it is getting the attention that it is, it is an excellent opportunity for me to make the case on behalf of the people of Alberta for why this is a good thing," she said. 
The premier also used her speech to AUMA delegates to announce her government will help them with the costs of implementing cannabis legalization.
Notley said the government plans to make an announcement in the next couple of weeks.
"We're going to look into some of the cost estimates that they've suggested, we're also going to be looking at the funding patterns that we're seeing in other jurisdictions," Notley told reporters. "Quebec and Ontario have already come out with funding, so we'll see where we land on that."
The use of small amounts of recreational cannabis becomes legal in Canada on Oct. 17.
Under a deal with the federal government reached in late 2017, provinces get 75 cents of every dollar of excise tax levied on cannabis. Ottawa's take of the tax is capped at $100 million.
Alberta is levying its own 10 per cent tax on producers. Still, the province will lose money covering the costs of legalization in the first few years. 
The City of Edmonton estimates legalization will cost the city $3.7 million to $4.1 million annually over the first five years. The Edmonton Police Service has said its costs could rise by $5 million to $7 million a year for up to 30 new police officers.
Edmonton Coun. Ben Henderson said the extra costs from legalization have been a concern for municipalities. He calls Notley's announcement good news but he wants to hear more. 
"The devil, as always, will be in details," he said, adding Edmonton has been closely tracking its extra costs.
Unlike the federal and provincial governments, local governments don't have direct access to cannabis taxes, Henderson said.
"I think it was very much part of the federal government's intention in giving the provinces a larger share, their expectation a share would come to the municipalities," he said.