Edmonton
Alberta reports one more COVID-19 death, 94 new cases over past two days
Alberta reported one more death from COVID-19 and 94 new cases of the illness over the past 48 hours.
Public health officials monitoring four outbreaks linked to Edmonton restaurants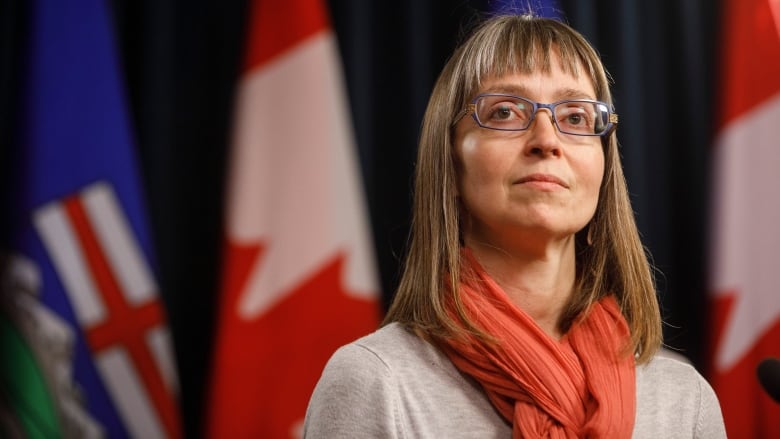 Alberta reported one more death from COVID-19 and 94 new cases of the illness over the past 48 hours.
The province detected 30 new cases on June 30 out of more than 6,900 tests. Another 64 new cases were reported on July 1, out of more than 7,600 tests.
Across Alberta on Thursday, 44 people were being treated in hospital for the disease, with eight of them in ICU beds.
The most recent death was a man in his 80s who was a resident at South Country Village, a continuing care facility in the South zone.
As of Thursday, there were 542 active cases in the province. The regional breakdown was:
Edmonton zone: 233 cases.
Calgary zone: 222 cases.
South zone: 49 cases.
North zone: 34 cases.
Central zone: three cases.
Unknown: one case.
Chief Medical Officer of Health Dr. Deena Hinshaw provided the latest information at a news conference Thursday at 3:30 p.m.
Public testing unaffected if Edmonton becomes NHL hub
While the NHL has not made a formal announcement, multiple news agencies have reported that two Canadian cities will be the sites for games when professional hockey resumes: Toronto for the Eastern Conference and Edmonton for the West.
Hinshaw said she had no news about whether Edmonton has been officially chosen.
"I know many Albertans are thinking about hockey right now, and wondering how the NHL's hub event might be held in Edmonton without jeopardizing public safety," she said. "This spring, we developed guidelines for professional sporting tournaments, to support safety for players, NHL staff and media, and to minimize any risk of virus spreading to the general public.
"While there are many components, the approach relies on extensive privately-purchased testing, and the NHL players and anyone else involved in the tournament forming a cohort that is separate from the public.
Using cohorts among the participants will reduce the risks of spread if a case is identified, she said. If Edmonton is chosen, health officials will work to ensure that guidance is followed to protect the public and those involved in the tournament.
"We will also ensure that public testing is in no way impacted if the NHL does pick Edmonton," Hinshaw said. "The free testing being offered to all Albertans will always remain our top priority."
Restaurant outbreaks
Public health officials have been monitoring four outbreaks linked to Edmonton restaurants and another at a highrise apartment building in downtown Calgary.
Hinshaw said her department is tracking outbreaks linked to four restaurants in central Edmonton. As of Thursday, the Greta Bar had 16 cases, Earl's Tin Palace had seven cases, The Pint had 11 cases and Local had 10.
The outbreak at The Verve highrise has been linked to 52 cases, 29 of them still active as of Thursday. The cause of that outbreak was still under investigation, Hinshaw said at the time.
Hinshaw said it's important for Albertans to reflect on how far the province has come since the first case was reported in early March and the many ways people have supported each other during the last few months.
"It is hard to believe it's now July," she said. "We are halfway through the year and so far it's been a year I imagine not many of us would be eager to repeat. Yet unfortunately, although we may be done with COVID, it is not yet done with us.
"We must not think that the risk is over and begin relaxing too soon, or think that the virus is only a threat to other people.
"COVID-19 is still here. It will be with us all summer and into the fall, and it will almost certainly be here when we ring in the new year."
Hinshaw to take week off
The good news, Hinshaw said, is that Alberta is not powerless in its fight against the coronavirus.
"It is on us to decide what the rest of 2020 will look like," she said. "Whatever outcome we want to see this year, whether it's in-school classes resuming in the fall, keeping our favourite restaurants open, or keeping older friends and family members safe, we have the power to help make that a reality.
"We must learn to live with this virus by building good practices into our everyday lives. Our best tools of defence are still the basics we have been talking about for months."
After giving daily or almost daily updates for months, Hinshaw said she will take next week off to spend time with her family.
"Next week will be a break for my media availability, but public health officials throughout the province will continue to work tirelessly to identify new cases and prevent the spread," she said.
The province will continue to post updated numbers online every weekday, she said, and if anything happens that changes the risk to the public, the deputy chief medical officer of health, Dr. Marcia Johnson, will ensure Albertans get the information they need.
"As I step away for a week, I want to remind all of us that the future is in our hands. If we continue to act responsibly, and do our best to follow the guidance every day, no matter where we are or what we are doing, we will be able to strike the balance we need between protection from COVID and achieving the social and economic aspects of our health.
"There is no quick or easy path through this pandemic, but what remains constant is this: We are all in this together."
Two regions in the province, Mill Woods West in Edmonton (27 cases) and Calgary Centre (34 cases) had been placed under watches.
Regions with at least 10 active cases and a rate of more than 50 active cases per 100,000 population are considered above threshold and are monitored to see if additional health measures are required.
On Tuesday, Alberta increased the limit on outdoor gatherings from 100 to 200 people. The higher limit applies to outdoor events such as festivals, fireworks displays, rodeos, sporting events and performances. All public health measures, including physical distancing, remain in place.