Edmonton
Alberta reports one more COVID-19 death, 20 new cases
Alberta reported one more death from COVID-19 on Monday and 20 new cases of the illness.
With 175 active cases, Edmonton zone total now approaching that of Calgary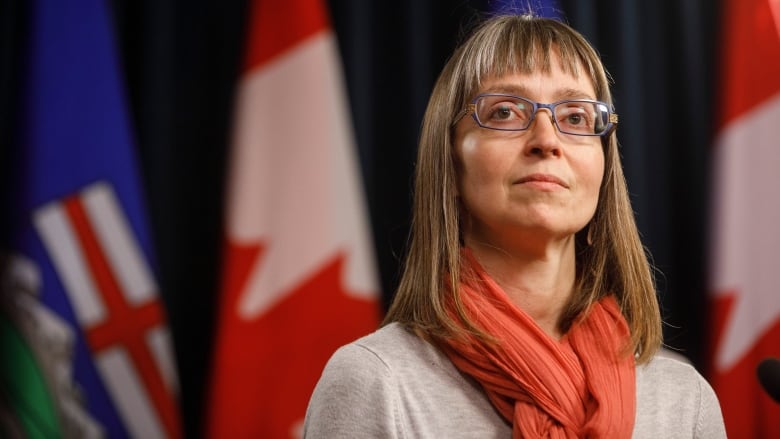 Alberta reported one more death from COVID-19 on Monday and 20 new cases of the illness.
The person who died was a woman in her 70s from the South zone. She was not living in a continuing care facility.
The total number of deaths in the province is now 151.
On Monday, there were 440 active cases in the province, with 31 people being treated in hospitals, seven of them in ICU beds.
A total of 6,862 people have recovered from the illness.
The number of active cases in Edmonton continues to rise and is nearing Calgary's total, Dr. Deena Hinshaw, the chief medical officer of health, said Monday at a news conference.
"We now have 167 active cases in this city, which is approaching the level of Calgary's 194 active cases. In our Edmonton cases, two-thirds of these active cases are linked to having close contact with a case of COVID-19 or being part of an outbreak."
One-third of the Edmonton cases remain under investigation, she said.
"What we know from the patterns we are seeing in the transmission is that social events where people are not keeping two metres distant or wearing masks are high-risk activities. We are not seeing patterns of spread at this point linked to casual contact or public places."
People who are part of the active case list are doing the right thing, she said, by being tested and staying home to stop further spread.
Asymptomatic tests 
Laboratories have now completed more than 343,000 tests for COVID-19 across the province, and on Monday Hinshaw encouraged Albertans to get tested.
A report showed that 11,341 people without symptoms with no known exposure to COVID-19 were tested last week and only four additional cases were found among that group, she said.
"In the past week, we have done 300 tests on asymptomatic close contacts of confirmed cases, with 41 new cases identified in that group. This highlights why it is so critical that close contacts of cases stay in self-isolation for 14 days, even if they are feeling well.
"It also underscores why we ask close contacts and anyone in an outbreak setting to be tested promptly as a part of our outbreak control measures."
The regional breakdown of active cases (by zone) on Monday was:
Calgary zone: 214 active cases.
Edmonton zone: 175 active cases.
South zone: 24 active cases.
North zone: 24 active cases.
Central zone: two active cases.
Unknown: one active case.
Alberta's state of public health emergency, which had been in place since early March, lapsed on Monday. The province moved into Stage 2 of its relaunch plan on Friday, allowing more businesses to reopen. All public health orders remain in place.
But Hinshaw cautioned that the pandemic isn't over.
"This is a marathon and we are not yet near the end," Hinshaw said.
As Albertans go out more, the province can expect to see some increase in cases, she said. To help prevent local outbreaks, and help people make informed decisions, the province has a relaunch map that shows active case rates in different municipalities across the province.
If a local area has 50 cases per 100,000 population, with at least 10 active cases, it will be moved into the watch category, Hinshaw said.
"This simply means that public health will work with local public health officials and municipal officials to see if we need to implement additional measures to prevent spread."
As of Monday, two municipal districts, Clear Hills County in the northwest and Cardston County in the south were in that category, but Hinshaw said no additional measures are needed right now in either district.
"We do continue to monitor the situation closely," she said. "It is important to remember that this threshold of 50 active cases per 100,000 population is simply one point on a spectrum of local risk.
"While this metric helps provide transparency to the process of determining any need for extra local measures, in areas below that threshold we still need to continue our precautions."