Edmonton
Alberta businesses can buy PPE from province until end of June, top doctor says
Private businesses will be able to buy personal protective equipment such as masks, gloves and gowns from the Alberta government until the end of June, but after that will have to find their own suppliers, the province's top doctor say.
Province reported three more COVID-19 deaths on Monday, only 19 new cases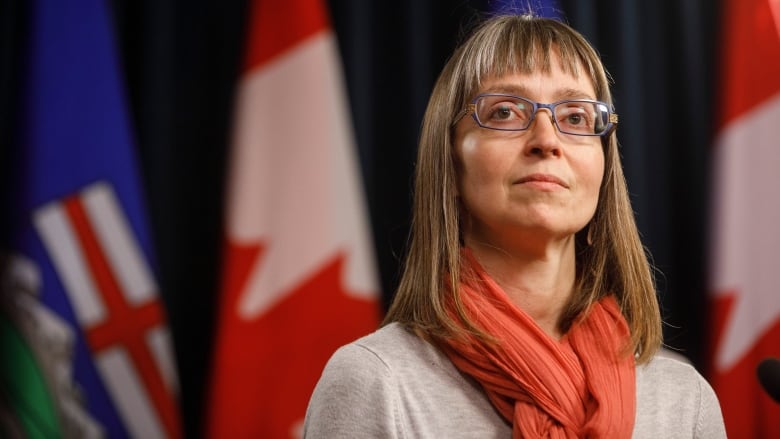 Private businesses will be able to buy personal protective equipment such as masks, gloves and gowns from the Alberta government until the end of June, but after that will have to find their own suppliers, the province's top doctor says.
Dr. Deena Hinshaw told a news conference on Monday the government's long-term plan to handle PPE supplies will be flexible.
"For those who do not have other sources in the short term, private organizations can continue to access PPE through the government until June 30, but will need to pay a fair market price," said Hinshaw, the province's chief medical officer of health.
"After June 30, they will need to get PPE from their own suppliers."
The province will supply N95 masks to dentists, for a fee, for emergency procedures only, and to morticians for embalming procedures for the duration of global N95 shortage, Hinshaw said.
"This is a decision the government did not make lightly. It is in line with other jurisdictions across Canada, including Quebec, Ontario, B.C. and Manitoba, who are making the same decision about PPE distribution.
"If there is an emergency short-term issue, such as a threat to food security, an organization can request PPE through the government, and such requests would be considered on a case-by-case assessment through the provincial operations centre."
Province not short of PPE
Hinshaw said the province is not running out of PPE and has been able to supply hospitals and first responders with the necessary supplies. The province has helped other groups, such as non-profits and businesses, when their regular supply chains have been interrupted, she said.
"Thanks to the procurement expertise and relationships we've built in Alberta, we've been able to meet the demand despite enormous pressure on global supply chains," Hinshaw said. "Now, as more companies around the world produce PPE, it's easier to get these products on the open market."
Alberta reported three more COVID-19 deaths on Monday, but only 19 new cases of the respiratory illness.
"These deaths are a reminder of the worst-case scenario from this virus," Hinshaw said.
The most recent deaths were a man in his 80s and woman in her 90s who were both linked to the Intercare Brentwood Continuing Care Centre in Calgary and a woman in her 80s from the Calgary Zone.
That brings the total number of deaths to 138.
Numbers encouraging, Hinshaw says
There were 762 active cases in the province, with 5,979 people who contracted the coronavirus now listed as recovered.
On Monday, 45 people were being treated in Alberta hospitals for COVID-19, with five of them in ICU beds.
Ten days into Stage 1 of the province's relaunch plan, Hinshaw said she is encouraged by the low number of new cases, and the fact that the total number of active cases continues to decline.
"This should be taken by Albertans as a really excellent sign," she said of the latest numbers.
In Calgary and Brooks, restaurants and hair salons were allowed to reopen on Monday. Hinshaw said public health officials will be closely watching the case numbers in those cities over the next two weeks.
As Alberta moves forward with its relaunch plan, the need for PPE to protect vulnerable populations remains paramount, she said.
"Going forward we will continue to prioritize PPE for those at highest risk for exposure to COVID-19. The province will continue to ensure publicly funded or contracted settings have PPE at no extra cost."
That includes Alberta Health Services and Covenant health-care workers, she said, plus first responders and people who work in homeless shelters and publicly funded or contracted seniors' care facilities.
Businesses and PPE
With businesses reopening across the province, those who are out in public should remember that wearing a mask can protect other people, Hinshaw said.
"I honestly think that part of our relaunch is going to be looking at businesses to be marketing themselves as safe places to go," she said. "And so I think there is going to be a competitive advantage to businesses who are able to showcase the measures they are taking to keep their employees and their customers safe.
The guidelines the province established were meant to support businesses and the public, she said, so people will know how to keep themselves and others safe.
Certain measures will be enforced, if needed, she said, such as if businesses open outside the times when they are allowed to under a public health order.
"If necessary, enforcement will take place," she said. "But some of the specific pieces of guidelines that are meant to support and encourage owners, that really is up to the discretion of the enforcement officer as they engage with operators.
"I don't know that a barbershop where one client isn't wearing a mask would get a fine, but it could be perhaps just a reminder that that person is potentially putting others at risk, and a reminder of the importance of having face-coverings for all those who are in those kinds of facilities."
The regional breakdown of cases on Monday was:
Calgary zone: 594 active cases, 4,069  recovered; 
South zone: 90 active cases, 1,133  recovered;  
Edmonton zone: 47 active cases,  459  recovered;  
North zone: 17 active cases,  201 recovered;
Central zone: 3 active case, 95 recovered;
Unknown: 2 active case, 22 recovered.