Canada
·
THE LATEST
Coronavirus: Here's what's happening in Canada and around the world on March 16
The White House coronavirus task force is advising Americans to avoid social gatherings of more than 10 people and discretionary travel for at least the next 15 days. In Canada, the prime minister announced major travel restrictions to stem the pandemic that has killed four people in the country.
B.C. reported 3 more deaths at long-term care home, bringing national toll to 4
The latest:
Canada will close border to most non-citizens or non-permanent residents, PM says.
B.C. reports 3 more deaths related to COVID-19.
More than 516 million students kept home globally due to school closures, UN says.
The White House coronavirus task force is advising Americans to avoid social gatherings of more than 10 people and discretionary travel for at least the next 15 days. It's also telling governors of states with evidence of community transmission to close bars, restaurants, food courts, gyms and other indoor and outdoor venues.
Americans should take these advisories seriously, the country's top infectious disease expert cautioned Monday.
"Some may look at them and say, 'They're going to be really inconvenient for people.' Some will look and say, 'Well, maybe we've gone a little too far,'" said Dr. Anthony Fauci. "They were well thought out."
Fauci told reporters at the White House the guidance is not an overreaction but "is commensurate [with what] is actually going on in reality."
Meanwhile, U.S. President Donald Trump said he believes the new measures could help bring the worst of the virus outbreak to an end by later in the summer. 
"If we do a really good job, we'll not only hold the death [toll] down to a level that is much lower than the other way — had we not done a good job — but people are talking about July, August. Something like that," he said.
"With several weeks of focused action, we can turn the corner and turn it quickly."
WATCH | Trump describes new measures to 'blunt' U.S. infection rate:
The U.S. effort has been hobbled by a series of missteps, including flaws with the testing kits first distributed by the federal government and bureaucratic hurdles that held up testing by private laboratories. But Trump, who has been sharply criticized for underplaying the severity of the crisis, stuck to his relentlessly optimistic tone about the nation's response.
Trump gave his administration a 10 out of 10 in terms of its response to the coronavirus outbreak, including the testing. 
The U.S. surgeon general said Monday that the number of coronavirus cases in the U.S. has reached the level that Italy recorded two weeks ago — a sign that infections are expected to rise in America as the government steps up testing and financial markets continue to fall.
"We are at a critical inflection point in this country, people. We are where Italy was two weeks ago in terms of our numbers," Dr. Jerome Adams told Fox News. "When you look at the projections, there's every chance that we could be Italy."
In Canada, Prime Minister Justin Trudeau announced major travel restrictions in an effort to stem the coronavirus pandemic that has now killed four people in the country.
He said Canada will be denying entry to most non-citizens or non-residents, but exceptions will be made for diplomats, people with family in Canada and U.S. citizens, citing the level of integration between the two countries.
Trudeau said the federal government is mandating that air carriers screen passengers with symptoms of the coronavirus out of lineups, so they don't board planes back to Canada. Additionally, he said that starting Wednesday, international flights will only be allowed to land at four airports: Vancouver, Calgary, Toronto and Montreal.
WATCH | Trudeau announces new travel restrictions:
"We can still slow the spread of this virus," Trudeau said Monday afternoon, speaking from outside his home. He is in self-isolation after his wife, Sophie Grégoire Trudeau, tested positive for COVID-19 last week.
The travel restrictions come as British Columbia reported three more deaths related to COVID-19. The new deaths stem from an outbreak at the Lynn Valley Care Centre, a long-term care facility in North Vancouver.
Despite the announced exemption for U.S. citizens, B.C. Health Minister Adrian Dix issued a terse warning to Americans who want to come to the province: "Don't come."
The coronavirus — which has spread to more than 140 countries — has rattled economies and sparked sweeping changes from governments, both in Canada and abroad.
Provinces and territories have cancelled classes, cities are shutting down public spaces, like libraries and recreation centres, and public health officials are urging people to practise proper hand hygiene and social distancing. Cineplex said Monday night it is closing all 165 of its theatres across the country until Apr. 2, and will issue refunds for any advance bookings. 
On Monday, the Canada Border Services Agency (CBSA) said on Twitter that it is adding additional screening measures at all international airports. The change came a day after the country's top health official Dr. Theresa Tam said that federal officials, who have faced criticism over screening practices, were considering additional screening questions.
Ontario Premier Doug Ford on Monday urged people to keep supporting one another as the outbreak unfolds.
"We're taking every step possible to slow the spread of the virus, and we need our partners to do the same," Ford said, expressing concern about how screening is unfolding at the border and urging the federal government to do more. 
He urged people not to panic buy, and said he's been in touch with major retailers about supply chains. "There's plenty of food and household essentials to go around," the premier said at the briefing.
Ford also announced that his government is working on a plan for people whose work life is impacted by the outbreak, though full details weren't immediately clear. 
The Public Health Agency of Canada said the risk from the coronavirus to the general public is low, but cautions that seniors, people with underlying health issues and individuals with compromised immune systems face a higher risk of "more severe" outcomes if they contract it.
Top officials with the World Health Organization (WHO) are urging countries around the world to take a "comprehensive" approach to the pandemic. 
WATCH | WHO calls on everyone to do their part to reduce transmission:
The Geneva-based agency said it's working with companies to ramp up the availability of tests for those most in need.
"You cannot fight a fire blindfolded. And we cannot stop this pandemic if we don't know who is infected," WHO director-general Tedros Adhanom Ghebreyesus said Monday.
"This is the defining health crisis of our time," Tedros said, adding that the days, weeks and months ahead will be a test of the world's resolve, a test of trust in science and a test of solidarity.
"Although we may have to be physically apart from each other for a while, we can come together in ways we never have before."
Here's a look at what's happening in the provinces and territories
For full coverage of how your province or territory is responding to COVID-19, visit your local CBC News site.
B.C. said there are 30 news cases of COVID-19 in the province. Dr. Bonnie Henry, the province's top health official, said not everyone needs to get tested, even if they have recently travelled outside of Canada, but she did put out a call for nearly 15,000 people who attended a dental conference in Vancouver to self-isolate immediately, after at least four of Monday's new cases were traced back to the event. In Vancouver, Mayor Kennedy Stewart announced bars and restaurants in the city's downtown core will close starting Tuesday. Read more about what's happening in B.C.
Alberta reported 18 new cases Monday afternoon, including two cases of community transmission. "I am concerned about that potential for community spread," said Dr. Deena Hinshaw, Alberta's chief medical officer. From a room in her house where she is self-isolating and awaiting test results, Hinshaw said she is talking to other provinces every day and working to determine if additional measures are required to help stem the spread. Five patients in Alberta are in hospital. The rest are self-isolating at home. Read more about what's happening in Alberta, and visit this site for a list of closures in Calgary.
Manitoba says all of its reported cases to date are travel-related. The province has four dedicated testing centres, which as of Sunday had seen 900 patients. A new testing centre is slated to open in Thompson, with more to come in rural areas this week. Read more about what's happening in Manitoba.
Saskatchewan, too, is closing pre-K-12 schools, starting Friday. "These measures apply to daycares that are co-located with schools, but do not apply to licensed daycare facilities outside of schools," a government statement read. The province is also overhauling its 811 HealthLine to keep pace with demand for the telephone service. Read more about what's happening in Saskatchewan.
Hospitals in Ontario are being asked to begin "carefully ramping down" elective surgeries. Health Minister Christine Elliott said over the weekend that the move will help preserve capacity to respond to COVID-19. Elliott said in a statement the approach will allow hospitals the discretion to make decisions based on "local circumstances" while also allowing "the province to take a more prescriptive approach, should it be warranted based on evidence." All casinos in the province are being closed, and Metrolinx is reducing services starting later this week. In Ottawa, the city's top doctor is recommending that people cancel events, and avoid going out for "non-essential" reasons, saying community transmission is likely taking place in the city. Read more about what's happening in Ontario here, including what Premier Ford said Monday at a news briefing. 
Quebec — which reported 11 new cases on Monday — ordered the closure of bars, clubs, gyms and movie theatres over the weekend. Spas and saunas are also being closed, the province said. Restaurants can stay open, but are being asked to operate at half-capacity. "We have to give ourselves the best chance to slow the contagion over the next days," Premier François Legault said Sunday. The province, which had already announced the closure of schools, is also urging people to embrace social distancing and avoid going out for non-essential trips. Read more about what's happening in Quebec.
New Brunswick's top doctor says testing centres for COVID-19 are being set up in the province — but the testing will be made available by appointment, and only to those showing symptoms. Dr. Jennifer Russell urged everyone in the province to "do their part" as the province, which has five presumptive and one confirmed case. Read more about what's happening in New Brunswick here.
Nova Scotia is also closing schools and daycares for an extended period, with the premier cautioning that the closure could be extended. "Our No. 1 priority will be the public's safety and the health [and] safety of Nova Scotians and their children," Stephen McNeil said over the weekend. On Monday, the province announced two new presumptive cases of COVID-19, bringing the province's total to five presumptive cases.  Read more about what's happening in Nova Scotia. 
Prince Edward Island declared a state of emergency and closed schools and daycares for an extended period. Dr. Heather Morrison said the province is monitoring COVID-19 and will reassess the situation as needed. "If we make some good decisions now, it might help us in the weeks ahead," she said. Read more about what's happening on P.E.I.
Newfoundland and Labrador students will be out of class for an extended period. The province currently has one presumptive case, and is making broader plans to try and tamp down the spread of COVID-19. Read more about what's happening in Newfoundland and Labrador.
There are not yet any confirmed cases in Canada's North, but governments there are ramping up their efforts to get ahead of the virus. On Monday, schools in the Northwest Territories and Nunavut announced they would be closing for an extended period. Read more about what's happening in Canada's North here.
WATCH: Debunking misinformation about COVID-19
Here's a look at the latest numbers in Canada. Presumptive cases are individuals who have tested positive, but still await confirmation with the National Microbiology Lab in Winnipeg.
Ontario: at least 177 confirmed cases, including five cases listed as resolved.
British Columbia: 103 confirmed, including four deaths and five cases listed as resolved.
Alberta: 74 confirmed.
Quebec: 50 confirmed.
Saskatchewan: five presumptive, two confirmed.
New Brunswick: five presumptive, two confirmed.
Manitoba: seven confirmed, one presumptive. 
Canadians quarantined at CFB Trenton: eight confirmed.
Nova Scotia: four presumptive, one confirmed.
Prince Edward Island: one confirmed.
Newfoundland and Labrador: one presumptive.
Here's what else is happening in the U.S.
From The Associated Press, updated at 4:30 p.m. ET
Officials in six San Francisco Bay Area counties issued a shelter-in-place mandate on Monday affecting nearly seven million people, including the City of San Francisco itself.
The order says residents must stay inside and venture out only for necessities for three weeks starting Tuesday in a desperate attempt by officials to curb the spread of the novel coronavirus.
The dramatic step came as officials across California took increasingly strident steps to separate people and contain the spread of coronavirus, promoting that millions of the state's oldest and youngest residents should stay home.
Bars, restaurants, theatres and movie houses in New York and Los Angeles were ordered to shut down to combat the spread of the coronavirus pandemic, as central banks around the world took aggressive steps to cushion the economic impact of the disease.
The U.S. Federal Reserve slashed interest rates, for the second time in less than two weeks, to near zero and other central banks followed suit. But stock markets and the dollar continued to tumble.
The U.S. Centers for Disease Control and Prevention on Monday reported 3,536 cases of the coronavirus — an increase of 1,858 cases from its previous count reported on March 13. It said the number of deaths had risen by 27, to 68. The CDC figures do not necessarily reflect cases reported by individual states.
Here's what's happening in Europe
From The Associated Press and Reuters, updated at 7 p.m. ET
The chief of the European Union has proposed a 30-day ban on all non-essential travel into the European Union.
EU leaders are set to hold a summit Tuesday via video-conference on efforts to contain the spread of coronavirus.
The European Centre for Disease Prevention and Control figures released Monday show that 51,771 coronavirus cases have been reported in Europe, most in Italy, Spain, France and Germany. A total of 2,316 people have died, the overwhelming majority in Italy.
With Italy reporting the most COVID-19 cases and deaths anywhere in the world except China, neighbouring countries, like Austria and Slovenia, have moved to slow traffic. But other EU nations, including Germany, Poland, Slovakia and Cyprus, have also introduced restrictions.
In Italy, the number of deaths of people testing positive for the coronavirus now tops 2,100. The civil protection agency said 349 people have died in the past 24 hours. The number of positive diagnoses rose to 27,980.
In the U.K., authorities dramatically ramped up measures, urging all residents to avoid unnecessary contact with others and that people in the most vulnerable groups should be isolated for almost three months. As of Monday, Britain had 1,543 confirmed cases and 53 virus-related deaths.
Prime Minister Boris Johnson said Monday that "now is the time for everyone to stop non-essential contact with others and to stop all unnecessary travel." He said people should "avoid pubs, clubs, theatres and other such social venues." The U.K. had previously resisted taking some of the tough measures seen in other European countries.
France imposed new restrictions on people's movements late Monday. President Emmanuel Macron said people who violated the new rules would be punished. "We are in a health war," Macron said.
He also said starting Tuesday, France's borders would be closed in co-ordination with other EU countries.
Greece is imposing a compulsory 14-day quarantine on anyone entering the country and extending shop closures to fight the spread of coronavirus.
Spain has become the fourth most virus-infected country in the world, surpassing South Korea with a sharp curve of contagion, and closing its borders is a "real possibility" being considered. Interior Minister Fernando Grande Marlaska said a total lockdown could be the next step, after deploying the army to the streets and to clean train stations, ordering 46 million to stay at home and taking over control of private hospitals.
WATCH | Canadians locked down in Spain trying to get back home:
Serbia has closed its borders to foreigners and demanded self-isolation for returning Serbian citizens to up to 28 days. Serbia's Prime Minister Ana Brnabic said that if people continue to ignore the self-isolation orders, as they appear to be doing in Belgrade on Monday, the government will introduce a police-enforced curfew. Serbia has 55 infected patients.
Ireland is expecting the number of cases there to skyrocket in the next few weeks. Prime MInister Leo Varadkar said he expects to see upwards of 15,000 cases by month's end, up from the current 223 and has advised against all non-essential overseas travel. Schools, universities, childcare centres and bars have also been closed. 
European Council President Charles Michel, who chairs summits of prime ministers and presidents from the 27 EU nations, tweeted Monday that he was calling what will be the second meeting of its kind in two weeks. "Containing the spread of the virus, providing sufficient medical equipment, boosting research and limiting the economic fallout is key," Michel said.
Michel's call for the summit, to be held Tuesday, came shortly after he held talks with Macron, German Chancellor Angela Merkel and European Commission President Ursula von der Leyen.
The EU is urging its member countries to put common health screening procedures in place at their borders to limit the coronavirus spread, but not to block the transport of important medical equipment.
"Essential goods and medicines must be able to cross borders as smoothly as possible. This is a time for solidarity and co-operation," EU Health Commissioner Stella Kyriakides tweeted, after hosting a separate virtual meeting of the bloc's health ministers Monday.
The ministers agreed to start purchasing protective equipment, testing kits and ventilators together to help those member countries hardest hit, Kyriakides said.
Here's a look at what's happening in Asia 
From The Associated Press and CBC News, last updated at 7:45 p.m. ET
Malaysia is implementing a drastic two-week lockdown in the country to slow the spread of coronavirus following a sharp spike in the number of cases.
Prime Minister Muhyiddin Yassin said all religious institutions, schools, businesses and government offices will be shut from Wednesday until March 31. All mass gatherings will be banned and only essential services, including supermarkets, banks, gas stations and pharmacies will be allowed to stay open.
The country recorded 315 new cases of the virus in the past two days, causing its total to surge to 553, the highest number in Southeast Asia. Many of the new cases are linked to a recent 16,000-member religious gathering at a mosque in a Kuala Lumpur suburb that also sickened dozens from Brunei and Singapore.
In the Philippines, President Rodrigo Duterte on Monday placed the northern third of the country under an "enhanced community quarantine" that requires millions of people to stay mostly at home.
Most office work and mass public transportation on Luzon Island, which includes the capital, Manila, will be suspended, officials said. Public movement will be restricted and large gatherings banned except for medical and other emergencies.
Banks, hospitals, drugstores and supermarkets will remain open but only one family member can leave home to buy food, and the establishments should observe "social distancing," officials said.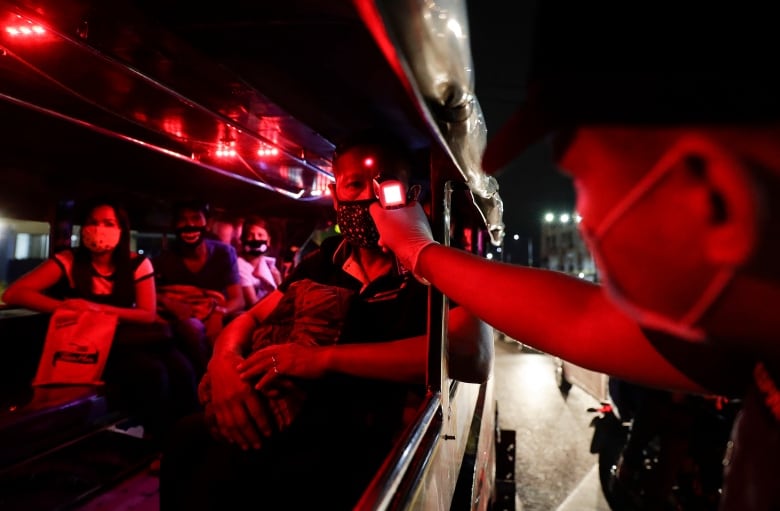 Duterte also placed the rest of the Philippines under "a state of public health emergency" and ordered mayors and village officials to take steps to fight the spread of the COVID-19 disease in the archipelago of more than 100 million people.
"This is not martial law," Duterte said in televised remarks. But he also threatened people who defy the moves with arrest.
Sri Lankan authorities say they intend to take legal action against an individual infected with coronavirus who ignored repeated calls by health officials to seek testing and treatment after his travelling companion tested positive.
Police spokesperson Ajith Rohana said Monday that the two Sri Lankans had travelled together in four European countries and returned on March 11. One was confirmed as infected with the virus the next day. 
Rohana said health officials repeatedly asked the other person to undergo medical tests but he ignored the request for three days. He eventually admitted himself to a state-run hospital and tested positive for the virus.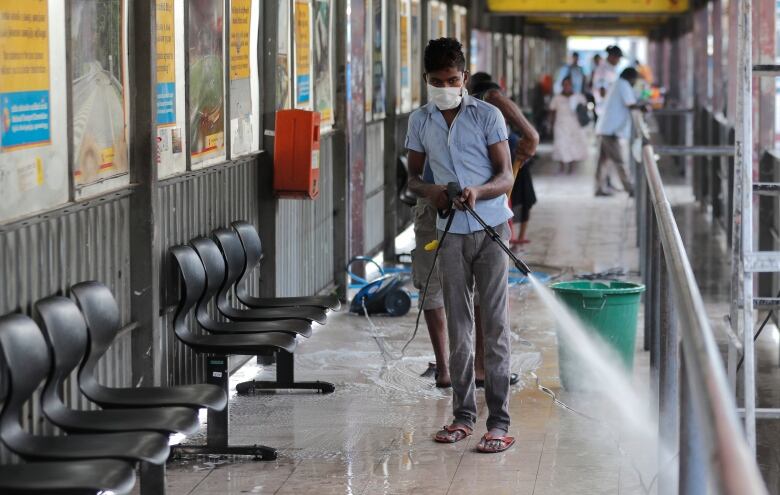 China is relaxing travel restrictions in Hubei, the province hardest hit by the virus, sending thousands of workers back to jobs at factories desperate to get production going again.
The official Xinhua News Agency reported Monday that cities just outside the epicentre of Wuhan were chartering buses to send back to work residents who had returned home for the Lunar New Year in late January.
The move comes as Chinese officials say the outbreak that spread from the city of Wuhan starting in late December has mostly run its course domestically, while they remain vigilant against imported cases.
The outbreak of COVID-19 has had a devastating effect on China's service sector and industries from autos to cellphones, although President Xi Jinping has pledged that economic growth targets for the year will still be met.
In the latest tally, China's National Health Commission on Tuesday reported 21 new cases of the coronavirus in the previous 24 hours, bringing the total to 80,881. The health commission also said 13 people have died, raising the death toll to 3,226.
Japan is dealing with around 800 local cases as well as the passengers from the Diamond Princess cruise ship who tested positive. The Bank of Japan is also looking at taking emergency measures to tamp down the impact of the outbreak on the country's economy, NHK reported.
In South Korea, officials reported a downward trend in new infections for the third day in a row Tuesday. There were 84 new cases, bringing the country's total infections to 8,320. on Monday, according to the Korea Centres for Disease Control and Prevention. A total of 81 people have died in the country, after six more deaths were reported Tuesday, most of them older and with underlying disease.
WATCH | South Korea praised for handling of COVID-19 outbreak:
Here's a look at some of what's happening elsewhere in the world, including hard-hit Iran
From The Associated Press, Reuters and CBC News, updated at 6:30 p.m. ET
Iran's reported death toll from the coronavirus has reached 853, with 129 new deaths in the past 24 hours, a health ministry official tweeted Monday, adding that a total of 14,991 people have been infected across Iran. "In the past 24 hours, we had 1,053 confirmed new cases of coronavirus and 129 new deaths," Alireza Vahabzadeh tweeted. To contain the outbreak in Iran, one of the deadliest outside of China, officials have called on people to stay at home.

Turkey identified 12 new cases of the coronavirus, bringing its total to 18, Health Minister Fahrettin Koca said Monday, marking the highest daily rise since the country announced its first case last week. Koca said two of the new cases were related to the first case reported in the country, while seven had travelled from Europe and three from the U.S.

South Africa will revoke nearly 10,000 visas issued this year to people from China and Iran, and visas will now be required for other high-risk countries that had been visa-free, including Italy and the U.S. The health minister said a lockdown might be necessary if tough new measures to deal with COVID-19, including travel restrictions and school closings, don't work. He warns of a high risk of internal virus transmission with "the problem of inequality in our society."

In Israel, the government is invoking emergency regulations to speed up the deployment of cyber-monitoring to track infections. The plan to use anti-terrorist technology to track infected people — and anyone with whom they have come in contact — drew criticism from civil rights groups when first proposed over the weekend. But Prime Minister Benjamin Netanyahu moved to circumvent parliamentary consent when he said in a nationally televised address Monday night that his cabinet would invoke emergency regulations to put the order into effect for 30 days. There are nearly 300 cases of COVID-19 in Israel.

U.K. actor Idris Elba announced Monday he has tested positive for COVID-19. In a tweet, he said he has no symptoms, is self-isolating and urged people to stay home.

Schools have closed in at least 56 countries, the United Nations said, keeping more than 516 million students home.
With files from The Associated Press, The Canadian Press and Reuters