Canada
·
THE LATEST
Coronavirus: What's happening in Canada and around the world on Sunday
A new strain of the virus that causes COVID-19, first discovered earlier this month in Britain, has been detected in one patient in British Columbia and another in Ontario, provincial health officials said Sunday. The new cases bring Canada's total to four.
Four cases of new coronavirus variant announced in Canada
The latest:
New strain of coronavirus detected in two more patients in Canada.
Trump signs COVID-19 relief bill, averts U.S. government shutdown.
Vaccine campaigns roll out across European Union.
Ontario becomes 1st province to identify new COVID-19 variant; 3 patients identified.
Ontario enters provincewide lockdown in effort to curb rising COVID-19 case counts.
Japan to ban entry of foreign travellers to fight spread of new COVID-19 variant.
Have a question about COVID-19 in Canada? Send your questions to COVID@cbc.ca.
A new strain of the virus that causes COVID-19, first discovered earlier this month in Britain, has been detected in one patient in British Columbia and another in Ontario, provincial health officials said Sunday. The new cases bring Canada's total to four.
The variant has also been detected in several other countries, including Denmark, Belgium, France, Australia and the Netherlands.
B.C. is the latest province to report a case of the new variant. In a statement issued Sunday afternoon, Provincial Health Officer Dr. Bonnie Henry said the case involved a person who flew from Britain on Dec. 15.
"B.C. continues to support the Canada-wide travel ban on all flights arriving from the U.K. until Jan. 6, 2021, and urges all British Columbians to continue to avoid all non-essential travel to keep people and communities safe," she said in the statement.
Ontario's associate chief medical officer of health, Dr. Barbara Yaffe, also announced three cases in Ontario in two separate statements over the weekend. The first news release, on Saturday, said the strain of COVID-19 was identified in a couple from Durham Region, just east of Toronto.
A second statement issued Sunday afternoon said a third case had been reported in Ottawa in someone who had recently travelled from the U.K. It also said new links had been found to the first two cases of the new variant.
WATCH | Ontario identifies COVID-19 variant in province:
"Since the initial reporting of the first two cases of the variant on Dec. 26, 2020, additional investigation and follow-up case and contact management has revealed that the couple had indeed been in contact with a recent traveller from the U.K., which is new information not provided in earlier interviews. The cases and contacts have been informed and are now in self-isolation as per public health protocols," the statement said.
"It is critically important that individuals with confirmed cases of COVID-19 provide all history of contacts and contact information to their public health unit. This is crucial to the prevention and control of this infection."
Provincial health officials say modelling and epidemiological studies suggest the variant can spread more easily and faster than the original version of the novel coronavirus — but is not believed to be more deadly.
WATCH | Pfizer, Moderna vaccines can be modified to tackle variants, expert says:
"While early data suggests that these new variants may be more transmissible, to date there is no evidence that they cause more severe disease or have any impact on antibody response or vaccine effectiveness," the Public Health Agency of Canada said.
News of the new variant arriving in Canada came as a provincewide lockdown meant to slow the spread of COVID-19 took effect in Ontario.
WATCH | Provincewide lockdown comes into effect in Ontario:
The restrictions will remain in place for southern Ontario until Jan. 23 but will lift for northern Ontario on Jan. 9.
Under the new rules, restaurants can only provide takeout and delivery, while non-essential stores can only provide curbside pickup and delivery. Supermarkets, pharmacies and retailers that sell food can stay open but with capacity limits and physical-distancing measures.
The lockdown began with Ontario reporting a two-day total of 4,301 cases of COVID-19 on Saturday. Health Minister Christine Elliott reported 2,005 more cases on Sunday. Locally, there were 572 new cases in Toronto, 331 in Peel Region, 207 in York Region and 140 in Windsor-Essex County.
Meanwhile, Europe launched a massive vaccination drive on Sunday, with seniors and health-care workers first in line to be inoculated against COVID-19 during a pandemic that has claimed more than 1.7 million lives worldwide.
The region of 450 million people has secured contracts with suppliers for more than two billion doses of the Pfizer-BioNTech vaccine and has set a goal for all adults to be inoculated during 2021.
The first person to get the vaccine in Berlin was Gertrud Haase, who is 101 years old and lives in a nursing home.
"It [the virus] is very dangerous. We hear and read about it, and there are so many people dying in other homes," Haase said. "It is horrible, and that is why it is so good that we can be vaccinated against it. It is a big advantage for all of us who live here."
But Germany's coronavirus vaccination campaign faced delays in several cities on Sunday after temperature trackers showed that about 1,000 of the shots made by BioNTech and Pfizer may not have been kept cold enough during transit.
"When reading the temperature loggers that were enclosed in the cool boxes, doubts arose about the compliance with the cold chain requirements," the district of Lichtenfels in the north of Germany's largest state, Bavaria, said in a statement.
Medical staff found that the temperature in one vaccine transport cool box had risen to 15 C, a spokesperson for Lichtenfels said, above the maximum of 8 C stipulated by the manufacturers. He added that his district had not received  advice from BioNtech yet on how to proceed.
---
What's happening in Canada
As of 7:30 p.m. ET, Canada's COVID-19 case count stood at 552,020, with 79,863 of those cases considered active. A CBC News tally of deaths stood at 14,964.
In Alberta, Chief Medical Officer of Health Dr. Deena Hinshaw said Sunday that an estimated 500 new cases of COVID-19 were reported in the province.
The daily total is the lowest Alberta has seen in weeks, but Hinshaw explained on Twitter Sunday morning that fewer people were tested on Christmas Day, meaning fewer tests were processed and reported Dec. 26.
Manitoba reported 28 additional deaths on Sunday that included cases from Dec. 24 to Dec. 27, bringing the province's total deaths linked to the coronavirus to 645. More than 500 new cases were also identified in the same period, bringing the provincial total to 24,145.
Saskatchewan reported 559 new cases, seven new deaths and 500 new recoveries for the same period.
In Quebec, a provincewide lockdown went into effect on Friday, with businesses deemed non-essential ordered to remain closed until at least Jan. 11. The province did not publish data on the number of new infections or deaths on Friday or Saturday.
A count released on Sunday shows Quebec has recorded 6,783 more cases since Thursday, with 110 new deaths.
Aside from Ontario, the only provinces to release new numbers on Saturday were New Brunswick and Alberta. 
New Brunswick announced two new cases, which means the province now has 38 active cases. There have been eight deaths and one person is in hospital, in the intensive care unit.
With Ontario joining Manitoba and Quebec in closing non-essential retail stores for in-person shopping and much of the rest of Canada curtailing in-store capacity, the new rules have been having an effect on Boxing Day shopping. The limitations are forcing bargain hunters in many parts of the country to look online for deals instead of lining up and crowding into stores in person.
Newfoundland and Labrador announced three new confirmed cases on Sunday since its last update on Dec. 24, one of which is travel related. Two of the cases involve residents who returned to the province after working in Alberta and who are now self isolating, according to the provincial Health Department.
What's happening around the world
As of Sunday evening, more than 80.7 million coronavirus cases had been reported worldwide, with more than 45.6 million cases considered recovered or resolved, according to a running tally kept by Johns Hopkins University in Baltimore. The global death toll stood at more than 1.7 million.
WATCH | Is one COVID-19 vaccine better than another?:
The United States is by far the leader among nations in cases of coronavirus illness, reporting nearly 18.8 million on Saturday. India follows with 10.2 million; Brazil has counted 7.45 million. There have been more than 330,000 deaths in the U.S., 190,000 in Brazil and 147,000 in India.
There have likely been many more cases of the coronavirus that have not been counted for a variety of reasons, including under-reporting, asymptomatic infections and lack of co-operation with contact tracers.
Each European Union country is getting only a fraction of the vaccine doses needed — fewer than 10,000 in the first batches — with the bigger rollout expected in January when more vaccines become available. All of those getting shots will have to come back in three weeks for a second dose.
Altogether, the EU's 27 nations have recorded at least 16 million coronavirus infections and more than 336,000 deaths — numbers that experts still agree understate the true toll of the pandemic due to missed cases and limited testing.
The number of coronavirus infections recorded in South Africa since March crossed a million on Sunday, its Health Ministry said, just days after a new faster-spreading variant was confirmed to be present in the country. The grim  milestone comes nine days after the country, the worst hit in Africa, reported 900,000 cases.
Japan, meanwhile, says it will ban the entry of all foreign nationals, following the discovery of a new strain of the coronavirus in the U.K. Since Friday, Japan has discovered at least seven cases of the new strain in passengers who arrived from Britain.
The ban takes effect from Monday and will last until the end of January. 
Japanese citizens and residents who are abroad will still be able to return but must show proof of a recent negative coronavirus test. They will also continue to have to quarantine for two weeks.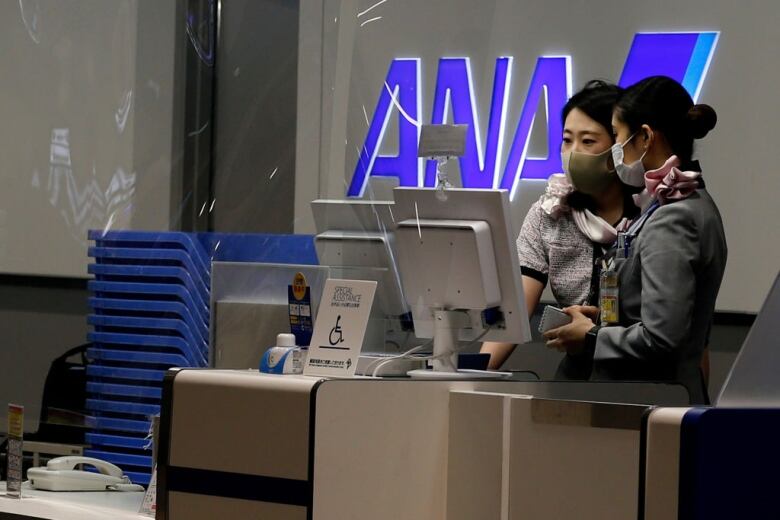 With files from The Canadian Press, Reuters and The Associated Press