Calgary
Doctors warn 'quite rare' cannabis allergies likely to rise with legalization
A Colorado allergist studying cannabis has seen the worst symptoms reported by people working in the marijuana industry and handling plants.
Colorado allergist sees worst symptoms reported by industry workers handling plants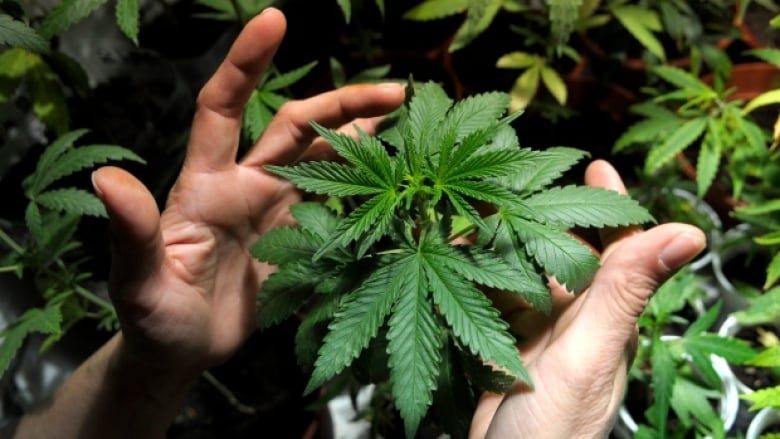 Soon-to-be-legal cannabis may have some Canadians sniffling and sneezing.
As more people try cannabis for the first time, or the first time in years, a rare but real allergy may appear with symptoms such as sniffles or hives, similar to those that come from a seasonal allergy to pollen.
"Suddenly nose running, eyes itchy, sneezing — that's probably a minor reaction to cannabis and marijuana, and you probably want to avoid that kind of setting in the future," said Dr. Eddy Lang, who oversees emergency rooms in four Calgary-area adult hospitals.
The city has seen a few of these cases, and Lang expects to see more in the first six months after cannabis is legalized in Canada. That's when people are most likely to try it out, and then decide to not continue, based on negative symptoms.
Most people with the unusual and rare allergy notice only those minor symptoms. Others find they develop symptoms after handling the product through work.
Some, who are allergic to mould, may find they react to cannabis stored in bud form in a moist environment. Those can grow fungus and mould, which can cause a reaction in people with such sensitivities. 
But others, in very rare cases, have been known to get anaphylactic reactions that requite an EpiPen. 
"One of the key questions to bear in mind is for a severe allergy. Are we seeing the dangerous signs, which would be skin redness, skin swelling, lip and tongue swelling, difficulty breathing," Lang said.
"Those are extremely rare with cannabis exposure, but they could signal a kind of more severe reaction."
'Worst reactions' in workers
Those most at risk of developing a cannabis allergy are those who work in the industry and are regularly exposed to the plant itself, according to a 40-year veteran allergist, Dr. William Silvers.
He's been studying cannabis allergies in the United States — in particular, in Colorado, where cannabis is legal.
In general, cannabis is a mild allergen but those who have underlying allergies, such as hay fever or asthma, plus a lot of exposure, may see symptoms in eyes, noses, lungs and on the skin, if they're touching the plant in their work, Silvers said.
"The worst reactions that we've seen are the people, the kids, who are working within the industry, who are the trimmers in the grow houses, and those that are in the retail stores, also, that have a lot of exposure to the plant itself," he said.
"It's become more seen with the greater legalization, the greater availability."
Oils, edibles, hemp and second-hand smoke exposure have all been shown to cause reactions in his studies, too, but he said, "it's really rare."
​It's treated by lessening exposure to the plant, taking antihistamines, using topical anti-inflammatories or steroids, and seeing a health-care provider if asthma is worsening.
Peaches, hazelnuts
Cannabis has a biological makeup that contains proteins, or allergens, similar to those of peaches, hazelnuts and tomatoes, said Dr. Ginette Poulin, medical director for Addictions Foundation of Manitoba.
These rare allergies can be a good indicator of a potential cannabis allergy. "It's that kind of shared similarity where the body responds immunologically to that protein or that allergy," she said.
What makes her most worried is that while the health benefits of cannabis are well-publicized, neither the pros nor cons of cannabis consumption are explained by a robust body of studies, she said. Some medical researchers, like Dr. Silvers, have been doing such studies, but she hopes more resources are put into the field.
"Certainly you see a lot of the positive where cannabis has claims to have cure effects or benefits for pretty much every ailment, but equally also can be a problem for every ailment," she said.
"So it can be very confusing for the public at large to discern what would be the accurate or valid information."
She encourages cannabis users to be sensitive to other people, like stepping away while smoking to prevent second-hand smoke, and to watch your own reaction, especially if you have a predisposition to allergies.
---
With files from Radio Canada's Tiphanie Roquette