Calgary
·
Q&A
Calgary 'quite a long shot' for Amazon HQ2, betting company says
Alberta's efforts to lure Amazon to Calgary are likely in vain, according to a betting company watching the international race.
'If Calgary starts making grand overtures, that would make a difference,' Lee Price says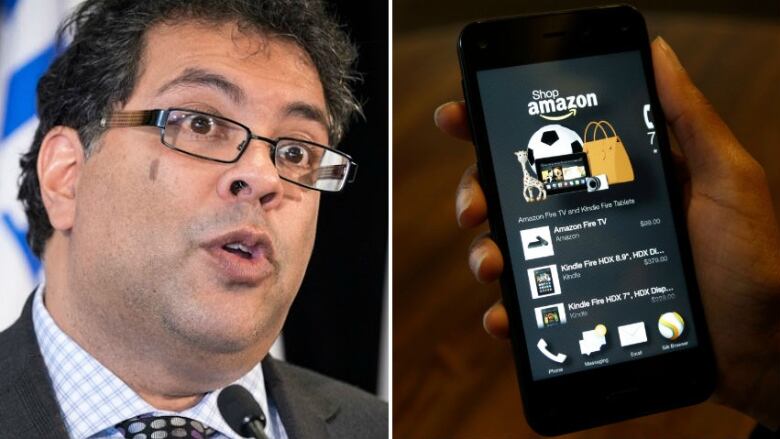 Alberta's efforts to lure Amazon to Calgary are likely in vain, according to a company taking bets on the international race. 
The internet sales giant is seeking a city for a second headquarters — and more than 200 places have submitted bids for the contract expected to create 50,000 new jobs. Eleven Canadian locations across six provinces, including Calgary, have joined the race.
Paddy Power, an Irish betting company, has started taking bets on which one will win Amazon's favour.
Calgary has a 66:1 shot, company spokesperson Lee Price says.
"In context, that's about half as likely as the White House confirming that Trump uses a Melania body double — so quite a long shot," he said.
Price spoke with the Calgary Eyeopener's David Gray on Wednesday.
Q: How do you actually go about setting odds for something like this?
A: We have like a shadowy team of mathematicians who work on the top floor of our office and it's based on actual science and formulas and loads of boring stuff. But basically they'll do a heavy amount of research.
They'll look into who's most likely to win the bidding process and they'll put a price on that based on probability. So it's very heavily steeped in math, which is well over my head.
Q: Looking at the math you've got in front of you, who's got the best odds right now?
A: Yeah, we make Atlanta the clear favourite for one and that's because it's got a major international air hub, it's got affordable housing — and it doesn't hurt when they offer to create a brand new city called Amazon and make Jeff Bezos the mayor for life. That certainly will help.
So we've got Atlanta ahead of Boston and Boston at 7 to 1 each. We think an east coast city is most likely to counterbalance their Seattle base. But who knows?
Q: Is there anyway to improve our odds or are those set in stone?
A: I guess you could make some sort of grand overture to Mr. Amazon himself. I mean, he's been offered the mayorhood somewhere else.
Why not offer to build a statue in his honour or rename road names? I think he's a man driven by ego, so I think if Calgary starts making grand overtures, that would make a difference.
Q: What if a bunch of Calgarians started placing bets with your service? Would that change the odds of it at all?
A: I guess it would depend if we thought that they knew something that we didn't, which is probably quite likely as we know very little about this actual race. I would say unlikely.
I'd say Atlanta seems the clear favourite — and I imagine the odds will shorten and shorten.
Q: Are there other Canadians cities with better odds than Calgary?
A: Yeah, I hate to break the bad news but we think Toronto is the most likely Canadian city, according to our traders.
We rate them as 12 to 1, presumably because that was the first city they thought of in Canada but also due to its size, its airport and its proximity to the U.S. border.
This interview has been edited for length and clarity.
---
With files from the Calgary Eyeopener.