Canada
·
CBC Investigates
​Brock University tells student to keep quiet about sexual harassment finding
Brock University in southern Ontario says a professor who was found to have sexually harassed one of his students late one night in his office is no longer "assigned to a class and is not on campus."
Professor no longer 'assigned to a class,' university says following CBC News investigation
Brock University in southern Ontario says a professor who was found to have sexually harassed one of his students late one night in his office is no longer "assigned to a class and is not on campus."
The statement follows a CBC News investigation that revealed this morning that Brock had warned a former student to keep quiet about an internal investigation that determined her professor gave her alcohol and tried to force himself on her sexually.
"The university sincerely regrets the emotional trauma this incident has caused to the complainant," the university said in the statement this morning. "Brock staff were supportive and responsive as soon as they learned of the complaint. University president Jack Lightstone has spoken directly with the complainant."
The original warning from the university for the student to keep quiet followed a three-month investigation initiated by the university after the female student came forward to complain about her history professor, David Schimmelpenninck van der Oye, also the acting associate dean of research and graduate studies in Brock's faculty of humanities.
The investigation was conducted by a lawyer hired by the university in St. Catharines, and the report was obtained by CBC News. Its conclusions accepted the student's version of events, that she "immediately started to object" to the advances of her professor.
The investigation found that the incident "involved an unwelcome sexual advance, inappropriate and unwelcome physical touching, comments of a sexual nature, [and] a provocative comment attempting to arrange ongoing intimacy."
Following the investigation, however, Brock University warned the student repeatedly in emails that the results are "confidential" and, according to the school's policies, "confidentiality is of the utmost importance and must be maintained at all times."
One of the reasons provided for the confidentiality was "to respect all parties' interests in keeping such complaints from being improperly publicized."
"This to me looked like they were protecting their faculty and protecting their reputation," the former student told CBC News. We are withholding the identity of this person at her request.
Policy needs to be changed
The university's investigation was completed in January, but Schimmelpenninck van der Oye continued to teach history at the university until last week, CBC News confirmed.
CBC News contacted the university last week and this morning the university said the professor is "not on campus."
"An incident like this is not a measure of the culture of the campus," university president Jack Lightstone told the CBC's Diana Swain in an interview. Brock, he said, "is a welcoming and supportive environment for students."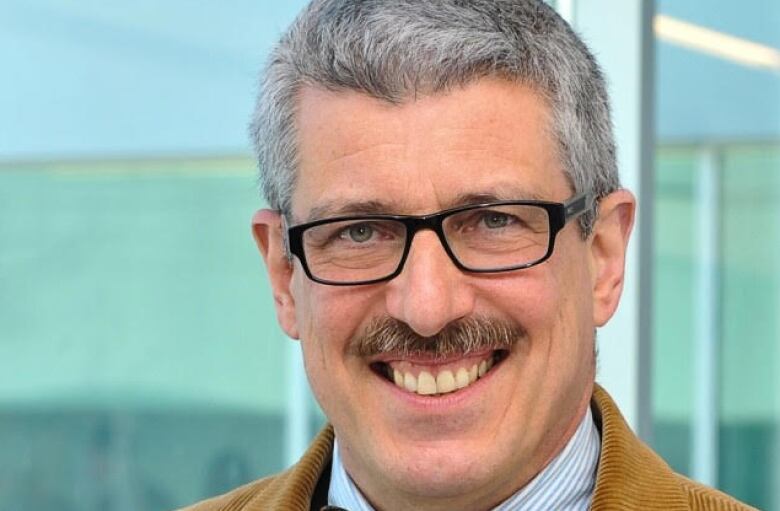 While the university's current policies don't allow the school to tell the student about disciplinary action in a case like this, Lightstone says that is a "hole" that needs to be changed.
"If I were in her shoes, I would understand that she would want a sense of closure from this, that she would want a sense that justice has been done," Lightstone said.
But any changes will come too late to help the student in this case, and no changes are being considered that would allow the public to know about the outcome or the findings of the report.
The former student in this case, decided to go public anyway.
"It's really changed my opinion [of Brock]," she says. "From being this safe place where you go and professors are there to help foster your career and your academics, to a place where they are employees they are protecting and it's in [the university's] best interest to keep their reputation as a company intact.
"And that I was just a problem."
Asked for an apology
The internal investigation stems from an incident that took place in October 2014 when Schimmelpenninck van der Oye met his students at the local campus bar after his class for drinks.
After the bar closed, he invited the female student and another male student back to his office for more alcohol.
According to the investigation, the male student eventually went home, leaving the female student alone with the professor.
"I was in a weird spot where I didn't know what to do," she told CBC News. "So I just let my friend leave and when I said I was going to go home as well, [the professor] poured me another drink and said 'Oh, don't worry, I'll call you a taxi or I'll get you home.'
"It was after my friend left that he shut the door and came and sat next to me and that's when the incident occurred."
After the school year ended and the student left Brock, she emailed professor Schimmelpenninck van der Oye asking for an apology.
"Please, please believe me that I am horrified by my behaviour with you last year, and that I am taking very serious steps to ensure that it never happens again," Schimmelpenninck van der Oye wrote back, asking that she not report the incident.
"I plead with you because I cannot possibly imagine the damage to my career and my family a report to security at Brock will do. I know that the university takes such actions very seriously and I will probably lose my job over this."
In the end, the student decided to report the incident to the university, and an internal investigation was launched.
Too drunk to remember
Schimmelpenninck van der Oye told the investigator that he was too drunk to remember what had happened, but in the end the final report confirmed the allegations made by the student, and recommended the professor face discipline.
"In my opinion, this single incident was significant and serious, and justifies a conclusion that Dr. Schimmelpenninck van der Oye engaged in sexual harassment," wrote Elizabeth Hewitt, the lawyer hired by the university to conduct the investigation.
CBC News asked Schimmelpenninck van der Oye for an interview for this story, but he did not return our emails.
The student was relieved by the outcome of the investigation, but then she was told she couldn't share the results with anyone and that she would never know how the university was going to discipline the professor.
"At that point I left the process feeling like why did I even put myself through it for four months, because in the end I'm not allowed to talk about it and I'm not allowed to know if they ever did anything about it," she said.
After being contacted by CBC News, the university promised to work to change its policies so that people who file complaints will know what action is taken, but it still argued that the process needs to remain confidential, in order to uphold its obligations to its employees, in this case the professor.
"It has nothing to do with circling the wagons around the university and protecting the university's reputation," says Lightstone. "It has to do with the conundrum of our obligation to keep personnel records private and confidential. I don't know how we would be able to get around that."
Common result
Bilan Arte, with the Canadian Federation of Students, says she's heard this kind of story over and over again.
"Telling a survivor they can't speak on their experiences as though it's somehow their responsibility to protect the reputation of the institution over their own safety, and their own recognition of the processes that they need to go through to better heal, I think this is why we continue to have a pervasive culture of silence," she said in an interview.
Arte says students talk to each other about experiences like this. And if there is not a positive resolution, other students will take that into account when making their own decisions about whether to report an incident or not.
"Overall I'm disappointed," said Ellie Donohue-Miller, the coordinator at the Brock Student Sexual Violence Support Centre, who acted as this student's advocate during the investigation.
"I think there was a lack of transparency and lack of accountability in the process, and the students' needs and their rights weren't put first."
The student who came forward believes the way the university handled her complaint will ultimately backfire.
---
For confidential tips on this story, please contact Timothy Sawa at timothy.sawa@cbc.ca or 647-382-7789, or Lori Ward at lori.ward@cbc.ca or via CBC Secure Drop.