British Columbia
·
Photos
What kind of B.C. house can you get for $10M?
$10 million can get you a six-bedroom house in South Granville, a castle-like estate on Vancouver Island, or a property with a private beach in Kelowna.
High-end properties in Vancouver have gone up in price by as much as one-third since last year, realtor says
What kind of home could you get if you had $10 million? Perhaps a place where you could live like a king.
With the hot real estate market, more houses have joined the $10 million league, according to local realtors.
There are 120 properties in B.C. listed for sale for $10 million or more on realtor.ca - this is about 0.6 per cent of the total number of residences on the market.
Here is what some of the $10 million homes in B.C. look like.
Vancouver
Asking price: $10,380,000
Land size: 13,322 square foot, living area: 6,618 square foot, six bedrooms, eight bathrooms
This is what you could get with $10 million in Vancouver — a newly-built house in South Granville within walking distance to local schools.
This home — built in 2014 — features a recreation room, wet bar, temperature-controlled wine cellar and a theatre room in the basement.
"With the same dollars, now you can only buy a house that's half of the size or quality of house you would have bought five years ago," said Gary Serra, a realtor in Vancouver.
According to Serra, high-end houses in Vancouver have gone up in price since last year by as much as one-third and have doubled compared to five years ago.
$10 million could also get you a penthouse in downtown or a fifty-year-old four-bedroom property in Point Grey.
"But for an extremely beautiful and grand house with waterfront view in Vancouver, you need to pay double or triple the budget now," said Serra.
Surrey
Asking price: $9,988,000
Land size: 27,005 square foot, living area: 6,821 square foot, four bedrooms, seven bathrooms
If you want a grandiose ocean-view house that's not too far away from Vancouver for $10 million, Surrey may be a good option.
This European-style house — located in South Surrey — was built in 2000. It features over-height ceilings, spacious rooms, a media room, hot tub, and a gym.
It has multi-level decks that all rooms have access to, and a nice garden decorated with waterfalls.
Whistler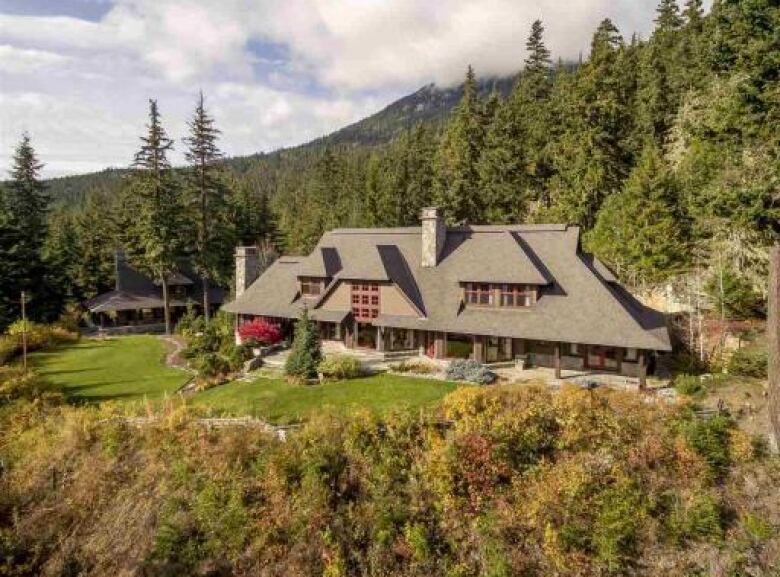 Asking price: $10,250,000
Land size: 906,483 square foot, living area: 8,500 square foot, six bedrooms, six bathrooms
The property is an ideal home for those who seek privacy and a luxurious mountain lifestyle.
It features six bedrooms, six bathrooms, a gym, spa room, wine cellar, games rooms and a guest house.
"Most of my clients are those who emphasize privacy and who are active in outdoor activities," said Max Thornhill, a realtor in Whistler.
"We recently have had a lot more interested buyers from Toronto, since high-end houses in the U.S. became more expensive due to the low Canadian currency."
Two houses over 10 million dollars have been sold in Whistler this year and seven have been sold for over five million dollars, according to Thornhill.
Vancouver Island
Asking price: $9,990,000
Land size: 261,360 square foot, living area: 9.800 square foot, four bedrooms, eight bathrooms
This is probably the most palace-like house you could get for $10 million in B.C.
This French Chateau style house has its own name: "Chateau de Lis", which means "Lily's Castle".
It was built in 2007 in North Saanich —30 minutes away from downtown Victoria — with exquisite landscaping and orchards, and a classic interior and exterior design.
A long corridor in the garden connects the main house to the guest house. The beach is a few steps away from the house, where boats can be moored offshore.
Kelowna
​
Asking price: $10,500,000
Land size: 98,053.56 square foot, living area:11,501 square foot, five bedrooms, nine bathrooms
$10 million could get you one of the best houses in Kelowna — with a private beach.
This lakefront house was built in 2014, featuring an outdoor movie theatre, a full spa that is controlled at the touch of a finger, a three-sided pool and outdoor fire pits.
As the price of luxury houses in Vancouver keep increasing, more people are starting to look for these houses in other places, like Kelowna.
"The market here started to get extremely busy in March with a significant amount of buyers from Vancouver," said Quincy Vrecko, a realtor in Kelowna.
"More people are realising that they can get much more luxurious houses here than in Vancouver for the same price."
Vrecko said about one or two properties are sold every year for $10 million or more in Kelowna.
"This is a big thing here. It will be on the news once a property like that is sold."