British Columbia
Anti-pipeline protesters in Vancouver march ahead of Justin Trudeau appearance
Prime Minister Justin Trudeau made a stop in Vancouver Thursday for a roundtable on clean technology before attending a Liberal Party of Canada fundraiser. Protesters against the Trans Mountain Pipeline expansion were there as well.
About 300 to 400 people marched from the Vancouver Art Gallery to Liberal Party fundraiser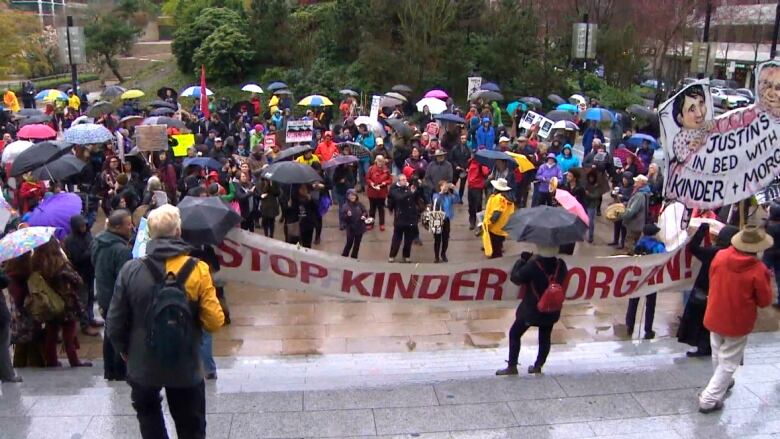 Anti-pipeline protesters in Vancouver spent Thursday afternoon waving signs, shouting slogans and even playing bagpipes with the prime minister in town.
Justin Trudeau made an appearance at a roundtable on clean technology late in the afternoon before attending a Liberal Party of Canada fundraiser.
A rally organizer said she wanted the prime minister to hear their opposition to the Trans Mountain Pipeline expansion project during his visit.
"This gives us a really unique opportunity to speak to him and remind him, hey, Mr. Trudeau, you could be at risk of losing a few seats in the next election if you allow this project to go ahead," said Emma Pullman with progressive advocacy group SumOfUs.
About 300 to 400 protesters gathered at the Vancouver Art Gallery marched to the fundraiser at the Sheraton Wall Centre. First Nations and environmental groups were among them.
Pullman said 2,000 people had expressed interested in attending the rally and blamed the weather for the smaller turnout.
After mustering at the art gallery, protesters marched while playing drums, tambourines and bagpipes.
The protest was peaceful and remained under the watch of a heavy police presence at the Sheraton where the $1,000-a-plate dinner was inside.
Hundreds walking towards wall centre protesting Kinder Morgan pipeline. Trudeau attending fundraising dinner there this evening <a href="https://t.co/QXctMf9iH7">pic.twitter.com/QXctMf9iH7</a>

&mdash;@briarstewart
Chief Bob Chamberlin with the Union of B.C. Indian Chiefs was also in attendance and he said the protests showed the pipeline expansion did not have social license.
"When he's made a decision to push through a project in the nation's interest, he's making a decision to disregard the human rights of Aboriginal peoples," Chamberlin said.
The protest largely dissipated by around 8 p.m. PT as night fell on the cold, rainy Thursday.
Trudeau was also greeted by a smaller group of protesters at an earlier appearance in Victoria where he visited a Coast Guard base.
At that appearance, he repeated that the pipeline will be built but stressed the project will be safe.
With files from Meera Bains