British Columbia
·
Pretty Lonely
The architecture of loneliness: How Vancouver's highrises contribute to isolation
How living in a highrise can leave you lonely, and what some experts suggest to urban design our way to happiness.
Data shows highrise dwellers are lonelier, but there are ways to make living in the sky less isolating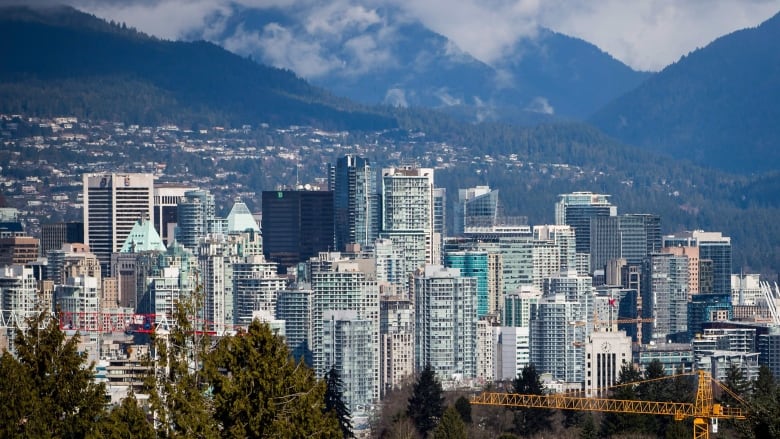 One of Vancouver's nicknames is the city of glass, and within those sparkling towers, in tiny, expensive units that promise sweeping vistas of mountains and oceans, city and sky, are some pretty lonely people. 
A 2017 survey by the non-profit Vancouver Foundation found people who lived in highrises — defined in the survey as buildings taller than five storeys — reported significantly higher difficulty in making friends, felt less welcome in their neighbourhood, were less likely to know their neighbours, and were more likely to avoid interaction with strangers than other building types.
They were also far more likely to be young people. 
The survey spoke with 3,700 people, of which almost 500 were highrise dwellers. Nearly 40 per cent of those residents were under 35. 
Lidia Kemeny, the director of partnerships at the Vancouver Foundation, says there are environmental reasons unique to highrises that worsen isolation.
For example, she says, in many highrises in the Vancouver area, people can't visit a floor that is not their own. Other buildings lack public shared space where people can get together. 
Then there's the elevator.
"Many people just kind of get into an elevator and the idea that they might strike up a conversation or say hello is often not [on their] mindset," Kemeny said.
Designing happiness
It's a problem Paty Rios is trying to find a solution for. Rios, who has a background in architecture and urban design, works with Happy City, a Vancouver-based organization that looks at urban design's effect on happiness.
She has worked with developers and architects to develop ideas to improve social interaction within housing, particularly highrises.
One suggestion is to have larger open spaces attached to corridors such as mini libraries or seating areas. Another is a communal kitchen on a floor where residents can cook together, she said.
Installing benches at the street entrance or courtyards in an apartment building can also make a difference, Rios said.
These could mean added expenses to a project, especially when affordability and space come at a premium in the city, she said. But she said municipalities could develop policies that make shared community spaces a necessary part of new developments, especially when more people are moving to the region and the proliferation of highrise buildings increases.
"[If these projects] are going to create more density to the community ... [they can] actually improve increasing the social opportunities that people have," Rios said. 
Intentional communities
Grace Kim, a Seattle-based architect, has put those ideas into practice. Kim presented a Ted Talk on the architecture of loneliness in 2017 that has racked up nearly two million views. In it, Kim talks about using her own home — a cohousing project she designed — as an example of how the right architecture can bring people together.
Kim's cohousing building houses nine families — a total of 17 adults and 10 children — in individual apartments ranging from 800 to 1,300 square feet. The units are positioned around a central courtyard. The building also has a common house shared by the residents which includes a large kitchen and dining room. 
For the most part, she says the residents live their daily lives independently, but everyone in the building makes a point to socialize together: helping with childcare, watching a movie together, and most importantly, sharing a meal together three times a week in the common house.
"Food helps bring people together," Kim said. "It's just a great way for us to work together and learn about each other."
While the architectural aspect is important, Kim says her building works because all the residents make a point to spend time together.
People still need to make an effort to reach out to others. 
"People have such a hard time [with] the possibility of rejection. The worse they'll say is no. The surprising thing might be that they'll say yes."
Pretty Lonely
This story is part of the radio and web series, Pretty Lonely, which looks into why many Metro Vancouver residents in their 20s and 30s experience social isolation.
The five-part radio series, which airs on CBC Radio Nov. 19-23, is produced by Jennifer Wilson, this year's recipient of Langara College's Read-Mercer Fellowship.