British Columbia
Provincial sheriff shortage an election issue
A recent shortage of sheriffs has let some accused criminals walk free. Is a lack of funding to blame?
Some accused criminals have walked away free — is a lack of funding to blame?
A shortage of sheriffs has raised concerns that the funding of B.C.'s justice system is inadequate and some accused criminals are walking free.
In February, charges against a suspected drug dealer were stayed at a B.C. Supreme courthouse in Victoria because there were not enough sheriffs.
Justice Robert Johnston, a judge in one case, shared his frustration with the court, blaming "a lack of provincial will to provide necessary resources."
Steve Fudge, a Crown prosecutor in Victoria and past president of the B.C. Crown Counsel Association, says lawyers are also concerned.
"Funding for the criminal justice system generally has been an ongoing issue for as long as I've been a director," he said.
"We consistently have issues."
Fudge says the shortage of sheriffs is not a crisis yet but it has been getting worse in recent months.
He says it's adding pressure in a court system that's already stretched because of more defendants representing themselves.
'Occasional hiccups'
The B.C. Liberals point out there were tens of thousands of cases in the province last year, but only seven were stayed because of delays.
"There may be occasional hiccups but we're in good shape," said Liberal candidate for Vancouver-Fraserview and MLA Suzanne Anton.
"Our criminal trials are heard in a timely way. The time-to-trial has been declining. In other words it's getting better and we all watch it all the time."
Anton said 56 new sheriffs will graduate this year and that should bring the overall number across B.C. back above 500, which is roughly where it's been for the last decade.
But the union doubts the government's numbers.
Based on their due-paying members, it guesses the number of sheriffs in B.C. is only about 400.
Dean Purdy, the vice president of Correctional and Sheriff Services with the B.C. Government and Service Employees' Union, said many sheriffs leave their jobs to make more money as municipal or transit police.
"The safety of the judges, the court staff, the public and the sheriffs are at constant risk because of these shortages."
Opposition says more funding needed
Carole James, the NDP candidate and MLA for Victoria-Beacon Hill, says the B.C. NDP will hire more sheriffs and boost funding for legal aid if the party is elected.
"The NDP is committing $45-million over three years, which would assist in going back to 2011 levels as a start, so that you have actually sheriffs in the courtroom, so you don't see accused walking," she said.
"You also invest in legal aid so that people aren't representing themselves."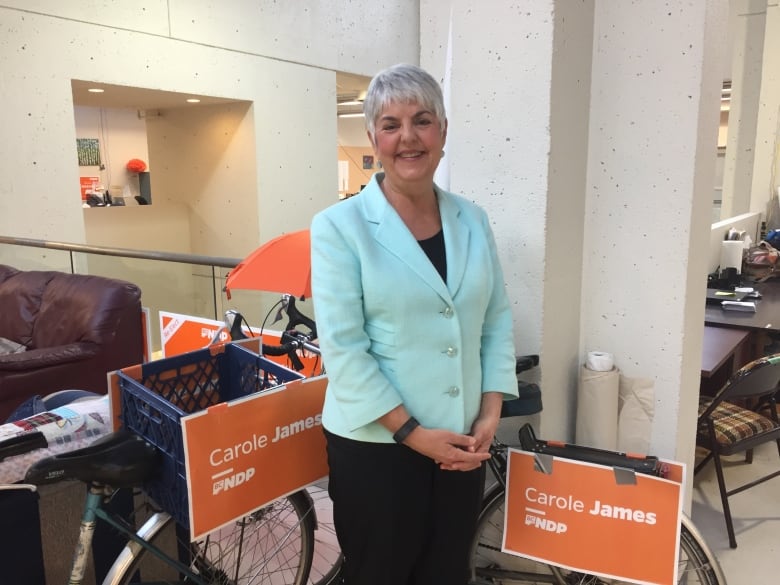 The B.C. Greens also agree more funding is needed. Their candidate in Victoria-Beacon Hill, Kalen Harris, owns a coffee shop close to the courthouse.
"As a coffee shop owner I get to build relationships with a lot of people. Sheriffs are one of them that come in, and I had a very good friend of mine that ultimately got out of the system," he said.
Money not the only solution
All parties agree spending more money is not the only solution.
The Liberals point to their creation of a civil resolution tribunal for minor disputes, and taking impaired driving cases out of courts, as proof that reform can ease the stress on the system.
The Greens and NDP both agree on the need for more mental health and addiction services to treat repeat offenders and get them out of the courtrooms for good.