British Columbia
·
Video
1 home destroyed, hundreds evacuated, thousands on notice as wildfire flares in southern B.C.
Hundreds of residents in British Columbia's southern Okanagan region are out of their homes, and thousands more must be ready to leave on short notice as a nearby wildfire grows in size.
Blaze ballooned over several hours on Tuesday night southeast of Penticton
Hundreds of residents in British Columbia's southern Okanagan region are out of their homes, and thousands more must be ready to leave on short notice as a nearby wildfire grows in size.
The Christie Mountain wildfire broke out Tuesday afternoon on the east side of Skaha Lake, southeast of Penticton, B.C., and grew from 250 hectares to about 10 square kilometres in just a few hours.
The B.C. Wildfire Service on Wednesday afternoon said on Twitter that the fire was 14 square kilometres in size.
The Regional District of Okanagan-Similkameen ordered residents of 319 homes in the Heritage Hills area to leave immediately, and the City of Penticton then issued an evacuation alert for nearly 3,700 properties on its southeast side, closest to Skaha Lake.
The regional district said one home has been lost on Christie Mountain Lane in the Heritage Hills neighbourhood. The district said it has contacted the owner. The home was ordered evacuated on Tuesday.
Fire information officer Taylor MacDonald said that as of Wednesday afternoon, the fire is still out of control.
There are 86 firefighters attending the blaze with the Penticton Fire Department, she said. Nine helicopters are in the air, but poor visibility has hampered air operations.
WATCH | Helicopter crews attack the smoky wildfire near Penticton, B.C.:
MacDonald said the steep and rocky terrain has been a challenge. The wildfire service said winds are favourable and the fire is moving southeast, away from town.
She said the cause of the fire is still unknown, but investigators are on the scene.
The regional district has also posted evacuation alerts for 116 properties in the Upper Carmi area east of Penticton and Skaha Bluffs Provincial Park just south of the city.
Boaters are being asked to stay off Skaha Lake as it is part of the evacuation zone and is being used as a water source to fight the fire. The regional district could not comment about how close fires were to homes in the area.
WATCH | Residents describe the emotional toll of leaving their homes:
'It could be here in 10 minutes'
John Skinner, who owns the Painted Rock Winery in the area, said he saw the fire spark up at about 2 p.m. on Tuesday, and by 4 p.m. it was shutting down and sending staff home.
"When you see the wind move so fast — I'm standing there with my staff thinking if the wind changes, it could be here in 10 minutes," he said.
While his business wasn't placed under an evacuation order, he said, he felt it was the right thing to do.
"We had such a wet, cool spring and early summer that there's a lot more greenery around than normal. So, I thought we'd dodged it this year. Apparently not."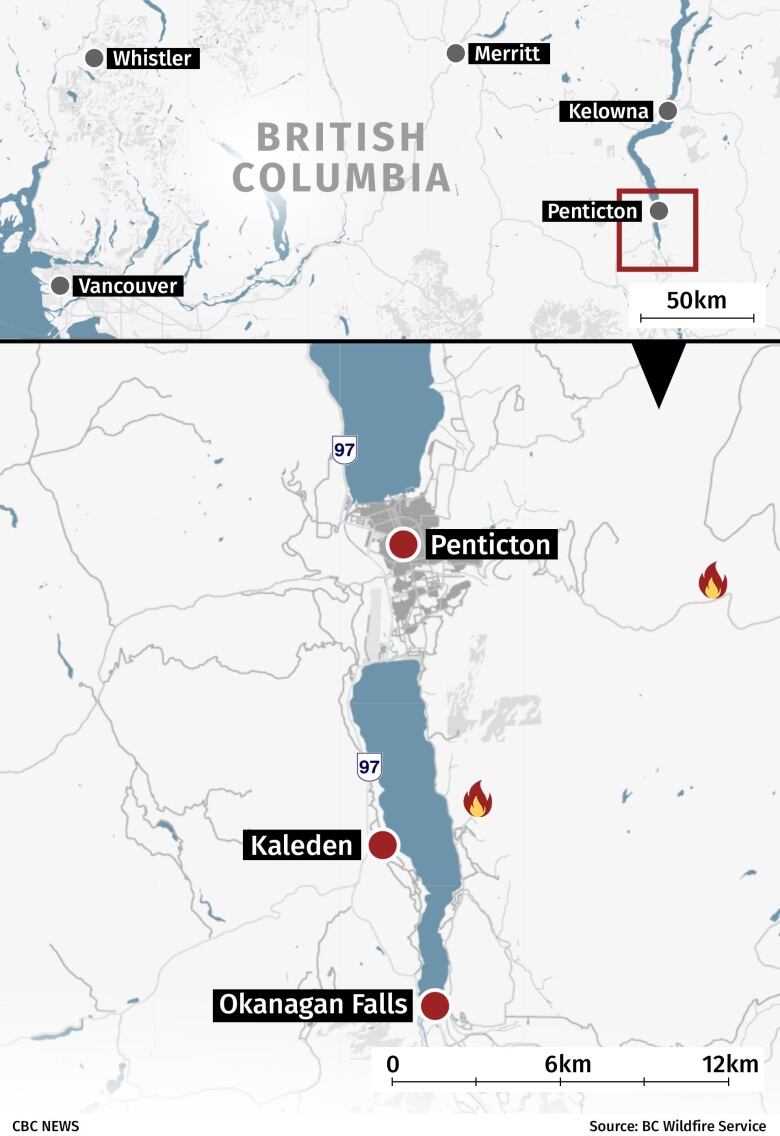 Lorna Schultz Nicholson is another evacuee. She left her home in Penticton with her husband and two dogs and is now staying with friends on the west side of Skaha Lake, in Kaleden.
"I've never been to a war zone, but with the helicopters that are going in and out, that's what we feel like," Nicholson told Radio West host Sarah Penton. "They go, they throw the water ... they pick up water and they go right back out."
Nearly 100 wildfires have ignited in B.C. following a Sunday night thunderstorm and withering heat wave that has gripped the southern part of the province for days.
A separate 18-hectare wildfire is also burning along Highway 33 between Beaverdell and Carmi, and the Regional District of Kootenay Boundary has placed 44 properties on evacuation alert.

The wildfire service says the fire was likely sparked by lightning, and it has provided aerial and heavy equipment support to the local fire department.
Reception centre in place
The regional district had set up a reception centre in Penticton for evacuees, who are being asked to maintain physical distancing on site.

Evacuees and residents whose properties are on evacuation alert were being urged to register online, if possible.
Penticton Mayor John Vassilaki said he visited the evacuation centre Wednesday morning and wanted to reassure residents of the "calibre of response" and express his gratitude for people coming out to help.
The mayor said his own home is under the evacuation alert. He said there was "51 years of history" in his home that would take much longer than a single day to pack up.
Donny Van Dyk, Penticton's city manager and emergency operations centre director, said if an evacuation order was issued for the 3,700 homes presently under alert, residents would be housed in the city's convention centre, homes of friends and family and facilities in Summerland.
He said officials are working to secure hotel rooms as far north as Salmon Arm, about a 175-kilometre drive from Penticton.
"Rest assured that we will have the ability to evacuate and put roofs over people," Van Dyk said, adding the shelters may not be close to home.
Hot weather continues
In the meantime, heat continued for another day in Penticton with Environment Canada predicting temperatures in the low 30s.

The city was among four Okanagan-area communities that set temperature records Tuesday, breaking a 57-year record with a high of 37.5 C.

The weather office says the heat should relent Thursday and showers are forecast by Friday.
With files from Stephanie Mercier, Ben Mussett, Liam Britten, Radio West and The Canadian Press