British Columbia
Active cases of COVID-19 at highest level since early January, as B.C. records 716 new cases
B.C. health officials announced 716 new cases of COVID-19 and three more deaths on Wednesday.
Update comes as 7-day rolling average of new daily COVID case numbers continues to climb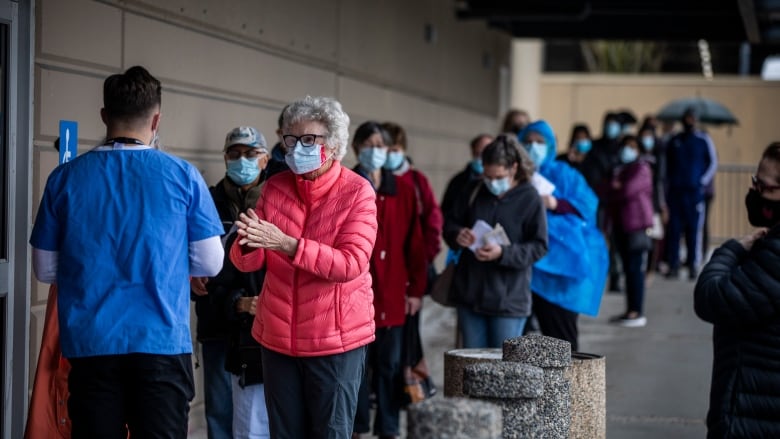 B.C. is making good progress on vaccinations, B.C. health officials said Wednesday, but active COVID-19 case counts remain high.
In a written statement, Provincial Health Officer Dr. Bonnie Henry and Health Minister Adrian Dix announced 716 new cases of COVID-19, including two epi-linked cases, as well as three more deaths.
There are currently 5,573 active cases of coronavirus in the province, the highest number since Jan. 9, with public health monitoring 9,696 people across B.C. due to COVID-19 exposure.
In the Vancouver Coastal Health region, there are now 1,612 active cases confirmed — the highest number since the start of the pandemic. 
There are now 1,612 active confirmed cases of <a href="https://twitter.com/hashtag/COVID19?src=hash&amp;ref_src=twsrc%5Etfw">#COVID19</a> in Vancouver Coastal Health.<br><br>That's the highest number IN THE ENTIRE PANDEMIC. <br><br>Active cases in Fraser Health are more than 3,000 for the first time since January 8. <a href="https://t.co/3pRbPfz5P5">pic.twitter.com/3pRbPfz5P5</a>

&mdash;@j_mcelroy
Henry and Dix put the number of hospitalized patients at 303 people on Wednesday, 85 of whom are in intensive care.
A total of 86,857 people who tested positive for the virus have recovered, while 1,441 people in B.C. have lost their lives due to COVID-19 since the pandemic began.
So far, 582,634 doses of COVID-19 vaccine have been administered, with 87,180 of those being second doses. 
On Tuesday, 25,126 doses went into arms, the highest number of vaccinations in a single day to date.
Wednesday's update also noted 71 new cases linked to variants of concern for a total of 1,581 such cases, 148 of which are still active.
Focus on vaccines
Despite rising case counts, Henry and Dix say there is still cause for optimism as vaccines roll out.
"We have seen much progress in recent weeks," they said.
"The timing for our age-based program has been accelerated, front-line workers will soon be immunized and now, people who are clinically extremely vulnerable with complex and challenging health conditions will also be able to get immunized."
Earlier Wednesday, the province announced it would recruit 1,400 furloughed workers in the province's hard-hit hospitality and tourism sectors to help launch mass immunization clinics in April.
The workers are employees of 14 companies dealing with significant layoffs as a result of the pandemic and include Air Canada, WestJet, Vancouver International Airport, the Vancouver Canucks and Tourism Whistler. 
The workers will focus on logistical support, including managing the thousands of people who are expected to stream through the clinics. 
Teachers and other school-based staff in the Surrey School District started receiving priority access to vaccines on Wednesday.
With files from Alex Migdal and Justin McElroy