Business
Portugal's credit rating cut to 'junk'
Portugal's credit rating was downgraded to junk status as a general strike virtually shut down public services and mass transit systems in the bailed-out eurozone country.
Country hit by general strike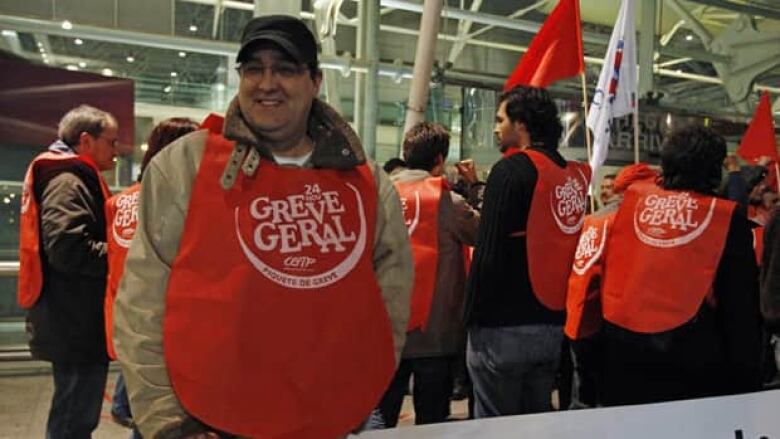 Portugal's credit rating was downgraded to junk status Thursday just as a general strike virtually shut down public services and mass transit systems in the bailed-out eurozone country.
Fitch, one of the three leading credit rating agencies, blamed Portugal's "large fiscal imbalances, high indebtedness across all sectors, and adverse macroeconomic outlook" for its decision to cut the country's rating by one notch to BB+. That means Portugal is considered non-investment grade by Fitch and will likely mean it's even more difficult for the bailed out country to return to bond markets.
Like others in the eurozone, Portugal has embarked on a big austerity program to make its debts sustainable. As in Greece, though, the government's tough medicine is proving to be unpopular and Thursday's general strike had a big turnout.
Airlines canceled hundreds of international flights, and the airports of Lisbon, Porto and Faro were mostly empty as tens of thousands of workers walked off the job. Commuters had to get to work without regular bus or train services. The Lisbon subway was shut, and police said roads into the capital were more congested than normal.
Few staff were working at government offices, local media reported. Many medical appointments, school classes and court hearings were canceled, while mail deliveries and trash collection were said to be severely disrupted.
An unsustainable debt load and feeble economic growth over the past 10 years pushed Portugal towards bankruptcy earlier this year, forcing it to ask for a €78 billion ($109 billion Cdn) international bailout. Greece and Ireland also needed financial help to weather the crisis which has since spread to bigger countries such as Italy and Spain.
In return for the financial rescue, Portugal agreed to cut its debt burden to a manageable level by 2013. That goal requires it to enact deep spending cuts and hike taxes.
Income tax, sales tax, corporate tax and property tax are all being increased. At the same time, welfare entitlements are being curtailed. Falling living standards have stoked outrage at the austerity measures.
Bleak forecast
Unemployment is up to 12.4 per cent and is forecast to hit 13.4 per cent next year. The European Commission predicts the Portuguese economy will contract by 3 per cent in 2012 -- the worst performance in the eurozone.
Fitch said that the recession is making it more "challenging" for the government to achieve its deficit-reduction plan much more challenging and will negatively impact bank asset quality.
However, Fitch said the center-right government's commitment to the program was "strong."
The 24-hour walkout was called by Portugal's two largest trade union confederations, representing more than 1 million mostly blue-collar workers.
"A lot of people are angry," said Joao Proenca, leader of the General Workers' Union, one of the two confederations. "We want a big turnout to show (the government) that the policies we are witnessing are unacceptable."
Government officials had no immediate comment on the strike.
Maria Antonia Moreira, a 57-year-old Lisbon commuter walking to work, said she didn't agree with the strike.
"I think it is wrong ... because the way the country is, all of us should collaborate to help (the country) go on," she told Associated Press Television News.
Marches planned
Unions planned to stage 34 protest marches across the country later Thursday. Portugal has so far witnessed none of the violent demonstrations seen in Greece.
Few private companies were expected to close. Shops, banks and cafes in Lisbon were open as normal.
However, the private sector also felt the consequences of the strike. A huge Volkswagen car plant south of Lisbon, which accounts for 10 per cent of Portuguese exports, decided to shut down production for the day because of problems facing its suppliers.