Business
GM recall linked to 57-cent ignition switch component
A faulty GM ignition switch linked to 13 traffic deaths was a component worth just 57 cents, members of U.S. Congress noted Tuesday as they demanded answers from General Motors' new chief executive on why the automaker took 10 years to recall cars with the defect.
GM CEO Mary Barra grilled by Congress over recalls, offers few answers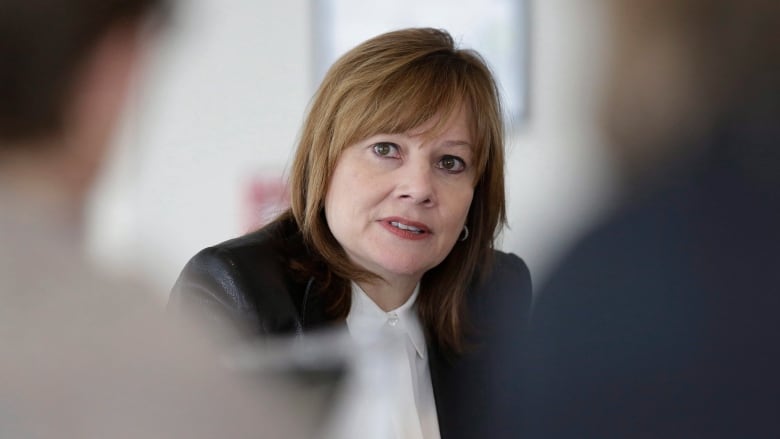 A faulty GM ignition switch linked to 13 traffic deaths was a component worth just 57 cents, members of U.S. Congress noted Tuesday as they demanded answers from General Motors' new chief executive on why the automaker took 10 years to recall cars with the defect.
At a hearing before a congressional subcommittee, GM's Mary Barra acknowledged under often testy questioning that the company took too long to act. She promised changes at GM that would prevent such a lapse from happening again.
"If there's a safety issue, we're going to make the right change and accept that," said Barra, who became chief executive in January and almost immediately found herself thrust into one of the biggest product safety crises U.S. automakers have ever seen.
But as relatives of the crash victims looked on intently, she admitted that she didn't know why it took years for the dangerous defect to be announced. And she deflected many questions about what went wrong, saying an internal investigation is under way.
Barra was firm, calm and polite throughout the proceedings. But she struggled at times to answer legislators' pointed questions, particularly about why GM used the switch when it knew the part didn't meet its own specifications.
When she tried to draw a distinction between parts that didn't meet specifications and those that were defective and dangerous, Representative Joe Barton, a Republican from Texas, shot back: "What you just answered is gobbledygook."
Barra also announced that GM has hired Kenneth Feinberg — who handled the fund for the victims of Sept. 11, the Boston Marathon bombing and the BP oil spill — to explore ways to compensate victims of accidents in the GM cars. Barra stopped short of saying GM would establish such a fund.
Sitting here today, I cannot tell you why it took years for a safety defect to be announced in [the small car] program, but I can tell you that we will find out.- Mary Barra, GM CEO
Since February, GM has recalled 2.6 million cars — mostly Chevrolet Cobalts and Saturn Ions — over the faulty switch, which can cause the engine to cut off in traffic, disabling the power steering, power brakes and air bags and making it difficult to control the vehicle. The automaker said new switches should be available starting April 7.
In her testimony, Barra drew a clear line between the company she runs and the company as it was in the past.
"As soon as l learned about the problem, we acted without hesitation. We told the world we had a problem that needed to be fixed. We did so because whatever mistakes were made in the past, we will not shirk from our responsibilities now and in the future. Today's GM will do the right thing," she said.
"That begins with my sincere apologies to everyone who has been affected by this recall … especially to the families and friends of those who lost their lives or were injured. I am deeply sorry," she said.
At least 13 people died and others were injured because of the fault, which also could disable airbags.
A 57-cent part
A congressional committee looking into the issue is concerned because of evidence that GM approved the ignition switch, made by Delphi Automotive, although it did not meet the car company's specifications.
Representative Diana DeGette, a Democrat from Colorado, held up a switch for one of the cars and said a small spring inside it failed to provide enough force, causing engines to turn off when the car went over a bump.
DeGette showed how easy it was for a light set of car keys to move the ignition out of the "run" position.
GM has said that in 2005 company engineers proposed solutions to the switch problem, but the automaker concluded that none represented "an acceptable business case."
"Documents provided by GM show that this unacceptable cost increase was only 57 cents," DeGette said.
The 57 cents is just the cost of the replacement switch. The figure does not include the labour costs involved in installing the new part.
Members of Congress also wanted to know when GM learned there might be problems with the ignition switch parts and why it did not act sooner to recall vehicles.
Damning internal documents
Documents given to the committee indicate GM received hundreds of consumer complaints about the ignition switch and may have diagnosed the problem as much as 10 years ago, but did not act to inform consumers or get the cars off the road. Barra said she was not aware of the problem until January of this year.
"Sitting here today, I cannot tell you why it took years for a safety defect to be announced in [the small car] program, but I can tell you that we will find out," Barra said in her prepared statement before the hearing.
She said she has asked former Chicago U.S. attorney Anton Valukas to investigate what GM executives knew and how the safety problem was handled. But she would not commit to releasing the full text of his probe, saying GM would release "appropriate information."
Asked by members of Congress to confirm when GM knew of the ignition switch problems or who knew of the issue, she repeatedly replied that she did not know.
"I'd like to know those answers, too," she said.
Barra said she could not account for GM's own documents outlining the problem and why no one followed through to fix the problem. 
"It appears this information was in one part of the company and another part of the company would not know that," she said.
Costs 'too high' for recall
Barra said she has established the new position of vice-president of safety to appoint a senior executive to keep tighter track of safety issues across  the company.
Members of Congress repeatedly returned to the issue of heavy key chains, which GM says might be implicated in the switch fault. GM has advised drivers to remove heavy objects from their key chains, in case the weight causes the ignition switch to shut off.
They pointed to the number of objects people commonly put on their key chains and questioned why that should be an issue, when GM has been making components such as ignition switches for 100 years.
Particularly damning was an internal GM memo dating from 2005, examining problems with the Cobalt ignition switches but opting against a recall.
"Tooling costs and piece price was too high and none of the solutions present a suitable business case," the memo read in part.
Barra said GM has changed its culture since its bankruptcy. 
"That was not acceptable. That is not the way we do business in today's GM," she said of the memo.
Congressman Paul Tonko rebutted her answer, saying it is not reassuring to hear that the culture has changed when many of the same people were still working in the company.
No word on compensation
She would not commit to compensation for families of the victims, but said GM recognizes it has "legal obligations and moral obligations."
Congressman Henry Waxman of California said the GM story reminded him of the Ford and Firestone tire scandal of the 1990s, which was connected to more than 200 deaths. In that case, Ford documents showed efforts to cover up the fault and to keep the information from national safety regulators. 
Acting National Highway Traffic Safety Administration chief David Friedman also appeared at the hearing. He said NHTSA didn't see a clear enough trend on reports of Cobalt ignition faults to determine there was a need for further investigation.
Friedman said the safety organization did not have the internal information GM had about the ignition switch problem and the link to airbags not deploying.
Members of Congress characterized the agency as "short-staffed and underfunded," but said NHSTA needed new tools and processes to bring safety issues to light more quickly and compel greater co-operation from the auto companies.
Families ask to get GM cars off the road
Families of some of the victims of the ignition switch fault gave a press conference ahead of the hearings, demanding that GM take steps to get all of the affected cars off the road.
The cars should not be driven until the fault can be fixed, said Laura Christian, whose daughter died in 2005 in an accident involving a Chevy Cobalt.
She also asked Congress to pass legislation that would give the NHTSA the tools to hold auto companies to account.
"The car manufacturers cannot be permitted to act as if there was an acceptable level of loss of life," she said.
Another bereaved mother, Terry DiBattista, described how she helped her daughter, Amber choose a Chevy Cobalt in 2005 because of its safety features. Her daughter died when the ignition switched off on the highway, leaving the car difficult to control.
DiBattista called for criminal investigation into GM's conduct.
"It's clear GM's concern was with its bottom line and not the safety of our loved ones," she said.