Business
Cellphone-wielding customers are changing the selling game
Paying for purchases by swiping your cellphone is old hat in many parts of the world, but in North America, where it's only just getting off the ground, small businesses have to consider their options.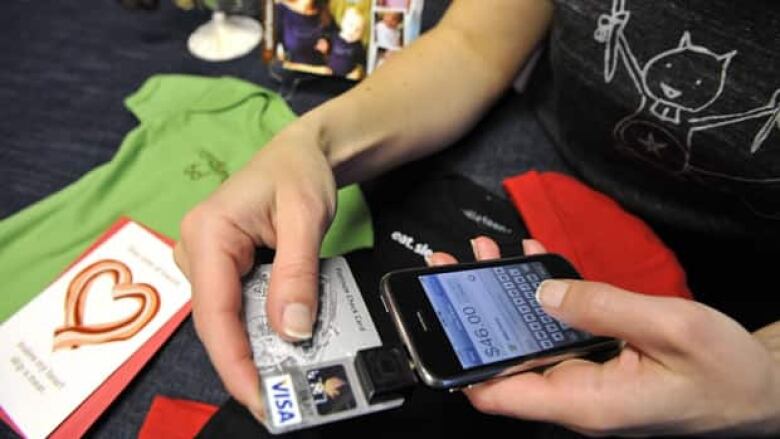 Latest
Payments by 'digital wallet' to hit $100B by 2015
Canada's 1st true 'pay-by-cellphone' trial to launch in early 2012
41% of Canadians say they want a smartphone-based wallet
On an unusually hot San Francisco morning in mid-September, a customer walked into a Peet's Coffee location, bought a cup of brew and paid for it by waving their Samsung Nexus cellphone at a receiver, and became one of the first people to use a so-called mobile wallet in North America.
E-tail names to know
Customers are paying with smartphones in novel ways, but the mobile revolution frees up merchants to accept credit cards and money transfers in non-traditional locations, too. Some of the offerings include:
Payfirma: Provides a small credit-card reader that plugs into the top of an iPhone, iPod or BlackBerry (and soon the iPad). The associated app lets merchants take credit card payments anywhere they have wireless data access. Accepts all major credit cards. The regular setup cost is $200, and the transaction fees are 2.35 per cent plus 33 cents per transaction. Additional monthly levies add another $55.
Square and GoPayment: U.S.-only equivalents of Payfirma. Square has a flat fee of 2.75 per cent and is popular with sellers at craft fairs, flea markets and farmers markets, as well as with buskers, cab drivers and house cleaners. 
Boku and Zong: Let you pay, or be paid, through your cellphone number. Mostly used to buy virtual goods online like games or credits for social networking sites. When you buy something online, you enter your cellphone number and the website sends you a text. Reply "Y" to approve the charge, which appears on your cellphone bill. Both systems work with cellphones from all the major Canadian providers.
Zoompass: A made-in-Canada mobile payment service that lets you transfer and request money for free via a smartphone app, to anyone else who has a Zoompass account. Can be funded from a bank account (free) or credit card (3.5 per cent fee). Works on all major Canadian cellular providers.         
PayPal Mobile: Like Zoompass, lets you send or receive money via a smartphone app, but has the added option of using text messages to send or receive cash.
Google Wallet: The first of an anticipated wave of platforms for paying in-person by simply waving a cellphone near a terminal. Google says the program is "one of the biggest investments" it's ever made. Launched in the U.S. in September and is expected to have a trial run in Canada in early 2012. It integrates Google Offers, the company's e-coupon service, so that someone who bought a deal-of-the-day from a business can cash it in with their phone at the business.
Such cellphone payments have been common in Japan, South America and Europe for years, but they're only just getting off the ground in Canada and the United States. Internet search giant Google launched Google Wallet last month and a crush of others are expected to follow.
The advent of the mobile wallet is made possible by the deployment of near-field communication, or NFC. It's a technology that lets devices exchange data when they're in close proximity, requiring far less power and time to configure than the Bluetooth protocol.
Google estimates half of all smartphones will have built-in NFC by 2014. Many devices already possess the chips, including Research in Motion's BlackBerry Bold 9900 and Curve 9350 series, and the Samsung Nexus S 4G.
But mobile wallets are just one part of the explosive growth of mobile commerce. Besides online shopping, which has been around since the last millennium, customers are now also using smartphones to scan barcodes and comparison shop in-store, read product reviews, collect digital coupons and even transfer funds to settle bills in restaurants between friends.
Worldwide payments using mobile devices hit $170 billion in 2010 and are expected to reach $670 billion by 2015, according to telecom analysts Juniper Research. Of that, $100 billion is forecast to come from digital wallets — customers waving their cellphone at a payment terminal.
And though Google Wallet won't have its trial run in Canada until early next year, Canadian retailers who put off exploring their mobile commerce options do so at their own risk, according to trend-watchers.
"Canadians have one of the highest latent demands for mobile wallets," said Ron Caughlin, vice-president at the Canadian branch of global market-research firm TNS.
While only 11 per cent of Canadians are currently using mobile devices to make payments or do banking, 41 per cent want to, according to TNS's 2011 Mobile Life study, which surveyed 1,000 people in Canada and 34,000 worldwide.
Coverage of the latest small business news, trends and issues, as well as advice from experts on everything from starting and marketing a business, to managing staff and improving the bottom line.
"From a mobile financial perspective, there's a whole bunch of things people want to do," Caughlin said.
To that end, Bank of Montreal launched a half-breed mobile wallet in September, consisting of a sticker that customers affix to their cellphones that transmits MasterCard payment information at any merchant outfitted with a contactless PayPass terminal. The system emails the customer a receipt.
And there are apps for sellers, too, like the recently released Payfirma, which allows anyone with an iPhone, iPod or BlackBerry to turn it into a credit-card scanner. South of the border, the U.S. homologue Square has been used by merchants at flea markets, buskers selling CDs, farm-stand operators, cab drivers, craft-fair booths and other micro-businesses to easily accept credit-card payments. 
Offline and online blur
But what threatens to shake up small business the most isn't necessarily how people pay, but the overall experience of how they shop, according to several analysts.
"Consumers want and expect more choices in how and where they shop. The lines are blurring together between online and offline commerce — I can be in a store and check competitors' prices very quickly," said Darrell MacMullin, managing director of PayPal Canada, which has offered a mobile payment service via text messaging since 2006. "So consumers are now armed with more knowledge before they buy."
'When you have these electronic wallets, it tries to change how the consumer at any particular point in time perceives the market' —Marketing professor Detlev Zwick
Mobile devices have essentially torn down the information silo that once shielded a store from its rivals, insofar as customers previously couldn't find out instantly how much the competition was charging for the same goods, or get product reviews. Now, a shopper in any store can use an app like Shop Savvy to scan a barcode (either a traditional UPC or a two-dimensional QR code) and immediately see how much the same product costs online and at nearby stores.
Customers can also sign up to get messages on their GPS-enabled smartphone about timely offerings in their vicinity. Around lunch time, they might get alerted to a 50-per-cent-off deal at a restaurant around the corner, or while wandering a mall in late October, they'll find out about a sale on winter jackets at a shop a few hundred metres away.
"Consumption as an experience has changed," said Detlev Zwick, a marketing professor at York University in Toronto. "When you have these electronic wallets, it tries to change how the consumer at any particular point in time perceives the market. So you walk into a mall, and through wireless communication — NFC, or wireless in any way — a marketer now has the ability to use the mobile device to reframe what the market looks like in the moment."
Marketers could pull in a consumer's purchasing history, demographic info and location data to craft a unique, personalized shopping experience for each customer, Zwick says. No two people will "see" the mall the same way, because each is getting customized information and offers on their smartphone. 
Tough for small business
It sounds daunting for small businesses, which may not have the technical expertise or financial resources to launch their own shopping apps or get their inventory and pricing data online. Small businesses also tend to be less competitive on price. If consumers are comparison shopping that much more, it means small retailers risk losing out to big-box rivals that have economies of scale. 
But Zwick said there's still tactics they can use.
"Become unpredictable in your pricing, so that it's hard for consumers to know exactly what's the cheapest and instead they focus on store brand," he advised. "You could try guerrilla tactics, like for one week, underpricing all your competitors, to get attention and draw people into your store."
Small businesses also have the advantage of knowing their customers and market well, he said. They should use those sensibilities to decide whether it's even worth it to invest in new mobile payment and commerce technologies.
"There will be segments of the markets — younger consumers — who will be quick to adopt the new approach. But then if you're a small business, there will still be regular consumers," Zwick says. "So it basically comes down to the small business owner to know, where's my market at? Is it worth my time and money to invest into this change, this new payment format? Is my market getting into it?"
Corrections
An earlier version of this story reported a higher setup fee for the Payfirma system.

Oct 18, 2011 6:00 AM ET