Business
Air Canada in exclusive talks to buy Air Transat
Air Canada is in exclusive negotiations to buy the company that owns Air Transat, the companies say.
Takeover price of $13 a share is a 22% premium to where Air Transat was valued yesterday
Air Canada is in exclusive negotiations to buy the company that owns Air Transat, the two companies say.
The proposed deal would value Transat at $13 per share, a 22 per cent premium from the $10.58 a share the company was valued at on Wednesday. At $13, Transat is being valued at roughly $520 million.
Shares in Transat A.T. Inc., the corporate entity that owns Air Transat, were briefly halted on the news, but when trading began, they jumped about 16 per cent to just over $12. That's below the level Air Canada is offering, which could be a sign investors aren't convinced it's a done deal.
Earlier this month, Montreal-based Transat announced it had been approached by more than one party about a possible sale of the company. Speculation at the time was that another Canadian airline, likely either Air Canada or WestJet, would make the most sense as a suitor.
"A combination with Transat represents a great opportunity for stakeholders of both companies," said Calin Rovinescu, Air Canada's CEO, in a release.
"This includes the shareholders of both Transat and Air Canada, employees of both companies, who will benefit from increased job security and growth prospects, and Canadian travellers, who will benefit from the merged company's enhanced ability to participate as a leader in the highly competitive leisure travel market globally."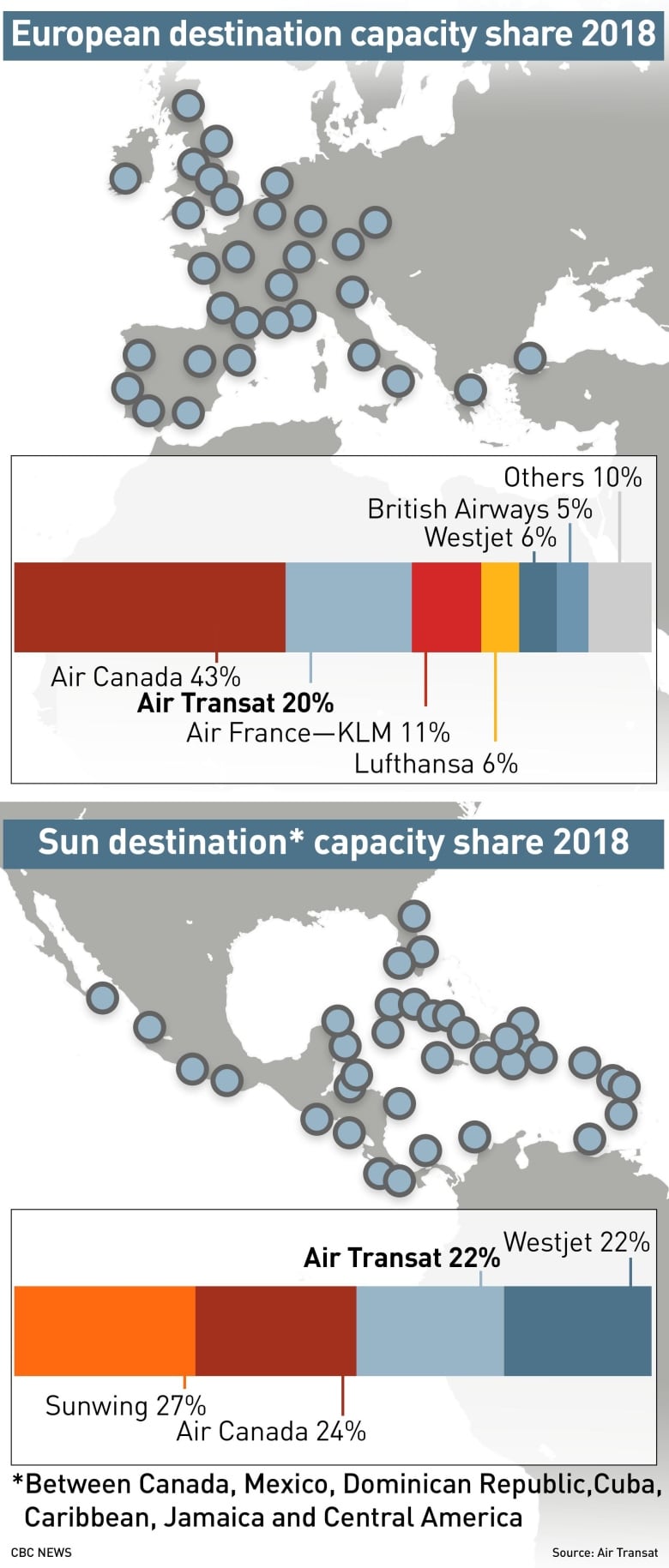 Transat CEO Jean-Marc Eustache was also touting the benefits.
"This announcement is good news for Transat," he said in a release. "This is an opportunity to team up with a great company that knows and understands our industry, and has had undisputable success in the travel business. This represents the best prospect for not only maintaining, but growing over the long term the business and jobs that Transat has been developing in Quebec and elsewhere for more than 30 years."
Air Canada has about 36,000 employees, about 10,000 of which are based in Quebec. Transat, meanwhile, has about 5,000 employees, mostly in Quebec.
While both sides seem to be in favour, the deal is far from done.
Transat said earlier this month that more than one interested party had approached it about a takeover, and technically all Thursday's news means is it has agreed to exclusively negotiate with Air Canada for the next 30 days. If a deal doesn't come together by then or the airline doesn't like the terms on the table, talks with other suitors could begin.
The exclusivity agreement also states that if Transat walks away from the deal for a better offer, it would pay Air Canada a $15-million break fee. In the event the agreement is terminated because regulatory or governmental approvals are not obtained, Air Canada would pay Transat a $40-million break fee.
Those regulatory approvals are no sure thing.
More airline buzz
According to company filings, Air Transat takes up about 20 per cent of the market for flights between Canada and Europe, and about 22 per cent of travel between Canada and sun destinations such as Mexico, Jamaica, the Caribbean and Central America.
Letting the biggest player, Air Canada, gobble up an even bigger chunk of those markets would certainly draw attention from Canada's Competition Bureau — its mandate is to ensure takeovers don't stifle the market for consumers.
Shareholders of both companies must also OK any deal. Transat's biggest single shareholder is Montreal-based investment firm Letko Brosseau and Associates, which owns 6.5 million shares, or about one sixth of the company. A request for comment as to whether they would support any sale of the company was not immediately returned.
It's not clear how much of Transat A.T. Inc., the company that owns Air Transat, is in Air Canada's long-term plans. Transat A.T. Inc. also owns other assets, including a travel agency, and is in the process of building 5,000 hotel rooms in Caribbean destinations where it flies. 
It's not yet known if Air Canada wants just the airline and its fleet of jets and stable of employees, or has any interest in owning the other travel-related assets long term. But one line in the release suggests those hotels are not in Air Canada's long-term plans.
"Transat has agreed to limit its undertakings and expenses relating to the implementation of its hotel strategy during the exclusivity period," Transat said.
To Toronto-Dominion Bank analyst Tim James, the inclusion of that line "suggests, not surprisingly, that Air Canada would not likely continue with Transat's Caribbean hotel investment initiative."
While the travel agency business would certainly buttress Air Canada's vacation package business, Air Canada Vacations, Colin Cieszynski, chief market strategist at SIA Wealth Management, said if the deal is successful, he wouldn't be surprised if Air Canada is forced to sell off some parts of the business not related to the core airline, to satisfy regulatory requirements.
"I would expect things to go through a regulatory review and regulators may demand some sales," he said in an interview.
The exclusive dealings move also comes on the heels of news this week that Air Canada's biggest rival, WestJet, has agreed to be bought by private equity firm Onex, in a tentative deal that values the Calgary-based airline at $5 billion.
Coming after that move, the timing of Thursday's Transat news is no coincidence, Cieszynski said.
"It's a domino effect," he said.
"The Onex purchase of WestJet triggered Transat, if they were looking at other suitors, to get more serious, [and] some of the other suitors may have decided to get more serious."
Other would-be buyers could yet emerge. Worth noting is that as of the end of January, Transat had $620 million worth of cash on its books — more than the $520 million that Air Canada is offering, so there's room for a higher or better offer.
RBC analyst Walter Spracklin says the deal makes a lot of sense from Air Canada's perspective, since it would get to take out a competitor, boost its travel package business and buy the company's fleet of ready-to-go jets in one fell swoop, at a time when it needs them because of the recent Boeing 737 Max groundings.
"From a price paid, the multiple is on the higher end, reflecting the take-out premium; however justified by the strategic merits above," Spracklin said in a note to clients.
Corrections
A previous version of this story incorrectly stated that Air Canada was definitively going to buy Transat. In fact, the two companies have simply entered into exclusive negotiations, but they may not end up in a formal deal.

May 16, 2019 9:11 AM ET