The Goods
3 festive cookie recipes that belong at the top of your holiday baking list
The Goods hosted its first-ever Holiday Cookie Taste-Off and the results were as delicious as you'd expect.
The Goods hosted its first-ever Holiday Cookie Taste-Off and the results were as delicious as you'd expect.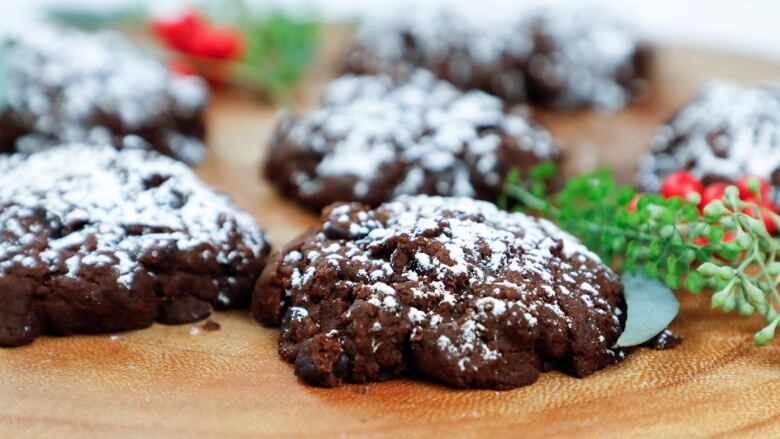 Competition was steep in The Goods' first-ever Holiday Cookie Taste-Off, and that's because all three bakers cooked up their holiday finest. The hosts were lucky enough to be the tasters of these delicious cookie creations and had difficulty picking just one winner. The perfect addition to any party table this season, or the ideal treat as you sit down to watch your favourite holiday classics. Here are the results and the contestants' recipes so you can make these seasonal snacks at home.  
The winning cookies:
Recipe: Phil's Chickpea Chocolate Mint Chip Cookies
By Phil McCaffrey
A delicious gluten, nut, and dairy free, plant-based cookie that still tastes just as good as the other, glutenous cookies out there. Chickpeas add a protein packed punch to every bite while chocolate and mint keep everything festive!
Ingredients
1 cup pitted Medjool dates
1 (540 mL/19 oz) can chickpeas, drained    
1/2 cup coconut syrup
3/4 cup cocoa powder
1/4 cup sunflower seed butter
1 tsp baking powder
1 tsp mint extract
1 tsp vanilla
1 cup non-dairy dark chocolate chips
Icing sugar to dust
Preparation
Soak the dates in boiling water for 20 minutes or until soft. Drain the liquid from the dates and add dates to a food processor.
Preheat oven to 350F. Line a baking tray with parchment paper and set aside.
Add the remaining ingredients to the food processor and blend until mixture is smooth and creamy. Transfer cookie dough to a bowl. Stir in chocolate chips.
Scoop heaping tablespoons of dough 2 to 3 inches apart onto the prepared baking sheet. Flatten with the back of a spoon.
Bake for 20 to 25 minutes or until tops start to crack. Let cookies cool on baking sheet for five minutes before transferring to a cooling rack.  Using a sieve, dust tops of cookies lightly with icing sugar.
Servings: Makes 12 cookies
The runner ups:
Recipe: Netty's Chocolate Pecan Butterhorns
By Netty Dyck
These chocolate pecan butterhorns are like a croissant and cookie rolled into one. You can freeze them for up to a month so you can prolong Christmas!
Ingredients
Cookies:
2 cups flour
¼ tsp salt
⅔ cup butter
1 egg yolk
¾ cup sour cream
½ cup pecans, finely chopped
¾ tsp cinnamon
½ cup sugar
⅓ cup Belgian dark chocolate, finely chopped
Icing:
1 cup icing sugar
2 tbsp hot water
¼ tsp vanilla paste
Chocolate drizzle:
½ cup Belgian chocolate, chopped
Preparation
In food processor mix flour and salt. Cut in butter until it is in small pieces. Add egg yolk and sour cream, and combine well. Shape into a ball. Wrap in plastic wrap and chill overnight.
Combine pecans, cinnamon and sugar in a small bowl and set aside.
Preheat the oven to 375 degrees. Line cookie sheet with parchment paper.
Assemble:
Divide dough into 3 equal parts. Lightly flour rolling surface. Roll one section into a twelve inch circle. Sprinkle 1/3 of the pecan/cinnamon/sugar mixture over the dough and a 1/3 of the finely chopped chocolate. Use a pizza cutter to cut the circle into 12 wedges. Roll up each wedge, starting with the wide edge. Place on prepared baking sheet, making sure to tuck the edge underneath the rolled cookie. Bake for 15-17 minutes, until just golden brown. Cool pan on wire rack. Repeat with the other two sections of dough.
For the icing:
Mix icing ingredients together to make a runny icing. You may need to add more water. Drizzle icing over cooled cookies. Let set.
For the drizzle:
Set aside 2 tbsp of the chopped chocolate. Melt the remainder of the chocolate in the microwave in 20 second increments, stirring after each increment, until the chocolate is just melted and smooth. Stir in the chocolate you set aside. Drizzle over the cookies.
Cookies can be frozen for up to a month.
Servings: Makes 36 cookies
Recipe: Emily's Vegan Red Velvet Crinkle Cookies
By Emily Holmes
These cookies are soft and chewy with a secret ingredient for sweetness – applesauce.  Not only are they incredibly tasty, but they're vegan too!
Ingredients
1 ½ cups all purpose flour
2 tbsp cocoa powder
½ tbsp baking powder
¼ tsp baking soda
¼ cup cane sugar
¼ cup + 2 tbsp vegan butter
¼ cup applesauce
½ tsp vanilla
½ tsp apple cider vinegar
½ tbsp natural red food colouring
½ cup icing sugar
Preparation
In a bowl, combine flour, cocoa powder, baking powder and baking soda. Set aside. Using a stand mixer, beat the sugar and vegan butter together until fluffy. Add applesauce and beat until well combined before adding the vanilla, apple cider vinegar and red food colouring. Mix until smooth. With the stand mixer paddle on low, slowly add in the dry ingredients. Scrape the sides of the bowl as needed.
Cover the dough and let it chill for at least 2 hours.
Preheat oven to 350F. With the powdered sugar on hand in a bowl, begin to make small balls with the cookie dough. Roll them in the icing sugar until they are well coated. Put them on a parchment-lined baking sheet and bake for 10-13 minutes.
Servings:  Makes 18 cookies