Style
How to create your best look to celebrate this year's unique Caribana weekend
Makeup, hair and skincare to help you add Carnival sparkle…. even if it's just for your backyard or Instagram!
Makeup, hair and skincare to help you add Carnival sparkle…. even if it's just for your backyard or Instagram!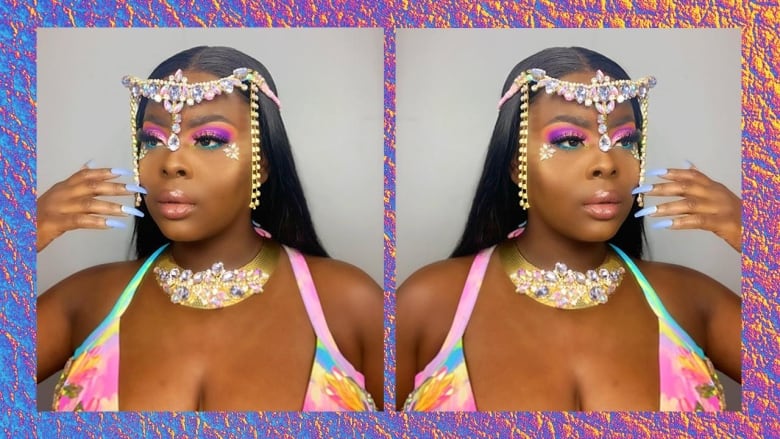 The parade might be cancelled… but de vibes cyan done! In addition to Toronto Caribbean Carnival's planned virtual events, you can bet would-be revelers across the country are planning their own ways to celebrate. From backyard fêtes with your bubble, to full out Instagram shoots, Carnival is still on in Canada.
Here are some beauty must-haves to help you cure your Carnival tabanca during a pandemic.
Makeup
This Venom Carnival masquerader is an example of how you can never have too much sparkle. Her face jewels frame her eye makeup and pick up on details from her head piece, ensuring that in pictures, her face definitely doesn't get lost in all the feathers!
Karlyn's smile is made even brighter with this bold, purple matte lip, that also totally complements her costume.
Carnival makeup artist Shanz used the festival palette to re-create this gorgeous look from Toronto Caribbean Carnival 2019. Notice how her eye makeup matches her costume.
Makeup and general face adornment plays a huge role in Carnival festivities. Some people opt for an array of gemstones secured over eyebrows, on the upper cheeks, perhaps on the chin or even the cupid's bow. Other masqueraders step out with their fiercest face beat using makeup alone. Carnival is all about creativity and self expression so of course you can take your own spin on things. 
While there are no real rules, there are some tips you can keep in mind. Where possible your eye shadow, gemstones, lipstick etc. should match your costume or festive fit. Also, the more sparkle the better. Whether in your glitter shadow or lipstick, when that sun hits your face, it should light up! Consider pops of colour; a good strong lip is an easy way to do this. And, waterproof for the win — try to opt for waterproof makeup to ensure everything stays in place as you jamdong.
The shadows in this palette are perfectly pigmented for creative looks — you'll get that high impact, notice-me-from-afar result you need for your Carnival antics. This palette has large pans, a combination of matte and shimmery shadows in popular costume colours, and they are easy to blend. Try applying the shadow to your lids with a wet brush for an even bolder look. Throw on some makeup for melanin girls lashes and you're good to go!
Juvia's Place The Festival Palette, $29.25, Beauty Bay
You need a lipstick that won't budge as you sip your favourite bevvy and sing along to your fave DJ's virtual set! This Canadian brand's liquid lipstick can give you that staying power, plus a choice of 17 flattering shades, and it comes off without staining your lips.
Paba Cosmetics Liquid Lipstick, $25, Paba Cosmetics
You've got a few options for bejewelling your face, including gluing individual gemstones. For me, the easiest option is to get an assortment of self-adhesive jewels. These come already connected and shaped for easy application to your forehead, brow, outer eyes and upper cheek area. Just peel off and press onto your face! The stickability is decent, but if you plan on getting really sweaty, use a little eyelash glue.
Face Jewels Sticker, $12.56, Gift Canadian
This prismatic highlighter has one cream and three soft powder highlighters. Each can be used alone or layered for dripping glow. It's probably a bit more glittery than your usual highlighter... but it's Caribana time, people, we're all about doing the most! A lower-priced alternative would be Maybelline's Master Chrome Metallic Highlighter. You'll be serving up those golden angles in your next Carnival makeup post.
Dominique Cosmetics Prisma Glow Highlight Palette, $46, Sephora
Skincare
Here's a great example of adding shimmer to your body. This masquerader splashed silver body glitter on her arms and legs to amp up the glitz. It also matches perfectly with her costume!
Playing mas (participating in Carnival wearing a costume) has become synonymous with lots of skin! Our largest organ can also act as a canvas to showcase our love for Carnival, and when it comes to this, body shimmer is your friend. Just like a highlighter for your face, body shimmer makes the look all come together. But remember, safety first. The sun's dangerous rays can penetrate all skin regardless of tone, so be sure to layer on some sunscreen.
They're struggling to keep this sunscreen in stock, it's that good! Slather this on before you head out to the park or set up shop in your backyard. This sunscreen is filled with natural ingredients like avocado, jojoba and sunflower oil, so your skin gets nicely moisturized in addition to the sun protection. This is an oxybenzone-free chemical sunscreen. No worries about any white residue pulling focus from your fire makeup job or DIY costume; it dries clear and even works well under makeup.
Black Girl Sunscreen, $25, WOCBEAUTY 
Super shimmery skin is always a difference-maker when it comes to showing out on Caribana weekend. Your scaled back plans this year are no exception. This luminizer warms up your skin tone and makes your arms and legs look glowy, healthy and hydrated without any stickiness. So we ready for de short shorts! If you're concerned about the price, a little does go a long way. For an option that's a bit more affordable, try Urban Decay's Heavy Metal Glitter Gel.
Fenty Beauty Body Lava Body Luminizer, $75, Sephora
Keep a bottle of this multipurpose mist nearby. Ingredients include coconut water, coconut oil and coconut milk, to soften and soothe skin. You can use this mist as a primer, setting spray and as a calming refresher. It's the perfect pick-me-up after all that wining down! 
HUDA BEAUTY Glow Coco Hydrating Mist, $46, Sephora
Sanitizer is part of our new normal. With its scent, this one fits in perfectly with the Caribbean vibe. Pick up a couple to keep on your patio table for the rest of your bubble. Thanks to the 62 per cent ethanol component, it kills germs and harmful bacteria, while other ingredients like vitamin E and aloe vera also keep hands moisturized. 
Kreyol Essence Sanitizer Gel — Caribbean Fresh Aroma, $24, Malachite + Elephant
Hair 
Take a cue from participant Michelle Lyte, sporting platinum metallic hair. No need for an elaborate headpiece, her hair colour makes a major statement and pulls the whole look together.  
Here's some spot-on, sleek, high ponytail inspo courtesy of masquerader Joanne Dominico in costume with Dr. Jay Mas for Caribana 2019.
Accentuating your strands is another great way to celebrate any Carnival. Once again anything goes: whether you're rocking some passion twists or a sleek pony there are lots of ways to step out like a Carnival goddess. Like your makeup, don't be afraid to add colour. It represents the vibrancy and diversity of Caribbean people. And keep your hair flexible, ideally your hairstyle should be able to withstand wukking that waistline or the occasional palance.
Get all matchy-matchy with your outfit or makeup by adding a temporary hair colour. This one sprays on easily and then washes out in one shampoo. It comes in three trendy colours: a rose gold, a silvery purple, and a vivacious violet, and they add dimension and shine to all hair types or hair colour. You can even mix colours!
Amika Desert Trip Temporary Colour Spray, $24, Sephora
An oldie but a goody, this alcohol-free gel conditions and nourishes your hair, while giving you a hold that will keep those edges snatched to the soca gods. Perfect for low or high ponytails both, and I love that it doesn't flake, and that it works well on all hair types, including 4c. When you post these Insta looks, you definitely won't be deleting later.
Eco Styler Gel with Olive Oil, $5.99, Walmart
---
Nneka Elliott is a lifestyle blogger and actor. She shares her adventures with hair, skincare and makeup in her pursuit of a gutsy life. Follow her @nnekaelliott.