Home
Bright finds! 12 plug-in wall lights under $100
Turn dark spots into better places to work, read, cook or get cozy in.
Turn dark spots into better places to work, read, cook or get cozy in
Plug-in wall lights have become my design obsession. Allow me to explain. After spending so much more time at home over the last year, I realized just how dark it is in the corner by my couch, and how impossible it is to work from that favourite spot past 4:00 p.m. even with the overhead lights on. And so started my search for the wall sconce that would brighten up my space.
Much to my delight, the options available under $100 are numerous. And the biggest allure, aside from the price, is that absolutely no wiring is required with these plug-in picks. 
In addition to offering much-needed illumination, the options here offer up a practical way to incorporate different levels of lighting throughout a home. These lamps are friend to tiny spaces where floor space is a premium, and tablespace is limited alike (ahem, nightstands). You can affix them to the walls with ease to create a soft glow, or more direct, targeted light impossible to get from mere ceiling fixtures, so they're perfect for next to a bed, a couch, a mirror, in a doorway, in dark kitchen nooks and more.
All of that to say, these lights are easy to incorporate, practical and attractive, too. So if you've found yourself lacking the lighting you need these days, we've found some options that require no wiring work on your part, and come in delightful designs. Here are a dozen picks to help shine a little light wherever you may need it most. 
A standout feature of this sconce is that it casts light up and down, lending a lovely glow to any wall. Its pillared design also adds plenty of interest, even when it's not on. Plus, it looks especially lovely bedside, as seen above. 
Tristan Ceramic Sconce, $99, Urban Outfitters
With its matte black finish, and mid-century modern lines, this wall light is as much of a statement piece as it is a practical addition to your walls. It swivels, features an adjustable shade, and the bulb is included. 
Leap Black Sconce Lamp, $99, Article
This matte brass sconce with a smoke-tinted amber glass shade gives off a bit of a modern glam feel. You can plug it in and enjoy as-is, or if you choose, this sconce can be hardwired to hide the cord. 
Matte Brass Wall Sconce with Glass Shade, $78.62, Overstock.ca
This little reading light is great for focusing light wherever you need it, and features a dimmer, rendering this a bedside-perfect fixture. Plus, at $30, its price tag is incredibly appealing. 
Nymane Wall Reading Lamp, $29.99, Ikea
Channel an industrial feel with this fixture. Featuring an antique brass finish, it's the perfect vessel for an eye-catching bulb. It also comes with two feet of cord cover to help keep your walls looking neat and tidy. 
Industrial Plated Antique Brass Plug-In Sconce, $39.98, Home Depot
Add some brightness to your walls even when the light's not on with this eye-catching sconce. Fun fact: this colour is similar to one of Pantone's 2021 colours of the year, named "Illuminating". It's a cheery colour you may see popping up plenty this year, and would be an easy way to work in an on-trend tone. 
Retro Light Store Ove Wall Sconce, $73.23, Etsy
This sconce feels a little glam and a little vintage with its brushed brass finish and its dome-shaped shade. The shade pivots so you can aim light wherever you need it most, and while it is a plug-in, it can also be hardwired to the wall if you wish.
Globe Electric Exeter 2-in-1 Wall Sconce with Swing Arm, $64.99, Rona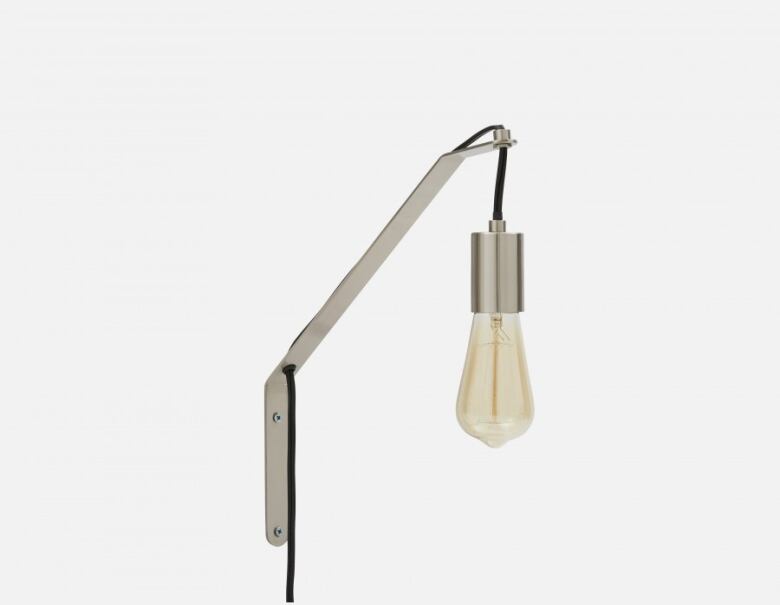 This wall-mounted lamp features a minimalist design with a brushed nickel finish. Pair with a lightbulb that would add even more visual interest.
Rennes Nickel Wall Lamp, $29, Structube
This one is ideal for lighting a small room where floor space is scarce, and anywhere you wish you had overhead light. We can see this chrome-plated fixture working so wonderfully over a table, as pictured above, or next to a couch that needs a little illumination. 
Simrishamn Wall Lamp with Swing Arm, $59.99, Ikea 
Available in a white or matte black finish, this wall lamp is a task lighting champ. Both the head and the stem of the fixture are adjustable, making it a great reading lamp for any nook that needs it most. 
Anchor Wall Lamp, $99.99, EQ3
Add a bit of brushed gold to your walls with this one. Featuring a matte black finish, this sleek and sophisticated sconce would look lovely all by itself, or paired up to frame a bed or sofa.
Kandil Canada Brianna Wall Sconce, $89, Walmart
This pretty plug-in sconce adds both light and design interest to your walls with its rattan frame. Inspired by glowing lanterns, it would add a cozy glow to your room. 
Marcella Rattan Sconce, $99, Urban Outfitters