Books
·
Books of the Year
The best Canadian nonfiction of 2019
Here are CBC Books's top 22 Canadian works of nonfiction that came out in 2019.
Here are CBC Books's top 22 Canadian works of nonfiction that came out in 2019.
Angry Queer Somali Boy is a memoir by Mohamed Abdulkarim Ali, a young man who left Somalia, spent time in the Netherlands and ended up homeless in Canada. Canada was the promised land, but when he didn't fit in and life was more difficult than he expected, Ali turned to drugs and partying before finding his way. 
Angry Queer Somali Boy combines Ali's personal story with the history of and commentary on the places he's called home: Somalia, Europe and Canada. It's his first book.
Based on the years Globe and Mail reporter Robyn Doolittle spent examining how police mishandle sexual assault cases, Had It Coming is an in-depth look at how attitudes around sexual harassment and assault are changing in the #MeToo era. Doolittle's investigative series Unfounded looked into sexual assault allegations using data gathered from over 870 police forces across the country and found that many cases were deemed "baseless" and not properly investigated.
Had It Coming is on the longlist for the 2020 RBC Taylor Prize.
Doolittle is a journalist based in Toronto. Her previous book, Crazy Town: The Rob Ford Story, was published in 2014.
Alicia Elliott explores the systemic oppression faced by Indigenous peoples across Canada through the lens of her own experiences as a Tuscarora writer from Six Nations of the Grand River. Elliott examines how colonial violence, including the loss of language, seeps into the present day lives of Indigenous people, often in the form of mental illness. Elliott, who lives in Brantford, Ont., won gold at the National Magazine Awards in 2017 for the essay this book is based on.
A Mind Spread Out on the Ground was on the shortlist for the Hilary Weston Writers' Trust Prize for Nonfiction.
Elliott is a Tuscarora writer living in Brantford, Ont. She was chosen by Tanya Talaga as the recipient for the 2018 RBC Taylor Emerging Writer Award. CBC Books named Elliott a writer to watch in 2019.
When David Gillmor disappeared more than 10 years ago, his truck and cowboy hat were found at the edge of the Yukon River. His body was recovered six months later, just as his brother Don Gillmor journeyed to Whitehorse to canoe through the waters his brother had departed from. To the River explores how survivors of suicide cope with a loved one's decision to take their own life and examines the larger social, cultural and psychological questions surrounding suicide, especially among middle-aged men.
To the River won the 2019 Governor General's Literary Award for nonfiction.
Gillmor is a Toronto journalist and author of novels and nonfiction books like Canada: A People's History. He has twice been nominated for the Governor General's Literary Award in the young people's literature — text category for The Fabulous Song and The Christmas Orange.
Samra Habib's memoir We Have Always Been Here is an exploration of the ways we disguise and minimize ourselves for the sake of survival. As a child, Habib hid her faith from Islamic extremists in Pakistan and later, as a refugee in Canada, endured racist bullying and the threat of an arranged marriage. In travelling the world and exploring art and sexuality, Habib searches for the truth of her identity. 
We Have Always Been Here is on the longlist for the 2020 RBC Taylor Prize.
Habib is a journalist, photographer and activist based in Toronto. CBC Books named Habib a writer to watch in 2019. We Have Always Been Here is her first book.
In Chop Suey Nation, Ann Hui drives to small towns across Canada and visits the family-run Chinese restaurants that dot the country. She also discovers her own family's secrets of working in the industry. Hui, a journalist with the Globe and Mail, begins her journey as an authenticity snob, but comes to appreciate the determination and enterprise of families across the nation.
Hui is the national food reporter at the Globe and Mail. Chop Suey Nation is her first book.
Helen Knott is a poet and writer of Dane Zaa, Nehiyaw and European descent. Her memoir, In My Own Moccasins, is a story of addiction, sexual violence and intergenerational trauma. It explores how colonization has affected her family over generations. But it is also a story of hope and redemption, celebrating the resilience and history of her family.
In My Own Moccasins is on the 2020 RBC Taylor Prize longlist. 
Knott is a social worker and writer. In My Own Moccasins is her first book.
Amanda Jetté Knox chronicles the making of her loving family in the memoir Love Lives Here. Happily married with three children, Knox noticed that her middle child was struggling with depression and skipping school. After Alexis came out as transgender at the age of 11, Knox dove headlong into trans rights research and advocacy. Just over a year later, Knox's spouse came out as transgender, marking another, ultimately triumphant, transition for the family.
Knox is a writer, activist and public speaker who lives in Ottawa. Love Lives Here is her first book. She also blogs at The Maven of Mayhem. 
Linden MacIntyre is an award-winning journalist and novelist. He was born near a small Newfoundland village called St. Lawrence, a community that was almost completely wiped out by a tsunami in 1929. Twenty-eight people died in that tsunami, hundreds more were injured or left homeless and the town would never be the same again. After transitioning from fishing to mining, it was later discovered that the underground mine was radioactive and killed hundreds of miners. The Wake tells the story of how one wave changed everything for an entire community.
MacIntyre is a former CBC journalist and novelist. His novel The Bishop's Man won the Scotiabank Giller Prize in 2009.
Ami McKay's family has a history of dying early, thanks to a a genetic disorder called Lynch syndrome. This discovery began with McKay's great-aunt Pauline Gross, who, in 1895, went to a doctor with the expectation she would die at a young age. What followed was a decades and generations-long study of one family and their relationship to cancer. It would become the longest and most detailed cancer genealogy study ever.
In Daughter of Family G, McKay explores this family history while grappling with the fact she tested positive for the gene while raising a family of her own.
McKay is a novelist based in Nova Scotia. Her books include The Birth House and The Virgin Cure.
The Birth House was on Canada Reads 2011, when it was defended by Debbie Travis.
Beverley McLachlin became the first woman to hold the office of Canada's chief justice in January of 2000. Throughout her 17 years as chief justice and 28 years on the Supreme Court, McLachlin helped shape Canadian law and governance, including legislation on sex work and mandatory minimum prison sentences. She shares her story in the memoir Truth Be Told.
McLachlin is also the author of the fictional thriller Full Disclosure. 
Anna Mehler Paperny is a journalist who has struggled with depression her entire life. After a suicide attempt in her 20s, she decided to look into her disease: how it's caused, treated and talked about. Part memoir, part investigation, Hello I Want to Die Please Fix Me is an examination of an illness that is far too common and far too little understood. 
Hello I Want to Die Please Fix Me was on the shortlist for the Hilary Weston Writers' Trust Prize for Nonfiction.
Paperny is a Canadian journalist. Hello I Want to Die Please Fix Me is her first book. 
High School shares the life story of the famous identical twins and LGBTQ icons. Tegan and Sara Quin grew up in Calgary at the height of grunge and rave culture in the 1990s. High School is written in chapters alternating between Tegan's point of view and Sara's and explores how they coped with their parents' divorce and how they navigated issues around love, drugs, sexuality, queer identity and academic pressures during their high school years. 
Tegan and Sara have been performing together for 20 years and have released nine albums. Their most recent album, Hey, I'm Just Like You is a companion work to High School and consists of songs they first wrote in high school.
From childhood, Lorimer Shenher knew he was a boy, though he was being raised as a girl. In This One Looks Like a Boy, Shenher tells his story of struggling with gender dysphoria before finally coming to accept he is trans and undergoing surgery in his 50s.
Shenher is also the author of the book That Lonely Section of Hell, in which he describes his experiences working on the case of serial killer Robert Pickton.
The North-West is Our Mother is a history of the Métis Nation. It begins in the early 1800s, when the Métis became known as fierce nomadic hunters, and continues to the late 19th-century resistance led by Riel to reclaim the land stolen from them, all the way to present day as they fight for reconciliation and decolonization.
Jean Teillet is a lawyer, Métis expert and the great-grandniece of Louis Riel.
Jesse Thistle is a Métis-Cree academic specializing in Indigenous homelessness, addiction and inter-generational trauma. For Thistle, these issues are more than just subjects on the page. After a difficult childhood, Thistle spent much of his early adulthood struggling with addiction while living on the streets of Toronto. Told in short chapters interspersed with poetry, his memoir From the Ashes details how his issues with abandonment and addiction led to homelessness, incarceration and his eventual redemption through higher education. 
Thistle is a recipient of the Governor General's Silver Medal in 2016. From the Ashes is his first book.
Yasuko Thanh opens up about her tumultuous life in Mistakes to Run With, from rebelling against her evangelical parents, living on the streets of Vancouver and becoming a sex worker to falling in love and writing an award-winning novel. Thanh writes that, despite her success, she still struggles with events of the past. 
Thanh is also the author of the short story collection Floating Like the Dead and the Rogers Writers' Trust Fiction Prize-winning novel Mysterious Fragrance of the Yellow Mountains.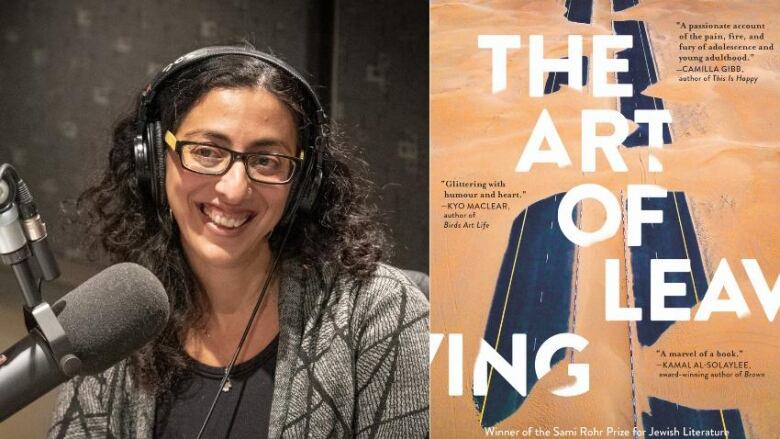 After finishing her two mandatory years in the Israel Defense Forces and in the midst of grieving her father's death, Tsabari leaves Tel Aviv to travel through India, Europe, the U.S. and Canada. Moving quickly through homes and cities, Tsabari eventually starts making trips back to Israel and digs deep into her Jewish-Yemeni background and Mizrahi identity in ways she'd never done before.
The Art of Leaving was on the shortlist for the Hilary Weston Writers' Trust Prize for Nonfiction.
Tsabari was a finalist for the 2018 CBC Short Story Prize and won the Sami Rohr Prize for Jewish Literature for her short story collection The Best Place on Earth.
Jenny Heijun Wills was born in Korea, but was adopted by a Canadian family and raised in a small town. When she was in her early 20s, she decided to travel back to Korea to meet her extended birth family and other young people who were adopted from Korea and raised abroad. Older Sister. Not Necessarily Related. shares Wills's journey and also explores the impact of being raised by a family of a different ethnicity and culture.
Older Sister. Not Necessarily Related. won the Hilary Weston Writers' Trust Prize for Nonfiction.
Wills is an associate professor at the University of Winnipeg. She has co-edited two academic books.
One Drum is a collection of stories and ceremonies inspired by the foundational teachings of Ojibway tradition.  Wagamese's original plan was to focus on each of the seven lessons, known as the Seven Grandfather Teachings, but he died before completing the manuscript. The Seven Grandfather Teachings are humility, courage, honesty, wisdom, truth, respect and love. One Drum will focus on the lessons of humility, respect and courage and will feature four ceremonies that anyone can do.
Wagamese died in March 2017 at the age of 61. He is also the author of the novels Medicine Walk, Ragged Company, Him Standing, Dream Wheel, the poetry book Runaway Dreams and memoirs For Joshua, Embers and One Native Life.
If you had to choose humanity's greatest natural predator, would you pick sharks? Maybe lions, or bears — or even other humans? According to Timothy C. Winegard, it's actually that winged terror — the mosquito. In his new book, The Mosquito: A Human History of Our Deadliest Predator, he argues that the mosquito — and the diseases it carries — has played a remarkable role in shaping our own development, from the birth of the gin and tonic, to the fall of the Roman Empire.
The Mosquito is on the longlist for the 2020 RBC Taylor Prize.
Winegard is a professor of history and political science at Colorado Mesa University. He has written four books covering a variety of topics, including military history, Indigenous studies and now, mosquitoes. 
When Samra Zafar was 15 years old, she was told by her mother that a great match had been found, and she was to be married — to a man who lived in Canada and was 11 years older than her. Despite having her own dreams and goals, Zafar got married, moved to a new country and started a family. But when her relationship became abusive, Zafar knew she must leave and build a new life for her children. Zafar has written about her experience in the book A Good Wife.
Zafar is now a public speaker, activist and human rights activist. She was named one of Canada's 100 most powerful women in 2019.