Books
·
Canadian
How to Pronounce Knife
How to Pronounce Knife is a novel by Souvankham Thammavongsa.
Souvankham Thammavongsa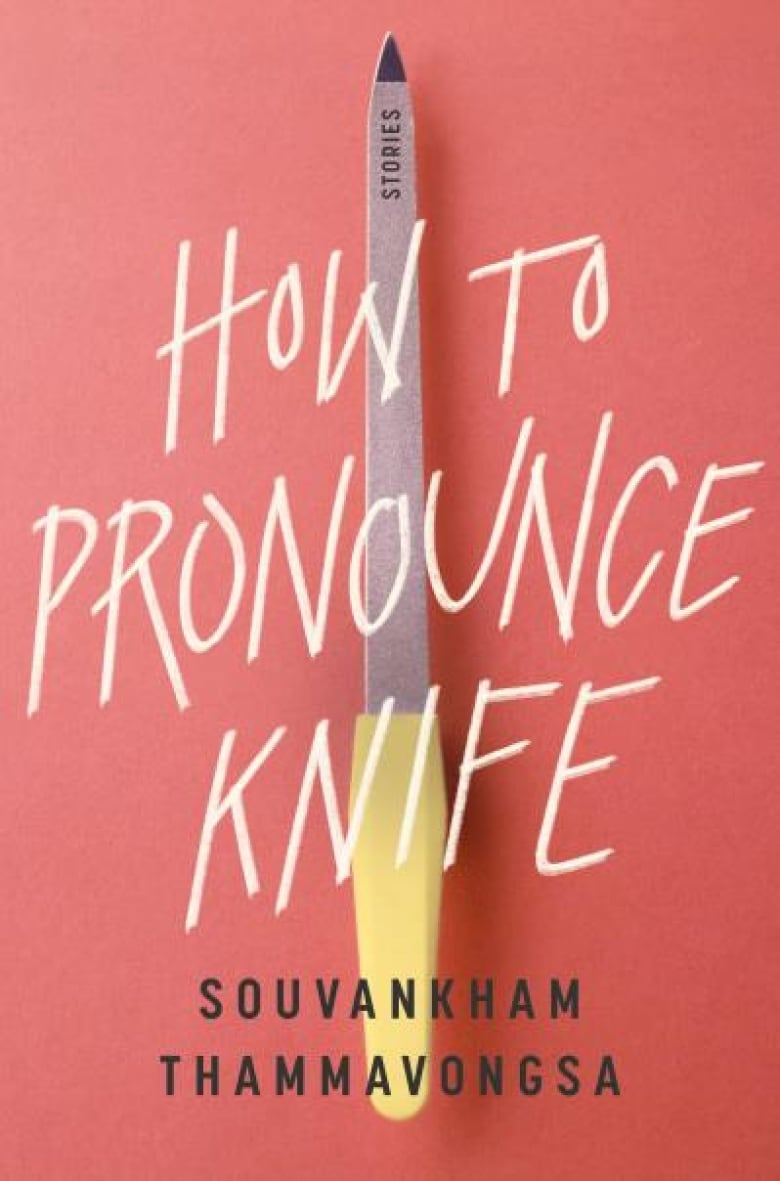 A young man painting nails at the local salon. A woman plucking feathers at a chicken processing plant. A father who packs furniture to move into homes he'll never afford. A mother who works nights alongside her daughter, harvesting worms. A housewife learning English from daytime soap operas. In her startling debut book of fiction, Souvankham Thammavongsa vividly captures the day-to-day lives of immigrants and refugees, illuminating their hopes, disappointments, love affairs, acts of defiance — and, above all, their pursuit of a place to belong. In spare, intimate prose charged with emotional power and a sly wit, she paints an indelible portrait of watchful children, wounded men, and restless women caught between cultures, languages, and values. Told with compassion, wry humour, and an unflinching eye for the often absurd realities of having to start your life over again, these stories honour characters struggling to find their bearings far from home, even as they do the necessary "grunt work of the world."

A daughter becomes an unwilling accomplice in her mother's growing infatuation with country singer Randy Travis. After a boxer loses his dream of becoming a championship fighter, he finds an unexpected chance at redemption while working at his sister's nail salon. When a 70-year-old woman begins a relationship with her much younger neighbour, her assumptions about the limits of love unravel. As he watches his wife gradually drift into an affair with her boss, a school bus driver must grapple with what he's willing to give up in order to belong. And in the Commonwealth Short Story Prize-shortlisted title story, a young girl's unconditional love for her father transcends the fickleness of language.
Unsentimental yet tender, and fiercely alive, How to Pronounce Knife announces Souvankham Thammavongsa as one of the most striking voices of her generation. (From McClelland & Stewart)
How to Pronounce Knife won the 2020 Scotiabank Giller Prize. The $100,000 prize is the biggest prize in Canadian literature. 
Souvankham Thammavongsa is a writer Toronto. Her stories have won an O. Henry Award and appeared in Harper's, Granta, The Paris Review and NOON. She has published four books of poetry, including 2019's Cluster. CBC Books named her a writer to watch in 2020.
Giller Prize jury citation: "How to Pronounce Knife is a stunning collection of stories that portray the immigrant experience in achingly beautiful prose. The emotional expanse chronicled in this collection is truly remarkable. These stories are vessels of hope, of hurt, of rejection, of loss and of finding one's footing in a new and strange land. Thammavongsa's fiction cuts to the core of the immigrant reality like a knife – however you pronounce it."
From the book
The family lived in a small apartment with two rooms. On the wall of the main room was a tiny painting with a brown bend at the centre. That brown bend was supposed to be a bridge, and the blots of red and orange brushed in around it were supposed to be trees. The child's father had painted this, but he didn't paint anymore. When he came home from work, the first thing he always did was kick off his shoes. Then he'd hand over a newspaper to the child, who unfolded sheets on the floor, forming a square, and around that square they sat down to have dinner. 

For dinner, it was cabbage and chitterlings. The butcher either threw the stuff away or had it out on display for cheap, so the child's mother bought bags and bags from him and put them in the fridge. There were so many ways to cook these: in a broth with ginger and noodles, grilled over charcoal fire, stewed with fresh dill, or the way the child liked them best—baked in the oven with lemongrass and salt. When she took these dishes to school, other children would tease her about the smell. She shot back, "You wouldn't know a good thing even if five hundred pounds of it came and sat on your face!"
---
From How to Pronounce Knife by Souvankham Thammavongsa ©2020. Published by McClelland & Stewart.
"I knew that whenever we encounter stories of immigrants and refugees, they are always sad and tragic. And rightly so; they are. But I feel like that image is very narrow about who we really are. We're also fun and ferocious and hilarious. And also we can be ungrateful and there should be room for that. I wanted the story to address that.
"I did think a lot about family, love, work and laughter as things that the stories would deal with. They're all very different but I also wanted them to orbit around each other, to remind each other.
I wanted to write about an immigrant child in a different way that we often encounter them in literature.- Souvankham Thammavongsa
"I wanted to write about an immigrant child in a different way that we often encounter them in literature. In the opening story, there's a child who gets made fun of for her lunch. It's very typical.
"But what we don't see is defiance, which in my experience that's who I really am. If somebody picked on me, or somebody tried to shame me, I defied or changed that. 
"I wanted a story that gives space to how I would react in real life."
Read more in her interview with CBC Books.
Interviews with Souvankham Thammavongsa
More about How to Pronounce Knife
Other books by Souvankham Thammavongsa