Books
·
Fall Book Preview
23 collections of Canadian poetry to watch for this fall
Check out the Canadian poetry coming out in the second half of 2019 that we can't wait to read.
Here are 23 works of Canadian poetry coming out in the second half of 2019 and early 2020 that we can't wait to read.
In Sonnet's Shakespeare, Sonnet L'Abbé takes the work of William Shakespeare and inserts herself ⁠— a mixed race South Asian and black Canadian poet. The end result is 154 sonnets that L'Abbé has dismantled letter by letter and rearranged to analyze Shakespeare's influential voice — and how we can make space for others.
L'Abbé is based in British Columbia. She won the bpNichol Chapbook Award in 2017 for Anima Canadensis.
When you can read it: Aug. 20, 2019
In Devil in the Woods, D.A. Lockhart writes letters to iconic Canadians of settler heritage, including Sarah Polley, Pierre Berton, Robertson Davies and Emily Carr. Together the letters challenge the conventional narrative of Canadian history and offer a perspective to how we can approach decolonization and reconciliation.
Lockhart is a Turtle Clan member of the Moravian of the Thames First Nation and the author of four poetry collections.
When you can read it: Sept. 1, 2019
Billy-Ray Belcourt is a writer and academic from Driftpile Cree Nation. In his second poetry collection, NDN Coping Mechanisms, he uses poetry, prose and textual art to explore how Indigenous and queer communities and identities are left out of mainstream media. The work has two parts — the first explores everyday life and the second explores influential texts such as Treaty 8.
Belcourt won the Griffin Poetry Prize for his first collection, This Wound is a World.
When you can read it: Sept. 3, 2019
Over the course of our lives, we take on many identities. Some are thrust upon us, some we cultivate for ourselves. Anne Simpson's fifth collection collection of poetry, Strange Attractor, explores how these identities emerge, form and shift from birth until after we've died.
Simpson is the author of four other collections of poetry: Light Falls Through You, Loop, Quick and Is. She won the Griffin Poetry Prize in 2004 for Loop.
When you can read it: Sept. 10, 2019
Anyonymous poet Atticus explores the magic of life in his third collection — the magic of falling in love, heartbreak and living life to the fullest. His other collections are Love Her Wild and The Dark Between Stars. 
Atticus shares his poetry on Instagram, where he has over a million followers.
When you can read it: Sept. 10, 2019
In Moez Surani's latest collection, Are the Rivers in Your Poems Real, he explores figurative language, sentimentality and abstract words and thoughts and how they impact critical culture and public dialogue around art.
Surani is based in Toronto and has written three other works of poetry: Reticent Bodies, Floating Life and Operations. 
When you can read it: Sept. 16, 2019
In Re-Origin of Species, Alessandra Naccarato explores her own family history: one that moves from southern Italy to Northern Ontario and includes poverty and addiction. Through it, she weaves an exploration of the natural world and our relationship to it.
Naccarato won the 2017 CBC Poetry Prize. Re-Origin of Species is her first book. It features Postcards for My Sister, her CBC Poetry Prize-winning poem.
When you can read it: Sept. 16, 2019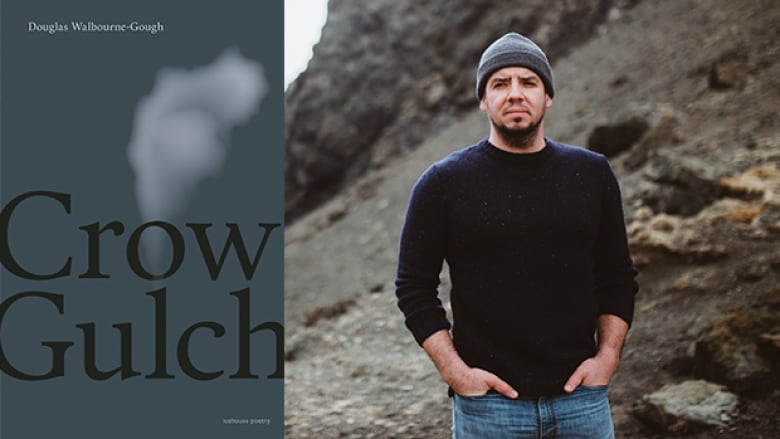 Crow Gulch was a community in Newfoundland that was built around a pulp and paper mill. Many of the residents were of Indigenous and non-Indigenous ancestry. Some of the residents included poet Douglas Walbourne-Gough's great-grandmother and her daughter. In the 1970s, Crow Gulch was abandoned. Walbourne-Gough tries to capture the history and legacy of the community in this collection.
Walbourne-Gough is a poet and mixed/adopted Mi'kmaq from Newfoundland. Crow Gulch is his first collection.
When you can read it: Sept. 17, 2019
The House the Spirit Builds is a collection of poetry inspired by nature from acclaimed poet Lorna Crozier. Crozier was inspired by the Frontenac Arch biosphere reserve in Southeastern Ontario, one of 18 biosphere reserves in Canada. Crozier's poems in this gift-book style collection are accompanied by photos by Peter Coffman and Diane Laundy.
Crozier is a Governor General's Literary Award-winning poet who has written more than 15 books.
When you can read it: Sept. 21, 2019
In 2020, celebrated Indigenous writer Thomas King will turn 77 years old. His first poetry collection, 77 Fragments of a Familiar Ruin, collects 77 poems that lament what we have lost, lecture us for what we have allowed and looks at what we might still be able to save if we want to keep society prosperous and healthy.
King's books include Truth & Bright Water, The Inconvenient Indian and The Back of the Turtle. He also writes the DreadfulWater mystery series.
When you can read it: Sept. 24, 2019
Midlife Action Figure is a funny and irreverent collection that explores what it means to be alive in the 21st century. Original observations, wit and insight fill this unique collection that covers a variety of topics, from the banal to the absurd. 
Chris Banks is a poet based in Waterloo, Ont. Midlife Action Figure is his fourth collection.
When you can read it: Sept. 24, 2019
I Can Hear You, Can You Hear Me? is Nolan Natasha's first poetry collection. In it, he explores how small connections bring people, especially marginalized people, visibility and illumination. But he also explores what that means and what we can lose when it happens.
Nolan Natasha lives in Halifax. He was longlisted for the CBC Poetry Prize in 2017 for the poem Sighting, which is included in this collection.
When you can read it: Oct. 1, 2019
Vancouver for Beginners is an exploration of a city — the forests and parks, the streets and buildings — and chronicles how it changes with urban development, time and memory. It's also an exploration of how we experience the city and how emotions, such as nostalgia, impact our relationship to and understanding of place.
Alex Leslie won the 2015 Dayne Ogilvie Prize for LGBTQ emerging writers. She was a finalist for the CBC Short Story Prize in 2007.
When you can read it: Oct. 3, 2019
Renaissance Normcore is the second collection from B.C.-based poet Adèle Barclay. The collection explores the emotional highs and lows and fundamental paradoxes of contemporary daily life.
Barclay's debut poetry collection, If I Were in a Cage I'd Reach Out for You, was published in 2016 and won the 2017 Dorothy Livesay Poetry Prize.
When you can read it: Oct. 5, 2019
Belated Bris of the Brainsick is a poetry collection from Lucas Crawford that "is the pursuit of a 'queered' version of health." It explores mental illness, disability and the discovery of one's family history in order to bring different perspectives of health, wellness and illness into the conversation.
Crawford is based in New Brunswick and is also the author of the poetry collection Sideshow Concessions and the academic text Transgender Architectonics.
When you can read it: Oct. 5, 2019
Francine Cunningham is a writer who has spent life on the margins: she is Indigenous, but white-passing. She grew up in a city. She lives with mental illness. On/Me is her attempt to explore what this all means and to address how residential schools and the intergenerational trauma that followed has shaped her family and identity.
On/Me is Cunningham's first book.
When you can read it: Oct. 5, 2019
Heather Birrell's ambitions are thrown off by the surreal arrival of characters like Mr. T, Joni Mitchell, Fidel Castro and her mother in Float and Scurry, her debut poetry collection. The book explores the pursuit of writing, libraries, well-meaning friends and family and the death of the planet with humour and heart.
Birrell has previously published two short story collections, Mad Hope and I know you are but what am I? She won the Journey Prize in 2006 for the short story BriannaSusannaAlana.
When you can read it: Oct. 7, 2019
Jon Lupin's latest poetry collection, Encyclopedia of a Broken Heart, takes the form of an encyclopedia. Each letter, presented in alphabetical order, is tied to a word connected to love and heartbreak. Each word has a series of poems —taking its theme even further.
Lupin, who is also known as the Poetry Bandit, turned to poetry to help him get sober in 2015. He has written two other poetry collections: My Sober Little Moon and You Only Love Me When I'm Suffering. He posts his typewritten poems on Instagram, where he has more than 150,000 followers.
When you can read it: Oct. 8, 2019
For It Is a Pleasure and a Surprise to Breathe brings together new and old work from acclaimed poet Gary Barwin. An inventive writer, Barwin showcases his range, playfulness and originality from the course of his 35-year career in this new book.
Barwin is the author of several poetry collections and one novel. His novel, Yiddish for Pirates, won the 2017 Stephen Leacock Medal for Humour.
When you can read it: Oct. 8, 2019
Morning Glory on the Vine was first published by Joni Mitchell in 1971. Originally conceived as a gift to close friends and family, it features more than 30 original pieces of artwork as well as poetry and lyrics. The 2019 edition will include a new introduction by Mitchell and new artwork. 
Mitchell, who grew up in Saskatchewan, is one of Canada's most influential singer-songwriters.
When you can read it: Oct. 22, 2019
Ian Kinney fell from seven stories and lived to tell the tale. His poetry collection Air Salt is an exploration of his hospitalization and recovering, bringing together text from cards, emails, eye witness accounts and hospital reports to paint a complete picture of his experience.
Kinney lives in Calgary. Air Salt is his debut collection.
When you can read it: Nov. 15, 2019
Iconic Canadian poet George Elliott Clarke tackles the biography of another Canadian icon: his great-aunt Portia White. White was born in Nova Scotia, a descendent of the Black Loyalists and American slaves, and went on to become an acclaimed opera singer, performing for Queen Elizabeth II in 1964. In Portia White, Clarke tells the story of her life in one long, epic poem.
Clarke was Canada's parliamentary poet laureate and was the fourth poet laureate of Toronto (2012-2015).
When you can read it: Nov. 30, 2019
Not One of These Poems Is About You explores what it's like living with metastatic breast cancer. Teva Harrison was diagnosed at the age of 37 and began writing comics about her declining health and facing the end of her life. These comics were collected in the graphic memoir In-Between Days. Not One of These Poems Is About You, a collection pf poetry and artwork, continues this conversation.
Harrison died at the age of 42 on April 27, 2019. 
When you can read it: Jan. 7, 2020